Abstract
Consumption of dark green vegetables falls short of recommendations, in part, because of unpleasant bitterness. A laboratory-based study of 37 adults was used to determine bitter and hedonic responses to vegetables (asparagus, Brussels sprouts, kale) with bitter masking agents (1.33 M sodium acetate, 10 and 32 mM sodium chloride, and 3.2 mM aspartame) and then characterized by taste phenotype and vegetable liking. In repeated-measures ANOVA, aspartame was most effective at suppressing bitterness and improving hedonic responses for all sampled vegetables. Among the sodium salts, 32 mM sodium chloride decreased bitterness for kale and sodium acetate reduced bitterness across all vegetables with a tendency to increase liking for Brussels sprouts, as release from mixture suppression increased perceived sweetness. Participants were nearly equally divided into three 6-n-propylthiouracil (PROP) phenotype groups. Those tasting the least PROP bitterness (non-tasters) reported least vegetable bitterness, and the additives produced little change in vegetable liking. Aspartame persisted as the most effective bitter blocker for the PROP tasters (medium, supertasters), improving vegetable liking for the medium tasters but too much sweetness for supertasters. The sodium salts showed some bitter blocking for PROP tasters, particularly sodium acetate, without significant gains in vegetable liking. Via a survey, adults characterized as low vegetable likers reported greater increase in vegetable liking with the maskers than did vegetable likers. These results suggest that bitter masking agents (mainly sweeteners) can suppress bitterness to increase acceptance if they are matched to perceived vegetable bitterness or to self-reported vegetable disliking.
This is a preview of subscription content,
to check access.
Access this article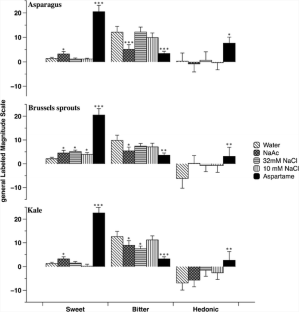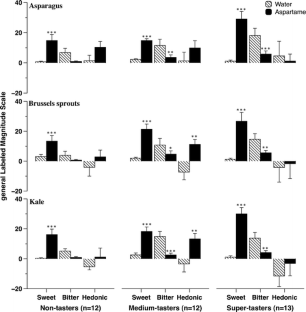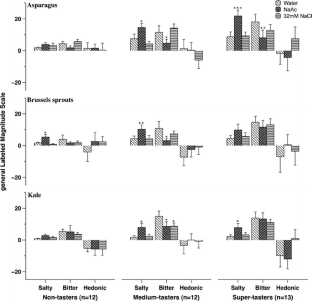 Similar content being viewed by others
References
Allison DB (1994) Handbook of assessment methods for eating behaviors and weight-related problems: measures, theory, and research. Sage Publications, Thousand Oaks

Anzman-Frasca S, Savage JS, Marini ME, Fisher JO, Birch LL (2012) Repeated exposure and associative conditioning promote preschool children's liking of vegetables. Appetite 58(2):543–553

Bajec MR, Pickering GJ (2008) Astringency: mechanisms and perception. Crit Rev Food Sci Nutr 48(9):858–875

Balitsis JK. 2008. Impact of sodium chloride on liking of cruciferous vegetables. The Ohio State University, Columbus, OH

Barisas L, Roseit TR, Gao Y, Schmidt SJ, Klein BP (2006) Enhanced sweetness in sweetener–NaCl–gum systems. J Food Sci 60(3):523–527

Bartoshuk LM, Duffy VB, Green B, Hoffman H, Ko C, Lucchina L, Snyder D, Weiffenbach J (2004) Valid across-group comparisons with labeled scales: the gLMS vs magnitude matching. Physiol Behav 82(1):109–114

Bartoshuk LM, Duffy VB, Lucchina LA, Prutkin J, Fast K (1998) PROP (6-n-propylthiouracil) supertasters and the saltiness of NaCl. Ann N Y Acad Sci 855:793–796

Bartoshuk LM, Duffy VB, Miller IJ (1994) PTC/PROP tasting: anatomy, psychophysics, and sex effects. Physiol Behav 56(6):1165–1171

Bartoshuk LM, Murphy C, Cleveland CT (1978) Sweet taste of dilute NaCl: psychophysical evidence for a sweet stimulus. Physiol Behav 21(4):609–613

Bembich S, Lanzara C, Clarici A, Demarini S, Tepper BJ, Gasparini P, Grasso DL (2010) Individual differences in prefrontal cortex activity during perception of bitter taste using fNIRS methodology. Chem Senses 35(9):801–812

Bennett S, Zhou L, Hayes J (2012) Using milk fat to reduce the irritation and bitter taste of ibuprofen. Chemosens Percept 5(3–4):231–236

Birch LL, Marlin DW (1982) I don't like it; I never tried it: effects of exposure on two-year-old children's food preferences. Appetite 3(4):353–360

Breslin PA, Beauchamp GK (1995) Suppression of bitterness by sodium: variation among bitter taste stimuli. Chem Senses 20:609–623

Breslin PA, Beauchamp GK (1997) Salt enhances flavour by suppressing bitterness. Nature 387(6633):563

Capaldi ED, Privitera GJ (2008) Decreasing dislike for sour and bitter in children and adults. Appetite 50(1):139–145

CDC (2010) State-specific trends in fruit and vegetable consumption among adults United States, 2000–2009. http://www.cdc.gov/mmwr/preview/mmwrhtml/mm5935a1.htm#tab1. Accessed 31 May 2012

Cicerale S, Breslin PA, Beauchamp GK, Keast RS (2009) Sensory characterization of the irritant properties of oleocanthal, a natural anti-inflammatory agent in extra virgin olive oils. Chem Senses 34(4):333–339

Coulthard H, Blissett J (2009) Fruit and vegetable consumption in children and their mothers. moderating effects of child sensory sensitivity. Appetite 52(2):410–415

Cox DN, Melo L, Zabaras D, Delahunty CM (2012) Acceptance of health-promoting Brassica vegetables: the influence of taste perception, information and attitudes. Public Health Nutr 15:1474–1482

Czepa A, Hofmann T (2004) Quantitative studies and sensory analyses on the influence of cultivar, spatial tissue distribution, and industrial processing on the bitter off-taste of carrots (Daucus carota l.) and carrot products. J Agric Food Che 52(14):4508–4514

Dammann KW, Smith C (2009) Factors affecting low-income women's food choices and the perceived impact of dietary intake and socioeconomic status on their health and weight. J Nutr Educ Behav 41(4):242–253

Dinehart ME, Hayes JE, Bartoshuk LM, Lanier SL, Duffy VB (2006) Bitter taste markers explain variability in vegetable sweetness, bitterness, and intake. Physiol Behav 87(2):304–313

Drewnowski A, Gomez-Carneros C (2000) Bitter taste, phytonutrients, and the consumer: a review. Am J Clin Nutr 72(6):1424–1435

Drewnowski A, Hann C (1999) Food preferences and reported frequencies of food consumption as predictors of current diet in young women. Am J Clin Nutr 70(1):28–36

Drewnowski A, Henderson SA, Shore AB (1997) Taste responses to naringin, a flavonoid, and the acceptance of grapefruit juice are related to genetic sensitivity to 6-n-propylthiouracil. Am J Clin Nutr 66:391–397

DuBois GE, Walters DE, Schiffman SS, Warwick ZS, Booth BJ, Pecore SD, Gibes K, Carr BT, Brands LM (1991) A systematic study of concentration–response relationships of sweeteners. In: Walters E, Orthoefer FT, Dubois GE (Ed) Sweeteners. American Chemical Society 450:261–276

Duffy VB, Hayes JE, Davidson AC, Kidd JR, Kidd KK, Bartoshuk LM (2010) Vegetable intake in college-aged adults is explained by oral sensory phenotypes and TAS2R38 genotype. Chemosens Percept 3(3–4):137–148

Duffy VB, Hayes JE, Dinehart ME (2006) Genetic differences in sweet taste perception. In: Spillane W (ed) Optimizing sweet taste in foods. Woodhead Publishing, LTD, pp 30–53

Duffy VB, Hayes JE, Napoleone G, Dinehart ME (2007) Retronasal olfactory and taste contributions to vegetable liking and intake. Chem Senses 32:13–14

Duffy VB, Hayes JE, Sullivan BS, Faghri P (2009) Surveying food and beverage liking: a tool for epidemiological studies to connect chemosensation with health outcomes. Ann N Y Acad Sci 1170:558–568

Essed NH, Oerlemans P, Hoek M, Van Staveren WA, Kok FJ, De Graaf C (2009) Optimal preferred MSG concentration in potatoes, spinach and beef and their effect on intake in institutionalized elderly people. J Nutr Health Aging 13(9):769–775

Evans CE, Christian MS, Cleghorn CL, Greenwood DC, Cade JE (2012) Systematic review and meta-analysis of school-based interventions to improve daily fruit and vegetable intake in children aged 5 to 12 y. Am J Clin Nutr 96(4):889–901

Fisher JO, Mennella JA, Hughes SO, Liu Y, Mendoza PM, Patrick H (2011) Offering "dip" promotes intake of a moderately-liked raw vegetable among preschoolers with genetic sensitivity to bitterness. J Acad Nutr Diet 112(2):235–245

Fitch C, Keim KS (2012) Position of the academy of nutrition and dietetics: use of nutritive and nonnutritive sweeteners. J Acad Nutr Diet 112(5):739–758

Gaudette NJ, Pickering GJ (2012a) The efficacy of bitter blockers on health-relevant bitterants. J Funct Foods 4(1):177–184

Gaudette NJ, Pickering GJ (2012b) Optimizing the orosensory properties of model functional beverages: the influence of novel sweeteners, odorants, bitter blockers, and their mixtures on (+)-catechin. J Food Sci 77(6):S226–S232

Gayathri DA, Henderson SA, Drewnowski A (1997) Sensory acceptance of Japanese green tea and soy products is linked to genetic sensitivity to 6-n-propylthiouracil. Nutr Cancer 29:146–151

Green BG, Dalton P, Cowart B, Shaffer G, Rankin K, Higgins J (1996) Evaluating the 'labeled magnitude scale' for measuring sensations of taste and smell. Chem Senses 21(3):323–334

Green BG, Shaffer GS, Gilmore MM (1993) A semantically-labeled magnitude scale of oral sensation with apparent ratio properties. Chem Senses 18:683–702

Guadagni D, Maier V, Turnbaug J (1974) Some factors affecting sensory thresholds and relative bitterness of limonin and naringin. J Sci Food Agric 25:1199–1205

Havas S, Heimendinger J, Damron D, Nicklas TA, Cowan A, Beresford SA, Sorensen G, Buller D, Bishop D, Baranowski T et al (1995) 5 a day for better health–nine community research projects to increase fruit and vegetable consumption. Public Health Rep 110(1):68–79

Hayes JE, Bartoshuk LM, Kidd JR, Duffy VB (2008) Supertasting and PROP bitterness depends on more than the TAS2R38 gene. Chem Senses 33(3):255–265

Hayes JE, Duffy VB (2007) Revisiting sugar-fat mixtures: sweetness and creaminess vary with phenotypic markers of oral sensation. Chem Senses 32(3):225–236

Hayes JE, Keast RS (2011) Two decades of supertasting: where do we stand? Physiol Behav 104(5):1072–1074

Hayes JE, Sullivan BS, Duffy VB (2010) Explaining variability in sodium intake through oral sensory phenotype, salt sensation and liking. Physiol Behav 100(4):369–380

Heim S, Stang J, Ireland M (2009) A garden pilot project enhances fruit and vegetable consumption among children. J Am Diet Assoc 109(7):1220–1226

Herman CP, Polivy J (1980) Restrained eating. Saunders, Philadelphia

Hoffman JA, Thompson DR, Franko DL, Power TJ, Leff SS, Stallings VA (2011) Decaying behavioral effects in a randomized, multi-year fruit and vegetable intake intervention. Prev Med 52(5):370–375

Intranuovo LR, Powers AS (1998) The perceived bitterness of beer and 6-n-propylthiouracil (PROP) taste sensitivity. Ann N Y Acad Sci Olfaction and Taste XII: An International Symposium 855:813–815

Kaminski LC, Henderson SA, Drewnowski A (2000) Young women's food preferences and taste responsiveness to 6-n-propylthiouracil (PROP). Physiol Behav 68:691–697

Keast RS, Breslin PA (2002) Modifying the bitterness of selected oral pharmaceuticals with cation and anion series of salts. Pharm Res 19(7):1019–1026

Keast RS, Breslin PA (2005) Bitterness suppression with zinc sulfate and Na-cyclamate: a model of combined peripheral and central neural approaches to flavor modification. Pharm Res 22(11):1970–1977

Keast RS, Canty TM, Breslin PA (2004a) The influence of sodium salts on binary mixtures of bitter-tasting compounds. Chem Senses 29(5):431–439

Keast RS, Canty TM, Breslin PA (2004b) Oral zinc sulfate solutions inhibit sweet taste perception. Chem Senses 29(6):513–521

Keller KL, Steinman L, Nurse RJ, Tepper B (2002) Genetic taste sensitivity to 6-n-propylthiouracil influences food preferences and reported intake in preschool children. Appetite 38(1):3–12

Keppel G (1991) Design and analysis: a researcher's handbook. Prentice Hall, Englewood Cliffs, NJ

Kielhorn S, Thorngate J III (1999) Oral sensations associated with the flavan-3-ols (+)-catechin and (−)-epicatechin. Food Qual Pref 10:109–116

Kroeze JH, Bartoshuk LM (1985) Bitterness suppression as revealed by split-tongue taste stimulation in humans. Physiol Behav 35(5):779–783

Lanier SA, Hayes JE, Duffy VB (2005) Sweet and bitter tastes of alcoholic beverages mediate alcohol intake in of-age undergraduates. Physiol Behav 83(5):821–831

Larson NI, Neumark-Sztainer DR, Harnack LJ, Wall MM, Story MT, Eisenberg ME (2008) Fruit and vegetable intake correlates during the transition to young adulthood. Am J Prev Med 35(1):33–37

Lawless H (1979) Evidence for neural inhibition in bittersweet taste mixtures. J Comp Physiol Psychol 93(3):538–547

Mennella JA, Pepino MY, Beauchamp GK (2003) Modification of bitter taste in children. Dev Psychobiol 43(2):120–127

Napoleone G, Conliffe C, Hayes JE, Kneeland K, Sullivan BS, Duffy VB. 2007. Modifying vegetable tastes to improve liking. ADA FNCE. Philadelphia, PA: J Am Diet Assoc p. A76

Pasini F, Verardo V, Cerretani L, Caboni MF, D'Antuono LF (2011) Rocket salad (Diplotaxis and Eruca spp.) sensory analysis and relation with glucosinolate and phenolic content. J Sci Food Agric 91(15):2858–2864

Powell LM, Zhao Z, Wang Y (2009) Food prices and fruit and vegetable consumption among young American adults. Health Place 15(4):1064–1070

Remington A, Anez E, Croker H, Wardle J, Cooke L (2012) Increasing food acceptance in the home setting: a randomized controlled trial of parent-administered taste exposure with incentives. Am J Clin Nutr 95(1):72–77

Roland WS, Vincken JP, Gouka RJ, van Buren L, Gruppen H, Smit G (2011) Soy isoflavones and other isoflavonoids activate the human bitter taste receptors hTAS2R14 and hTAS2R39. J Agric Food Chem 59(21):11764–11771

Tabachnick B, Fidell L (2001) Using multivariate statistics. Allyn and Bacon, Boston, MA

Taylor AW, Coveney J, Ward PR, Henderson J, Meyer SB, Pilkington R, Gill TK (2012) Fruit and vegetable consumption—the influence of aspects associated with trust in food and safety and quality of food. Public Health Nutr 15(2):208–217

Tepper BJ (2008) Nutritional implications of genetic taste variation: the role of PROP sensitivity and other taste phenotypes. Annu Rev Nutr 28:367–388

Tieman D, Bliss P, McIntyre LM, Blandon-Ubeda A, Bies D, Odabasi AZ, Rodriguez GR, van der Knaap E, Taylor MG, Goulet C et al (2012) The chemical interactions underlying tomato flavor preferences. Curr Biol 22(11):1035–1039

Turnbull B, Matisoo-Smith E (2002) Taste sensitivity to 6-n-propylthiouracil predicts acceptance of bitter-tasting spinach in 3–6-y-old children. Am J Clin Nutr 76(5):1101–1105

US Department of Agriculture, US Department of Health and Human Services. 2010a. Dietary guidelines for Americans 2010, chapter 4. http://www.cnpp.usda.gov/Publications/DietaryGuidelines/2010/PolicyDoc/Chapter4.pdf. Accessed 9 November 2012

US Department of Agriculture, US Department of Health and Human Services. 2010b. Report of the Dietary Guidelines Advisory Committee on the Dietary Guidelines for Americans. http://www.cnpp.usda.gov/Publications/DietaryGuidelines/2010/DGAC/Report/B-2-TotalDiet.pdf. Accessed 31 May 2012

Wind M, de Bourdeaudhuij I, te Velde SJ, Sandvik C, Due P, Klepp KI, Brug J (2006) Correlates of fruit and vegetable consumption among 11-year-old Belgian–Flemish and Dutch schoolchildren. J Nutr Educ Behav 38(4):211–221
Acknowledgments
The project received supported from the American Diabetes Association Foundation and USDA Hatch Project CONS00827. JEH receives salary support from USDA Hatch Project PEN04332 funds and a National Institutes of Health grant from the National Institute of Deafness and Communication Disorders (grant DC010904).
About this article
Cite this article
Sharafi, M., Hayes, J.E. & Duffy, V.B. Masking Vegetable Bitterness to Improve Palatability Depends on Vegetable Type and Taste Phenotype. Chem. Percept. 6, 8–19 (2013). https://doi.org/10.1007/s12078-012-9137-5
Received:

Accepted:

Published:

Issue Date:

DOI: https://doi.org/10.1007/s12078-012-9137-5
Keywords