Abstract
Olfactory processing is known to involve the orbitofrontal cortex (OFC). The OFC is also believed to function less effectively in individuals scoring higher in psychopathic personality traits. In this study, we examined whether poorer olfactory discrimination and identification—taken as an indicator of OFC integrity—was associated with the degree of presence of psychopathic traits in a community sample. Seventy-nine non-criminal participants completed the Self-Report Psychopathy scale and a standardized measure of olfactory ability, the Sniffin' Sticks, measuring odor threshold, identification, and discrimination. Consistent with predictions, we found a relationship between psychopathy and olfactory discrimination and identification but not odor threshold, even after controlling for gender, age, empathy, smoking status, and craniofacial surgery/injury. These findings suggest that brain areas subserving higher olfactory processes—identification and discrimination—are somehow less efficient in individuals who score higher on psychopathic traits. In particular, we suggest that this relates to processing within the orbitofrontal cortex.
This is a preview of subscription content, log in to check access.
Access options
Buy single article
Instant access to the full article PDF.
US$ 39.95
Tax calculation will be finalised during checkout.
Subscribe to journal
Immediate online access to all issues from 2019. Subscription will auto renew annually.
US$ 79
Tax calculation will be finalised during checkout.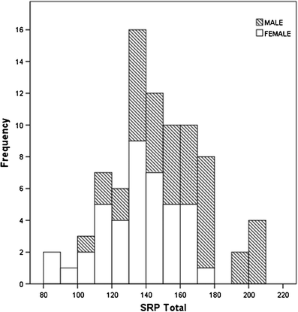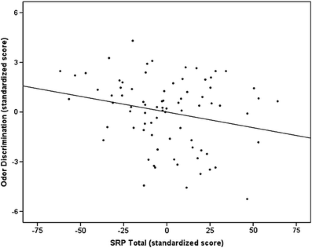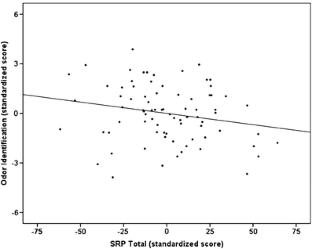 References
Bechara A, Damasio AR, Damasio H, Anderson SW (1994) Insensitivity to future consequences following damage to human prefrontal cortex. Cognition 50:7–15

Bechara A, Damasio H, Damasio AR, Lee GP (1999) Different contributions of the human amygdala and ventromedial prefrontal cortex to decision-making. J Neurosci 19(13):5473–5481

Belmore MF, Quinsey VL (1994) Correlates of psychopathy in a noninstitutional sample. J Interpers Violence 9(3):339–349

Berlin HA, Rolls ET, Kischka U (2004) Impulsivity, time perception, emotion and reinforcement sensitivity in patients with orbitofrontal cortex lesions. Brain 127:1108–1126

Birbaumer N, Veit R, Lotze M, Erb M, Hermann C, Grodd W, Flor H (2005) Deficient fear conditioning in psychopathy: a functional magnetic resonance imaging study. Arch Gen Psychiat 62(7):799–805

Blair RJR (2004) The roles of orbital frontal cortex in the modulation of antisocial behaviour. Brain Cognition 55:198–208

Blair RJR (2006) Subcortical brain systems in psychopathy: the amygdala and associated structures. In: Patrick CJ (ed) Handbook of psychopathy. Guilford, New York, pp 459–478

Blair RJR, Mitchell DGV, Richell RA, Kelly S, Leonard A, Newman C, Scott SK (2002) Turning a deaf ear to fear: impaired recognition of vocal affect in psychopathic individuals. J Abnorm Psychol 111(4):682–686

Blair KS, Newman C, Mitchell DGV, Richell RA, Leonard A, Morton J, Blair RJR (2006) Differentiating among prefrontal substrates in psychopathy: neuropsychological test findings. Neuropsychology 20(2):153–165

Danthiir V, Roberts RD, Pallier G, Stankov L (2001) What the nose knows: olfaction and cognitive abilities. Intelligence 29(4):337–361

Devonshire PA, Howard RC, Sellars C (1988) Frontal lobe functions and personality in mentally abnormal offenders. Pers Indiv Differ 9(2):339–344

Dias R, Robbins TW, Roberts AC (1996) Dissociation in prefrontal cortex of affective and attentional shifts. Nature 380:69–72

Dinn WM, Harris CL (2000) Neurocognitive function in antisocial personality disorder. Psychiat Res 97:173–190

Doty RL, Shaman P, Dann M (1984) Development of the university of Pennsylvania smell identification test: a standardized microencapsulated test of olfactory function. Physiol Behav 32(3):489–502

Gorenstein EE (1982) Frontal lobe functions in psychopaths. J of Abnorm Psychol 95:368–379

Gottfried JA (2007) What can an orbitofrontal cortex-endowed animal do with smells? Ann NY Acad Sci 1121:102–120

Gottfried JA, O'Doherty J, Dolan RJ (2002) Appetitive and aversive olfactory learning in humans studied using event-related functional magnetic resonance imaging. J Neurosci 22(24):10829–10837

Hare RD (1984) Performance of psychopaths on cognitive task related to frontal lobe function. J Abnorm Psychol 93(2):133–140

Hare RD (1991) The Hare psychopathy checklist–revised. Multi-Health Systems, Toronto

Hare RD (2003) The Hare psychopathy checklist–revised, 2nd edn. Multi-Health Systems, Toronto

Harris GT, Rice ME, Cormier CA (1991) Psychopathy and violent recidivism. Law Human Behav 15(6):625–637

Hart SD, Forth AE, Hare RD (1990) Performance of criminal psychopaths on selected neuropsychological tests. J Abnorm Psychol 99(4):374–379

Hawkes CH, Doty RL (2009) The neurology of olfaction. Cambridge University Press, Cambridge

Hoffman JJ, Hall RW, Bartsch TW (1987) On the relative importance of "psychopathic" personality and alcoholism on neuropsychological measures of frontal lobe dysfunction. J Abnorm Psychol 96:158–160

Hulshoff Pol HE, Hijman R, Tulleken CA, Heeren TJ, Schneider N, van Ree JM (2002) Odor discrimination in patients with frontal lobe damage and Korsakoff's syndrome. Neuropsychologia 40:888–891

Hummel T, Sekinger B, Wolf SR, Pauli E, Kobal G (1997) 'Sniffin' Sticks': olfactory performance assessed by the combined testing of odor identification, odor discrimination and olfactory threshold. Chem Senses 22:39–52

Hummel T, Kobal G, Gudziol H, Mackay-Sim A (2007) Normative data for the Sniffin' Sticks including test of odor identification, odor discrimination, and olfactory thresholds: an upgrade based on a group of more than 3,000 subjects. Eur Arch Otorhinolaryngol 264:237–243

Jimenez DF, Sundrani S, Barone CM (1997) Posttraumatic anosmia in craniofacial trauma. J Craniomaxillofac Trauma 3(1):8–15

LaPierre D, Braun CMJ, Hodgins S (1995) Ventral frontal deficits in psychopathy: neuropsychological test findings. Neuropsychologia 33(2):139–151

Lezak MD (1995) Neuropsychological assessment, 3rd edn. Oxford University Press, New York, pp 650–685

Lorber MF (2004) Psychophysiology of aggression, psychopathy and conduct problems: a meta-analysis. Psychol Bull 130(4):531–552

Lykken DT (1957) A study of anxiety in the sociopathic personality. J Abnorm Soc Psych 55:6–10

Mahmut MK, Homewood J, Stevenson RJ (2008) The characteristics of non-criminals with high psychopathy traits: are they similar to criminal psychopaths? J Res Pers 42:679–692

Mahmut MK, Menictas C, Stevenson RJ, Homewood J (2011) Validating the factor structure of the self-report psychopathy scale in a community sample. Psychol Assessment 23(3):670–678

Mehrabian A, Epstein N (1972) A measure of emotional empathy. J Pers 40:525–543

Mitchell DGV, Colledge E, Leonard A, Blair RJR (2002) Risky decisions and response reversal: is there evidence of orbitofrontal cortex dysfunction in psychopathic individuals? Neuropsychologia 40(12):2013–2022

Mitchell DGV, Fine C, Richell RA, Newman C, Lumsden J, Blair KS, Blair RJR (2006) Instrumental learning and relearning in individuals with psychopathy and in patients with lesions involving the amygdala or orbitofrontal cortex. Neuropsychology 20(3):280–289

Motzkin JC, Newman JP, Kiehl KA, Koenigs M (2011) Reduced prefrontal connectivity in psychopathy. J Neurosci 31(48):17348–17357

Neal TMS, Sellbom M (2012) Examining the factor structure of the Hare self-report psychopathy scale. J Pers Assess 94(3):244–253. doi:10.1080/00223891.2011.648294

Öngür D, Price JL (2000) The organization of networks within the orbital and medial prefrontal cortex of rats, monkeys and humans. Cereb Cortex 10:206–219

Paulhus DL, Neumann CS, Hare RD (2012) Manual for the self-report psychopathy scale. Multi-health systems, Toronto

Raine A (2008) From genes to brain to antisocial behaviour. Curr Dir Psychol Sci 17(5):323–328

Raine A, Lencz T, Bihrle S, LaCasse L, Colletti P (2000) Reduced prefrontal gray matter volume and reduced autonomic activity in antisocial personality disorder. Arch Gen Psychiat 57(2):119–127

Raine A, Ishikawa SS, Arce E, Lencz T, Knuth KH, Bihrle S, LaCasse L, Colletti P (2004) Hippocampal structural asymmetry in unsuccessful psychopaths. Biol Psychiat 55(2):185–191

Rolls ET (2000) The orbitofrontal cortex and reward. Cereb Cortex 10:284–294

Rolls ET (2004) The functions of the orbitofrontal cortex. Brain Cognition 55(1):11–29

Rolls ET, Critchley HD, Mason R, Wakeman EA (1996) Orbitofrontal cortex neurons: role in olfactory and visual association learning. J Neurophysiol 75:970–1981

Roussy S, Toupin J (2000) Behavioral inhibition deficits in juvenile psychopaths. Aggressive Behav 26:413–424

Royet JP, Hudry J, Zald DH, Godinot D, Gregoire MC, Lavenne F, Costes N, Holley A (2001) Functional neuroanatomy of different olfactory judgments. NeuroImage 13:506–519

Schalling D, Rosen AS (1968) Porteus Maze differences between psychopathic and non-psychopathic criminals. Brit J Soc Clin Psyc 7(3):224–228

Smith SS, Arnett PA, Newman JP (1992) Neuropsychological differentiation of psychopathic and nonpsychopathic criminal offenders. Pers Indiv Differ 13(11):1233–1243

Spinella M (2002) A relationship between smell identification and empathy. Int J Neurosci 112:605–612

Stevenson RJ, Mahmut MK (2011) Olfactory test performance and its relationship with the perceived location of odors. Atten Percept Psycho 73:1966–1976

Sugiyama K, Hasegawa Y, Sugiyama N, Suzuki M, Watanabe N, Murakami S (2006) Smoking-induced olfactory dysfunction in chronic sinusitis and assessment of brief University of Pennsylvania Smell Identification Test and T & T methods. Am J Rhinol 20:439–444

Sutker PB, Allain AN (1987) Cognitive abstraction, shifting, and control: clinical sample comparisons of psychopaths and non-psychopaths. J Abnorm Psychol 96(1):73–75

Taylor J, Lang AR (2006) Psychopathy and substance use disorders. In: Patrick CJ (ed) Handbook of psychopathy. Guilford, New York, pp 495–511

van Honk J, Hermans EJ, Putman P, Montagne B, Schutter DJLG (2002) Defective somatic markers in sub-clinical psychopathy. NeuroReport 13(8):1025–1027

Williams KM, Paulhus DL, Hare RD (2007) Capturing the four-factor structure of psychopathy in college students via self-report. J Pers Assess 88(2):205–219

Yang Y, Raine A, Lencz T, Bihrle S, LaCasse L, Colletti P (2005) Volume reduction in prefrontal gray matter in unsuccessful criminal psychopaths. Biol Psychiat 57(10):1103–1108

Zald DH, Pardo JV (2000) Functional neuroimaging of the olfactory system in humans. Int J Psychophysiol 36:165–181
About this article
Cite this article
Mahmut, M.K., Stevenson, R.J. Olfactory Abilities and Psychopathy: Higher Psychopathy Scores Are Associated with Poorer Odor Discrimination and Identification. Chem. Percept. 5, 300–307 (2012). https://doi.org/10.1007/s12078-012-9135-7
Received:

Accepted:

Published:

Issue Date:
Keywords
Psychopathy

Orbitofrontal cortex

Olfaction

Non-criminal

Sniffin' Sticks