Abstract
Several recent studies have demonstrated the existence of crossmodal associations (or correspondences) between tastes and non-words, such as 'maluma' and 'takete'. In the present study, we further explore these associations, using tastes and flavors solutions. Participants rated the stimuli on scales anchored by either non-words, taste descriptors, or other descriptors. The results confirm the existence of consistent crossmodal associations between tastes/flavors and words. Moreover, the results of principal components analysis suggest that these associations are likely based on the evaluation of the 'hedonic value' and 'activity' of the stimuli, two of the three dimensions first identified by Osgood (Psychol Bull 49:197–237, 1952), and since then repeatedly documented in the evaluation of a variety of sensory stimuli. The crossmodal associations elicited by non-words are particularly relevant for the naming/labelling of food products, since they might elicit expectations prior to consumption (and hence potentially be used to avoid any disconfirmation of expectation).
Access options
Buy single article
Instant access to the full article PDF.
USD 39.95
Price excludes VAT (USA)
Tax calculation will be finalised during checkout.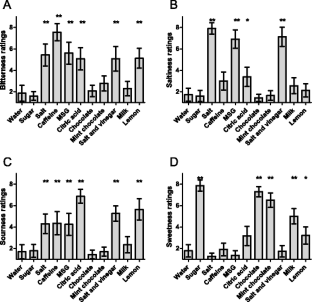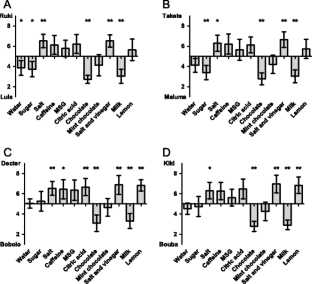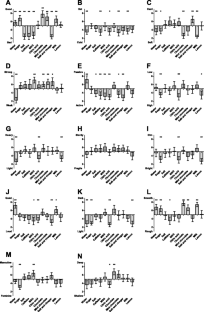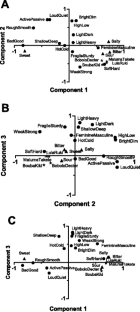 References
Abel GA, Glinert LH (2008) Chemotherapy as language: sound symbolism in cancer medication names. Soc Sci Med 66:1863–1869

Bartlett MS (1954) A note on multiplying factors for various chi square approximations. J Roy Stat Soc B 16:296–298

Cardello AV, Maller O, Kapsalis JG et al (1982) Perception of texture by trained and consumer panelists. J Food Sci 47:1186–1197

Civille GV, Lawless HT (1986) The importance of language in describing perceptions. J Sens Stud 1:203–215

Clark CC, Lawless HT (1994) Limiting response alternatives in time-intensity scaling: an examination of the halo-dumping effect. Chem Senses 19:583–594

Crisinel A-S, Spence C (2010) As bitter as a trombone: synesthetic correspondences in non-synesthetes between tastes and flavors and musical instruments and notes. Atten Percept Psycho 72:1994–2002

Deliza R, Macfie HJH (1997) The generation of sensory expectation by external cues and its effect on sensory perception and hedonic ratings: a review. J Sens Stud 2:103–128

De Saussure F (1916) Cours de linguistique générale [Course in general linguistics]. Payot, Paris

Dichter E (1971) The strategy of selling with packaging. Package Engineering Magazine July:16a–16c

Dionysius of Halicarnassus (1910) The letters: their classification, qualities, and mode of production. In: Rhys Robert W (trans and ed) On literary composition. Macmillan, London, p 147

Fónagy I (1963) Die Metaphern in der Phonetik [The metaphors in phonetics]. Mouton, The Hague

Fónagy I (2001) A research instrument. In: Languages within language: an evolutive approach, John Benjamins, Amsterdam, pp 337–357

Gallace A, Boschin E, Spence C (2010) On the taste of "Bouba" and "Kiki": an exploration of word–food associations in neurologically normal participants. Cogn Neurosci 2:34–46

Hanson-Vaux G, Crisinel A-S, Spence C (submitted) Smelling shapes: crossmodal correspondences between odors and shapes. Chem Senses

Hettinger TP, Gent JF, Marks LE, Frank ME (1999) A confusion matrix for the study of taste perception. Percept Psychophys 61:1510–1521

Hinton L, Nichols J, Ohala JJ (eds) (1994) Sound symbolism. Cambridge University Press, New York

Kaiser H (1970) A second generation Little Jiffy. Psychometrika 35:401–415

Kaiser H (1974) An index of factorial simplicity. Psychometrika 39:31–36

Köhler W (1929) Gestalt psychology. Liveright, New York

Köhler W (1947) Gestalt psychology: an introduction to new concepts in modern Psychology. Liveright, New York

Klink RR (2000) Creating brand names with meaning: the use of sound symbolism. Market Lett 11:5–20

Lawless H (1982) Paradoxical adaptation to taste mixtures. Physiol Behav 29:149–152

Maurer D, Pathman T, Mondloch CJ (2006) The shape of boubas: sound–shape correspondences in toddlers and adults. Dev Sci 9:316–322

Mccully C (2009) The sound structure of English. Cambridge University Press, New York

Meiselman HL, Dzendolet E (1967) Variability in gustatory quality identification. Percept Psychophys 2:496–498

Ngo M, Misra R, Spence C (2011) Assessing the shapes and speech sounds that people associate with chocolate samples varying in cocoa content. Food Qual Prefer 22:567–572

Nygaard LC, Cook AE, Namy LL (2009) Sound to meaning correspondences facilitates word learning. Cognition 112:181–186

O'Mahony M, Goldenberg M, Stedmon J et al (1979) Confusion in the use of the taste adjectives "sour" and "bitter". Chem Sens Flav 4:301–318

Osgood CE (1952) The nature and measurement of meaning. Psychol Bull 49:197–237

Osgood CE, Suci GJ, Tannenbaum PH (1957) The measurement of meaning. University of Illinois Press, Urbana

Schifferstein HNJ (2001) Effects of product beliefs on product perception and liking. In: Frewer L, Risvik E, Schifferstein H (eds) Food, people and society: a European perspective of consumers' food choices. Springer Verlag, Berlin

Simner J, Cuskley C, Kirby S (2010) What sound does that taste? Cross-modal mappings across gustation and audition. Perception 39:553–569

Simner J, Haywood SL (2009) Tasty non-words and neighbours: the cognitive roots of lexical-gustatory synaesthesia. Cognition 110:171–181

Spence C (2012) Managing sensory expectations concerning products and brands: capitalizing on the potential of sound and shape symbolism. J Consum Psychol 22:37–54

Spence C, Gallace A (2011) Tasting shapes and words. Food Qual Prefer 22:290–295

Yorkston E, Menon G (2004) A sound idea: phonetic effects of brand names on consumer judgments. J Consum Res 31:43–51

Zannoni M (1997) Approaches to translation problems of sensory descriptors. J Sens Stud 12:239–253
About this article
Cite this article
Crisinel, AS., Jones, S. & Spence, C. 'The Sweet Taste of Maluma': Crossmodal Associations Between Tastes and Words. Chem. Percept. 5, 266–273 (2012). https://doi.org/10.1007/s12078-012-9133-9
Received:

Accepted:

Published:

Issue Date:

DOI: https://doi.org/10.1007/s12078-012-9133-9
Keywords