Abstract
Perfumes are claimed to be an important factor in human social communication. Previous research on perfumes has mainly considered masculinity and femininity as two opposite poles of the same scale, while in this study, 18 naive participants scaled the femininity and masculinity of 12 perfumes as two independent attributes. They also indicated if they wanted to use the perfumes themselves (self-preference), if they wanted their partners to use the perfumes (partner preference), and the perceived pleasantness. It was found that higher scores of pleasantness were assigned to fragrances for daytime wear. Based on the olfactory description of perfumes available on the web (www.fragrantica.com), a method is proposed to predict the perceived femininity. Predicted values were strongly correlated (r = 0.87, p = 0.0002) with femininity ratings obtained from the panel. The results show that self-preference and partner preference were positively correlated with each other (r = 0.84, p < 0.001) and with the pleasantness, indicating that if the participants liked a perfume, they both wanted to use it themselves and wanted their partner to use it. Nonetheless, the observed correlation is influenced by one perfume that was perceived as unpleasant, and further studies will be required to better understand the gender associations of perfumes and their impact on self-preference and partner preference.
Access options
Buy single article
Instant access to the full article PDF.
US$ 39.95
Tax calculation will be finalised during checkout.
Subscribe to journal
Immediate online access to all issues from 2019. Subscription will auto renew annually.
US$ 79
Tax calculation will be finalised during checkout.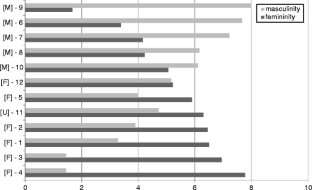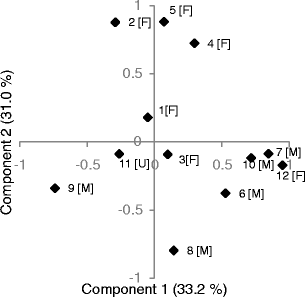 References
Ayabe-Kanamura S, Schicker I, Laska M, Hudson R, Distel H, Kobayakawa T et al (1998) Differences in perception of everyday odors: a Japanese–German cross-cultural study. Chem Sens 23:31–38

Baron RA (1981) Olfaction and human social-behavior—effects of a pleasant scent on attraction and social-perception. Pers Soc Psychol Bull 7:611–616

Baron RA (1983) Sweet smell of success—the impact of pleasant artificial scents on evaluations of job applicants. J Appl Psychol 68:709–713

Baron RA (1997) The sweet smell of … helping: effects of pleasant ambient fragrance on prosocial behavior in shopping malls. Pers Soc Psychol Bull 23:498–503

Bigelow C (1992) The typography of perfume advertising. In: Van Toller S, Dodd GH (eds) Fragrance—the psychology and biology of perfume. Springer, New York, pp 243–260

Bussey K, Bandura A (1999) Social cognitive theory of gender development and differentiation. Psychol Rev 106:676–713

Classen C (1992) The odor of the other—olfactory symbolism and cultural categories. Ethos 20:133–166

Edwards M (2008) Fragrances of the world: parfumes du monde 2008, 24th edn. Fragrances of the World, Sydney

Fiore AM (1992) Effect of composition of olfactory cues on impressions of personality. J Soc Behav Pers 20:149–161

Francis B (2002) Relativism, realism, and feminism: an analysis of some theoretical tensions in research on gender identity. J Gend Stud 11:39–54

Gueguen N (2001) Effect of a perfume on prosocial behavior of pedestrians. Psychol Rep 88:1046–1048

Gueguen N, Petr C (2006) Odors and consumer behavior in a restaurant. Hosp Manag 25:335–339

Herz RS, Inzlicht M (2002) Sex differences in response to physical and social factors involved in human mate selection: the importance of smell for women. Evol Hum Behav 23:359–364

Jellinek JS (1992) Perfume classification: a new approach. In: Van Toller S, Dodd GH (eds) Fragrance—the psychology and biology of perfume. Springer, New York, pp 229–242

MacInnes J (1988) The end of masculinity. Open University Press, Buckingham

Martins Y, Preti G, Crabtree CR, Runyan T, Vainius AA, Wysocki CJ (2005) Preference for human body odors is influenced by gender and sexual orientation. Psychol Sci 16:694–701

Milinski M, Wedekind C (2001) Evidence for MHC-correlated perfume preferences in humans. Behav Ecol 12:140–149

Moerman CJ, van Mens-Verhulst J (2004) Gender-sensitive epidemiological research: suggestions for a gender-sensitive approach towards problem definition, data collection and analysis in epidemiological research. Psychol Health Med 9:41–52

Nieuwenhoven L, Klinge I (2010) Scientific excellence in applying sex- and gender-sensitive methods in biomedical and health research. J Womens Health 19:313–321

Parr WV, White G, Heatherbell DA (2003) The nose knows: influence of colour on perception of wine aroma. J Wine Res 14:79–101

Riley SCE (2003) The management of the traditional male role: a discourse analysis of the constructions and functions of provision. J Gend Stud 12:99–113

Sczesny S, Stahlberg D (2002) The influence of gender-stereotyped perfumes on leadership attribution. Eur J Soc Psychol 32:815–828

Sergeant MJT, Davies MNO, Dickins TE, Griffiths MD (2005) The self-reported importance of olfaction during human mate choice. Sex Evol Gend 7:199–213

Stevens SS (1974) Psychophysics: introduction to its perceptual, neural, and social prospects. Wiley, New York

Zarzo M (2008) Relevant psychological dimensions in the perceptual space of perfumery odors. Food Qual Prefer 19:315–322

Zarzo M, Stanton DT (2009) Understanding the underlying dimensions in perfumers' odor perception space as a basis for developing meaningful odor maps. Atten Percept Psychol 71:225–247

Zellner DA, McGarry A, Mattern-McClory R, Abreu D (2008) Masculinity/femininity of fine fragrances affects color–odor correspondences: a case for cognitions influencing crossmodal correspondences. Chem Senses 33:211–222

Zemke DM, Shoemaker S (2007) Scent across a crowded room: exploring the effect of ambient scent on social interactions. Hosp Manag 26:927–940
About this article
Cite this article
Lindqvist, A. Perfume Preferences and How They Are Related to Commercial Gender Classifications of Fragrances. Chem. Percept. 5, 197–204 (2012). https://doi.org/10.1007/s12078-012-9119-7
Received:

Accepted:

Published:

Issue Date:
Keywords
Perfumes

Gender

Femininity

Masculinity

Odor perception

Olfaction