Abstract
Olfactory decline represents one of the earliest signs of Alzheimer's disease (AD), and deficits in olfactory identification have now been identified in persons with amnestic mild cognitive impairment (aMCI). Whether the olfactory identification deficit in AD reflects underlying degraded semantic knowledge or lower-order olfactory deficits is uncertain. To address this question, we focused on the kinds of errors committed when participants were given a unirhinal olfactory identification task at baseline and after 1 year. The aim was to assess whether more errors were committed when the target smell is either semantically related or unrelated to the distracters. Fourteen AD, 13 aMCI, and 10 control participants were tested using a modified version of the University of Pennsylvania Smell Identification Test. Examination of error types showed that the control group predominantly selected distracters which were related to the target; in contrast, distracters that were unrelated to the target odor were selected as frequently as related odors by the AD and aMCI groups, for both nostrils. This pattern was maintained 1 year later, and previously designated aMCI patients who then met criteria for AD were more inclined to choose the unrelated distracters than were aMCI patients who did not meet AD criteria. Olfactory identification deficits in AD and aMCI plausibly reflect deterioration in ability to access olfactory-mediated semantic knowledge. This pattern of errors may help distinguish the olfactory identification deficits observed in AD from olfactory identification deficits observed in other conditions not associated with semantic loss.
This is a preview of subscription content, log in to check access.
Access options
Buy single article
Instant access to the full article PDF.
US$ 39.95
Price includes VAT for USA
Subscribe to journal
Immediate online access to all issues from 2019. Subscription will auto renew annually.
US$ 99
This is the net price. Taxes to be calculated in checkout.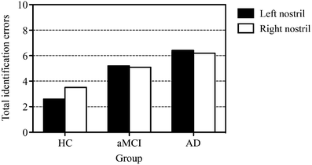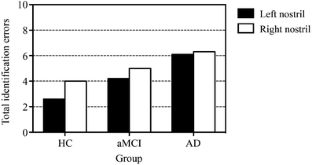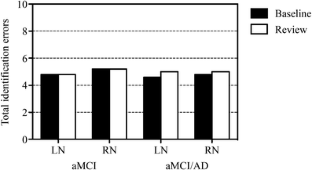 Notes
1.

The item pizza was substituted for Tabert et al.'s lemon due to widespread detection difficulties with the latter item in pilot testing.
Abbreviations
AD:

Alzheimer's disease

aMCI:

Amnestic mild cognitive impairment

HC:

Healthy control

SIT:

Smell Identification Test
References
Adlam AL, Bozeat S, Arnold R, Watson P, Hodges JR (2006) Semantic knowledge in mild cognitive impairment and mild Alzheimer's disease. Cortex 42(5):675–684

Alathari L, Trinh Ngo C, Dopkins S (2004) Loss of distinctive features and a broader pattern of priming in Alzheimer's disease. Neuropsychology 18(4):603–612

Albers MW, Tabert MH, Devanand DP (2006) Olfactory dysfunction as a predictor of neurodegenerative disease. Curr Neurol Neurosci Rep 6(5):379–386

Bacon AW, Bondi MW, Salmon DP, Murphy C (1998) Very early changes in olfactory functioning due to Alzheimer's disease and the role of apolipoprotein E in olfaction. Ann N Y Acad Sci 855:723–731

Bahar-Fuchs A, Savage G, Rowe C, Moss S (2007) Decline of olfactory identification in MCI and AD: evidence for the breakdown of olfactory "semantics". J Int Neuropsychol Soc 13(Suppl 2):102

Barbarotto R, Capitani E, Jori T, Laiacona M, Molinari S (1998) Picture naming and progression of Alzheimer's disease: an analysis of error types. Neuropsychologia 36:397–405

Collie A, Maruff P, Shafiq-Antonacci R, Smith M, Hallup M, Schofield RP et al (2001) Memory decline in healthy older people: implications for identifying mild cognitive impairment. Neurology 56:1533–1538

Collins AM, Loftus EF (1975) A spreading activation of semantic processing. Psychol Rev 82:407–428

Delis D, Kramer J, Kaplan E, Ober B (2000) CVLT-II: California Verbal Learning Test Adult Version, 2nd edn. The Psychological Corporation, San Antonio

Devanand DP, Michaels-Marston KS, Liu X, Pelton G, Padilla M (2000) Olfactory deficits in patients with mild cognitive impairment predict Alzheimer's disease at follow up. Am J Psychiatry 157:1399–1405

Djordjevic J, Jones-Gotman M, De Sousa K, Chertkow H (2008) Olfaction in patients with mild cognitive impairment and Alzheimer's disease. Neurobiol Aging 29:693–706

Doty RL (ed) (1995) Handbook of olfaction and gustation. Marcel Dekker, New York

Doty RL, Shaman P, Dann M (1984) Development of the University of Pennsylvania smell identification test: a standardized microencapsulated test of olfactory function. Physiol Behav 32(3):489–502

Doty RL, Marcus A, Lee WW (1996) Development of the 12-item cross-cultural smell identification test (CC-SIT). Laryngoscope 106(3 Pt 1):353–356

Duff K, McCaffrey JR, Solomon SG (2002) The pocket smell test: successfully discriminating probable Alzheimer's dementia from vascular dementia and major depression. J Neuropsychiatry Clin Neurosci 14:197–201

Eibenstein A, Fioretti AB, Simaskou MN, Sucapane P, Mearelli S, Mina C et al (2005) Olfactory screening test in mild cognitive impairment. J Neurol Sci 26(3):156–160

Engen T (1987) Remembering odors and their names. Am Sci 75:497–503

Finton MJ, Lucas JA, Graff-Radford NR, Uitti RJ (1998) Analysis of visuospatial errors in patients with Alzheimer's disease or Parkinson's disease. J Clin Exp Neuropsychol 20:186–193

Folstein MF, Folstein SE, McHugh PR (1975) Mini-mental state. A practical method for grading the cognitive state of patients for the clinician. J Psychiatr Res 12(3):189–198

Garrard P, Lambon Ralph MA, Patterson K, Pratt KH, Hodges JR (2005) Semantic feature knowledge and picture naming in dementia of Alzheimer's type: a new approach. Brain Lang 93(1):79–94

Good KP, Martzke JS, Milliken HI, Honer WG, Kopala LC (2002) Unirhinal olfactory identification deficits in young male patients with schizophrenia and related disorders: association with impaired memory function. Schizophr Res 56:211–223

Graves AB, Bowen JD, Rajaram L, McCormick WC, McCurry SM, Schellenberg GD et al (1999) Impaired olfaction as a marker for cognitive decline: interaction with apolipoprotein E epsilon4 status. Neurology 53:1480–1487

Hodges JR, Salmon DP, Butters N (1992) Semantic memory impairment in Alzheimer's disease: failure of access or degraded knowledge? Neuropsychologia 30:301–314

Hodges JR, Graham N, Patterson K (1995) Charting the progression in semantic dementia: implications for the organisation of semantic memory. Memory 3:463–495

Joubert S, Felician O, Barbeau EJ, Didic M, Poncet M, Ceccaldi M (2008) Patterns of semantic memory impairment in mild cognitive impairment. Behav Neurol 19(1–2):35–40

Kjelvik G, Sando SB, Aasly J, Engedal KA, White LR (2007) Use of the brief smell identification test for olfactory deficit in a Norwegian population with Alzheimer's disease. Int J Geriatr Psychiatry 22(10):1020–1024

Koss E, Weiffenbach JM, Haxby JV, Friedland RP (1988) Olfactory detection and identification performance are dissociated in early Alzheimer's disease. Neurology 38(8):1228–1232

Luzzi S, Snowden SS, Neary D, Coccia M, Provinciali L, Lambon Ralph AM (2007) Distinct patterns of olfactory impairment in Alzheimer's disease, semantic dementia, frontotemporal dementia and corticobasal degeneration. Neuropsychologia 45:1823–1831

McKhann G, Drachman D, Folstein M, Katzman R, Price D, Stadlan EM (1984) Clinical diagnosis of Alzheimer's disease: report of the NINCDS–ADRDA Work Group under the auspices of Department of Health and Human Services Task Force on Alzheimer's Disease. Neurology 34:939–944

Meyers J, Meyers K (1995) Rey complex figure test and recognition trial. Psychological Assessment Resources, Odessa

Moreaud O, David D, Charnallet A, Pellat J (2001) Are semantic errors actually semantic?: evidence from Alzheimer's disease. Brain Lang 77:176–186

Morgan CD, Nordin S, Murphy C (1995) Odor identification as an early marker for Alzheimer's disease: impact of lexical functioning and detection sensitivity. J Clin Exp Neuropsychol 17(5):793–803

Murphy C, Bacon AW, Bondi MW, Salmon DP (1998) Apolipoprotein E status is associated with odor identification deficits in nondemented older persons. Ann N Y Acad Sci 855:744–750

Nagy E, Loveland KA (2001) Olfactory deficit in Alzheimer's disease? [Letter to the editor]. Am J Psychiatry 158:1533–1533

Nordin S, Murphy C (1996) Impaired sensory and cognitive olfactory function in questionable Alzheimer's disease. Neuropsychology 10(1):113–119

Patterson K (2007) The reign of typicality in semantic memory. Philosophical transactions of the Royal Society of London Series B. Biol Sci 362:813–821

Peters MJ, Hummel T, Kratzsch T, Lotsch J, Skarke C, Frolich L (2003) Olfactory function in mild cognitive impairment and Alzheimer's Disease: an investigation using psychophysical and electrophysiological techniques. Am J Psychiatry 160(11):1995–2002

Petersen RC, Doody R, Kurz A, Mohs RC, Morris JC, Rabins PV et al (2001) Current concepts in mild cognitive impairment. Arch Neurol 58(12):1985–1992

Rogers TT, Hodges JR, Patterson K, Lambon Ralph MA (2004a) Object recognition under semantic impairment: the effects of conceptual regularities on perceptual decisions. Lang Cognitive Proc 18(5–6):625–662

Rogers TT, Lambon Ralph MA, Garrard P, Bozeat S, McClelland JL, Hodges JR et al (2004b) Structure and deterioration of semantic memory: a neuropsychological and computational investigation. Psychol Rev 111(1):205–235

Rowe CC, Ng S, Ackermann U, Gong SJ, Pike K, Savage G et al (2007) Imaging beta-amyloid burden in aging and dementia. Neurology 68(20):1718–1725

Saxton J, Ratcliff G, Munro CA, Coffey EC, Becker JT, Fried L et al (2000) Normative data on the Boston Naming Test and two equivalent 30-item short forms. Clin Neuropsychol 14:526–534

Serby M, Corwin J, Conrad P, Rotrosen J (1985) Olfactory dysfunction in Alzheimer's disease and Parkinson's disease. Am J Psychiatry 142(6):781–782

Serby M, Larson P, Kalkstein D (1991) The nature and course of olfactory deficits in Alzheimer's disease. Am J Psychiatry 148(3):357–360

Ska B, Poissant A, Joanette Y (1990) Line orientation judgment in normal elderly and subjects with dementia of Alzheimer's type. J Clin Exp Neuropsychol 12:695–702

Stevenson RJ, Boakes RA (2003) A mnemonic theory of odor perception. Psychol Rev 110(2):340–364

Szeszko PR, Bates J, Robinson D, Kane J, Bilder RM (2004) Investigation of unirhinal olfactory identification in antipsychotic-free patients experiencing a first-episode schizophrenia. Schizophr Res 67(2–3):219–225

Tabert MH, Liu X, Doty RL, Serby M, Zamora D, Pelton GH et al (2005) A 10-item smell identification scale related to risk for Alzheimer's disease. Ann Neurol 58(1):155–160

Wang QS, Tian L, Huang YL, Qin S, He LQ, Zhou JN (2002) Olfactory identification and apolipoprotein E epsilon 4 allele in mild cognitive impairment. Brain Res 951(1):77–81

Warner MD, Peabody CA, Flattery JJ, Tinklenberg JR (1986) Olfactory deficits and Alzheimer's disease. Biol Psychiatry 21(1):116–118

Warrington EK, Crutch SJ (2007) A within-modality test of semantic knowledge: the size/weight attribute test. Neuropsychology 21:803–811

Weaver Cargin J, Maruff P, Collie A, Masters C (2006) Mild memory impairment in healthy older adults is distinct from normal aging. Brain Cogn 60:146–155

Wechsler D (1997) WAIS-III Administration and Scoring Manual. The Psychological Corporation, San Antonio

Wilson RS, Schneider JA, Arnold SE, Tang Y, Boyle PA, Bennett DA (2007) Olfactory identification and incidence of mild cognitive impairment in older age. Arch Gen Psychiatry 64(7):802–808

Winblad B, Palmer K, Kivipelto M, Jelic V, Fratiglioni L, Wahlund LO et al (2004) Mild cognitive impairment—beyond controversies, towards a consensus: report of the International Working Group on Mild Cognitive Impairment. J Intern Med 256(3):240–246

Yaffe K, Petersen RC, Lindquist K, Kramer J, Miller B (2006) Subtype of mild cognitive impairment and progression to dementia and death. Dement Geriatr Cogn Disord 22(4):312–319
About this article
Cite this article
Bahar-Fuchs, A., Moss, S., Rowe, C. et al. Can I Smell Gas (or Is It Lilac)? Olfactory Semantic Deficits in Mild Cognitive Impairment and Alzheimer's Disease. Chem. Percept. 3, 118–128 (2010). https://doi.org/10.1007/s12078-010-9069-x
Received:

Accepted:

Published:

Issue Date:
Keywords
Error Analysis

Semantic Memory

Olfaction

Mild Cognitive Impairment