Abstract
Recently, several papers have investigated color-induced olfactory biases in wine tasting. In particular, Morrot et al. (Brain and Language, 79, 309–320, 2001) reported that visual information mostly drove wine description and that odor information was relatively unimportant in wine tasting. The present paper aims to study the relationship between the color of wine and its odor through a different approach. We hypothesize that people have stable mental representations of the aroma of the three wine color categories (red, white, and rosé) and that visual information is not a necessary clue to correctly categorize wines by color. In order to explore this issue, we adopted two complementary approaches. In the first one, we presented 18 wines (six reds, six whites, and six rosés) in dark glasses to our participants who were asked to smell the wines and categorize them into three categories: "red wine," "white wine," or "rosé wine." Because we expected categorization performance to be affected by participants' expertise, we used two groups of participants corresponding to wine experts and wine novices. The second approach was designed in order to verify whether the most salient perceptual differences among samples were correlated with the output of the ternary sorting task. Using the same 18 wines, we asked a third panel composed of trained assessors to perform a wine description, a free sorting task based on wines' odor similarity, and finally, the same ternary sorting task carried out by experts and novices. We found that experts and novices were able to correctly identify red and white wines but not rosé wines. Contrary to our expectations, experts and novices performed at the same level. Trained panelists also categorized accurately white wines and red wines but not rosé wines. From a more perceptual point of view, the free sorting task yielded virtually the same result. Finally, in terms of wine description, again, a clear segmentation was obtained between white and red wines. White wines were described by yellow or orange odorant sources, while the red wines were described by dark odorant sources. In the light of our results, cognitive mechanisms potentially involved in the organization of sensory knowledge and wine categorization are also discussed.
Access options
Buy single article
Instant access to the full article PDF.
USD 39.95
Price excludes VAT (USA)
Tax calculation will be finalised during checkout.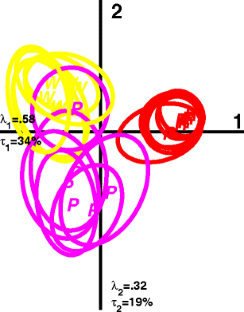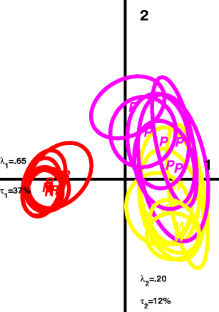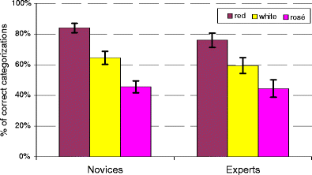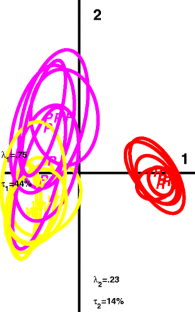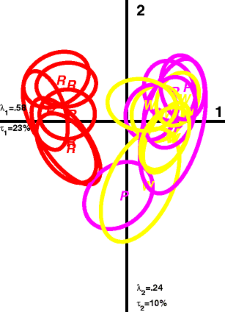 Abbreviations
ISO:

International Organization for Standardization

ANOVA:

Analysis of variance

GM:

Geometric mean

PCA:

Principal components analysis
References
Abdi H, Valentin D (2007) Some new and easy ways to describe, compare, and evaluate products and assessors. In: Valentin D, Nguyen DZ, Pelletier L (eds) New trends in sensory evaluation of food and non-food products. Vietnam National University, Ho Chi Minh, pp 5–18

Abdi H, Valentin D, O'Toole AJ, Edelman B (2005) DISTATIS: the analysis of multiple distance matrices. Proceedings of the IEEE Computer Society: International Conference on Computer Vision and Pattern Recognition, San Diego, CA, USA, pp. 42–47

Abdi H, Valentin D, Chollet S, Chrea C (2007) Analyzing assessors and products in sorting tasks: DISTATIS, theory and applications. Food Qual Prefer 18:627–640

Abdi H, Dunlop JP, Williams LJ (2009) How to compute reliability estimates and display confidence and tolerance intervals for pattern classifiers using the bootstrap and 3-way multidimensional scaling (DISTATIS). NeuroImage 45:89–95

Ashby FG (1992) Multidimensional models of categorization. In: Ashby FG (ed) Multidimensional models of perception and cognition. Erlbaum, Hillsdale, pp 449–483

Ballester J, Patris B, Symoneaux R, Valentin D (2008) Conceptual vs perceptual wine spaces: does expertise matter? Food Qual Prefer 19:267–276

Brochet F, Dubourdieu D (2001) Wine descriptive language supports cognitive specificity of chemical senses. Brain Lang 77:187–196

Campo E, Do BV, Ferreira V, Valentin D (2008) Aroma properties of young Spanish monovarietal white wines: a study using sorting task, list of terms and frequency of citation. Australian Journal of Grape and Wine Research 14:104–115

Candelon M, Ballester J, Uscida N, Blanquet J, Le Fur Y (2004) Sensory methodology developed for the investigation of Sciaccarello wine concept. Journal International des Sciences de la Vigne et du Vin 38:147–154

Collins AM, Quillian MR (1969) Retrieval time from semantic memory. J Learn Verbal Behav 8:240–247

Delwiche J (2004) The impact of perceptual interactions on perceived flavour. Food Qual Prefer 15:137–146

Dematte ML, Sanabria D, Spence C (2006) Crossmodal associations and interactions between odors and colors. Chem Senses 31:531–538

Dravieks A (1982) Odor quality: semantically generated multidimensional profiles are stable. Science 218:799–801

Gawel R (1997) The use of language by trained and untrained experienced wine tasters. J Sens Stud 12:267–284

Gilbert AN, Martin R, Kemp SE (1996) Cross-modal correspondence between vision and olfaction: the color of smells. Am J Psychol 109:335–351

Gottfried JA, Dolan RJ (2003) The nose smells what the eye sees: crossmodal visual facilitation of human olfactory perception. Neuron 39:375–386

Hughson AL (2003) Cork and talk: the cognitive and perceptual bases of wine expertise. Dissertation, University of Sydney, Sydney

Hughson AL, Boakes RA (2002) The knowing nose: the role of knowledge in wine expertise. Food Qual Prefer 13:463–472

Lawless HT (1985) Psychological perspectives on winetasting and recognition of volatile flavours. In: Birch GG (ed) Alcoholic beverages. Elsevier Applied Science, London, pp 97–113

Lebart L, Piron M, Morineau A (2005) Statistique exploratoire multidimensionnelle. Dunod, Paris

Lelièvre M, Chollet S, Abdi H, Valentin D (2009) Beer trained and untrained assessors rely more on vision than on taste when they categorize beers. Chemosensory Perception 2:143–153

Melcher J, Schooler J (1996) The misremembrance of wines past: verbal and perceptual expertise differentially mediate verbal overshadowing of taste memory. J Memory Lang 35:231–245

Morrot G, Brochet F, Dubourdieu D (2001) The color of odors. Brain Lang 79:309–320

Murphy G (2002) The big book of concepts. MIT press, Cambridge

Nosofsky RM (1992) Exemplar-based approach to relating categorization, identification, and recognition. In: Ashby FG (ed) Multidimensional models of perception and cognition. Erlbaum, Hillsdale, pp 363–394

Pangborn RM, Berg HW, Hansen B (1963) The influence of color on discrimination of sweetness in dry table-wine. Am J Psychol 76:492–495

Parr WV, Geoffrey White K, Heatherbell DA (2003) The nose knows: influence of colour on perception of wine aroma. J Wine Res 2003:79–101

Rosch E, Mervis CB, Gray W, Johnson D, Boyes-Braem P (1976) Basic objects in natural categories. Cogn Psychol 8:382–439

Roth HA, Radle L, Gifford SR, Clydesdale FM (1988) Psychophysical relationships between perceived sweetness and color in lemon and lime flavored beverages. J Food Sci 53(1116–1119):1162

Sauvageot F, Chapon M (1983) La couleur d'un vin (blanc ou rouge) peut-elle être identifiée sans l'aide de l'oeil? Les Cahiers de l'ENSBANA 4:107–115

Schifferstein HNG, Tanudjaja I (2004) Visualising fragrances through colours: the mediating role of emotions. Perception 33:1249–1266

Solomon GEA (1997) Conceptual change and wine expertise. J Learn Sci 6:41–60

Zellner DA, Kautz MA (1990) Color affects perceived odor intensity. J Exp Psychol Hum Percept Perform 16:391–397
About this article
Cite this article
Ballester, J., Abdi, H., Langlois, J. et al. The Odor of Colors: Can Wine Experts and Novices Distinguish the Odors of White, Red, and Rosé Wines?. Chem. Percept. 2, 203–213 (2009). https://doi.org/10.1007/s12078-009-9058-0
Received:

Accepted:

Published:

Issue Date:

DOI: https://doi.org/10.1007/s12078-009-9058-0
Keywords
Categorization

Mental Representation

Wine Color

Wine Odor