Abstract
Previous research that has manipulated either the color of, or labeling information associated with, foods and beverages has shown that each of these factors can significantly influence perceptual and preferential responses to them. The present study examined how the simultaneous manipulation of these two cues (color and label) affects perception of, and hedonic responses to, flavor. Thirty participants rated 12 chocolate M&Ms (identical aside from their color), described as coming from a "new line of chocolate products," for the intensity of their chocolate flavors ("chocolatey-ness") and their hedonic qualities ("likeability"). In the color-only condition, sighted participants received two green and two brown M&Ms. In the label-only condition, blindfolded participants received two M&Ms that were labeled as being from a "milk chocolate category" and two M&Ms that were labeled as being from a "dark chocolate category." In the color–label condition, sighted participants received an M&M of each of the four possible color–label combinations. The participants rated brown M&Ms as being significantly more chocolatey than green M&Ms and "dark chocolate"-labeled M&Ms as being significantly more chocolatey than "milk chocolate"-labeled ones. No such effects were observed for the likability data. There was no interaction between the color and label factors. These results illustrate that flavor perception involves the combining of chemosensory information with both visual (color) information and cognitive, expectancy-based (label) inputs.
This is a preview of subscription content, log in to check access.
Access options
Buy single article
Instant access to the full article PDF.
US$ 39.95
Price includes VAT for USA
Subscribe to journal
Immediate online access to all issues from 2019. Subscription will auto renew annually.
US$ 99
This is the net price. Taxes to be calculated in checkout.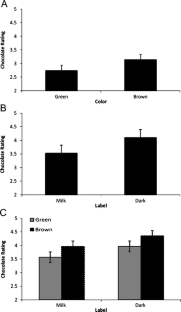 Notes
1.

It was important that people did not have any specific preconceptions about different colors of the chosen candy tasting different from one another. A small survey study was, therefore, conducted in which 30 participants were asked the question, "Do you think that different colored M&Ms taste different?" Two thirds of the participants replied "No," thus, providing evidence that in general people do not believe certain colored M&Ms to have different flavors from the others (Levitan et al. 2008). Thus, since our participants were unlikely to have had any expectations that different M&Ms would taste any different as a function of their color, any associations we interpret as guiding their ratings can be explained by appealing to more generalized or M&M nonspecific color–flavor associations.

2.

While the authors assumed that participants understood "chocolatey-ness" as reflecting differences in chocolate cocoa intensity (given the chocolate samples they were presented with that ranged from white to dark), future experiments should test whether participants are able to successfully discriminate between these types of chocolates in preliminary blind-tasting tests.

3.

The following mean Likability Ratings were observed: Likability Ratings in the Color Condition: Green = 3.4 vs. Brown = 3.6; Likeability Ratings in the Label Condition: Milk = 3.9 vs. Dark = 3.9; Likeability Ratings for Color in Color/Label Condition: Green = 3.8 vs. Brown = 4.0; Likeability Ratings for Label in Color/Label Condition: Milk = 3.8 vs. Dark = 4.0.

4.

This is consistent with Garber et al.'s (2001) finding that liking is affected by color and label information in a food context where color does signal flavor, even when the flavor information is incorrect. In the present experiment, color did not signal flavor.
References
Auvray M, Spence C (2007) The multisensory perception of flavor. Conscious Cogn 17:1016–1031

Blackwell L (1995) Visual cues and their effects on odour assessment. Nutr Food Sci 5:24–28

Cardello A, Sawyer F (1992) Effects of disconfirmed consumer expectations of food acceptability. J Sens Stud 7:253–277

Chiappe D, MacDonald K (2005) The evolution of domain-general mechanisms in intelligence and learning. J Gen Psychol 132:5–40

Christensen C (1983) Effects of color on aroma, flavor and texture judgments of foods. J Food Sci 48:787–790

Clydesdale F (1993) Color as a factor in food choice. Crit Rev Food Sci Nutr 33:83–101

Deliza R, MacFie H (1996) The generation of sensory expectation by external cues and its effect on sensory perception and hedonic ratings: A review. J Sens Stud 11:103–128

Delwiche J (2003) The impact of perceptual interactions on perceived flavor. Food Qual Prefer 15:137–146

Demattè M, Sanabria D, Spence C (2009) Olfactory identification: When does vision matter? Chem Senses 34:103–109

DuBose C, Cardello A, Maller O (1980) Effects of colorants and flavorants on identification, perceived flavor intensity, and hedonic quality of fruit-flavored beverages and cake. J Food Sci 45:1393–1399

Duncker K (1939) The influence of past experience upon perceptual properties. Am J Psychol 52:255–265

Garber L, Hyatt E, Starr R (2001) Placing food color experimentation into a valid consumer context. J Food Prod Mark 7:3–24

Goerlitz C, Delwiche J (2004) Impact of label information on consumer assessment of soy enhanced tomato juice. J Food Sci 69:376–379

Hall R (1958) Flavor study approaches at McCormick and Company, Inc. In: Little AD (ed) Flavor research and food acceptance: A survey of the scope of flavor and associated research, compiled from papers presented in a series of symposia given in 1956-1957. Reinhold, New York, pp 224–240

Johnson J, Clydesdale F (1982) Perceived sweetness and redness in colored sucrose solutions. J Food Sci 47:747–752

Kahkonen P, Tuorila H (1998) Effect of reduced-fat information on expected and actual hedonic and sensory ratings of sausage. Appetite 30:13–23

Lavin J, Lawless H (1998) Effects of color and odor on judgments of sweetness among children and adults. Food Qual Prefer 9:283–289

Lee L, Frederick S, Ariely D (2006) Try it, you'll like it. Psychol Sci 17:1054–1058

Levin I, Gaeth G (1988) How consumers are affected by the framing of attribute information before and after consuming the product. J Consum Res 15:374–378

Levitan C, Zampini M, Li R, Spence C (2008) Assessing the role of color cues and people's beliefs about color–flavor associations on the discrimination of the flavor of sugar-coated chocolates. Chem Senses 33:415–423

Maga J (1974) Influence of color on taste thresholds. Chem Senses Flavor 1:115–119

Makens J (1965) Effect of brand preference upon consumers' perceived taste of turkey. J Appl Psychol 49:261–263

Moir H (1936) Some observations on the appreciation of flavour in foodstuffs. J Soc Chem Ind 55:145–148

Morrot G, Brochet F, Dubourdieu D (2001) The color of odors. Brain Lang 79:309–320

Olson J, Dover P (1978) Cognitive effects of deceptive advertising. J Mark Res 15:29–38

Prescott J (2004) Psychological processes in flavour perception. In: Taylor AJ, Roberts D (eds) Flavor perception. Blackwell Publishing, London, pp 256–277

Sakai N, Imada S, Saito S, Kobayakawa T, Deguchi Y (2005) The effect of visual images on perception of odors. Chem Senses 30:244–245

Schifferstein H, Kole A, Mojet J (1999) Asymmetry in the disconfirmation of expectations for natural yogurt. Appetite 32:307–329

Sheen M, Drayton J (1988) Influence of brand label on sensory perception. In: Thomson DMH (ed) Food acceptability. Elsevier Applied Sciences, London, pp 89–99

Spence C (2002) The ICI report on the secret of the senses. The Communication Group, London

Stevenson R, Oaten M (2008) The effect of appropriate and inappropriate stimulus color on odor discrimination. Percept Psychophys 70:640–646

Triplett T (1994) Consumers show little taste for clear beverages. Mark News 28:2–11

Wansink B, Park S, Sonka S, Morganosky M (2000) How soy labeling influences preference and taste. International Food and Agribusiness Management Review 3:85–94

Wansink B, van Ittersum K, Painter JE (2005) How descriptive food names bias sensory perceptions in restaurants. Food Qual Prefer 16:393–400

Wardle J, Solomons W (1994) Naughty but nice: A laboratory study of health information and food preferences in a community sample. Health Psychol 13:180–183

Wheatley J (1973) Putting colour into marketing. Marketing, October, 24-29, 67

Wolfson J, Oshinsky N (1966) Food names and acceptability. J Advert Res 6:21–23

Yeomans M, Chambers L, Blumenthal H, Blake A (2008) The role of expectancy in sensory and hedonic evaluation: The case of smoked salmon ice-cream. Food Qual Prefer 19:565–573

Zampini M, Sanabria D, Phillips N, Spence C (2007) The multisensory perception of flavor: Assessing the influence of color cues on flavor discrimination responses. Food Qual Prefer 18:975–984
Additional information
Resubmitted to: Chemosensory Perception (March 2009)
About this article
Cite this article
Shankar, M.U., Levitan, C.A., Prescott, J. et al. The Influence of Color and Label Information on Flavor Perception. Chem. Percept. 2, 53–58 (2009). https://doi.org/10.1007/s12078-009-9046-4
Received:

Accepted:

Published:

Issue Date:
Keywords
Multisensory Integration

Color–Flavor Interactions

Label–Flavor Interactions

Flavor Perception

Intersensory Conflict

Expectations