Abstract
We analyze choice behavior of lagging region's high school graduates on locations of university and employment, by using a bivariate probit model with sample selection. This finds that the job security and the R&D investments have much significant effects on the decision to find jobs to the lagging regions for employment compared with the wage level and the job opportunity. In addition, the probability of return migration to the lagging regions could increase with a degree of closeness to the family and hometown.
Access options
Buy single article
Instant access to the full article PDF.
USD 39.95
Price includes VAT (USA)
Tax calculation will be finalised during checkout.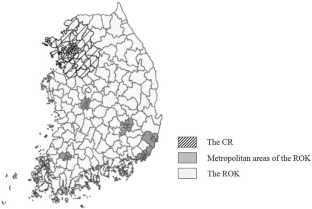 Notes
1.

While Korea is composed of nine provinces and eight metropolitan cities, the CR consists of two metropolitan cities of Seoul and Inchon, and one adjacent province.

2.

This result is in line with Faggian and McCann's (2006) argument that regional knowledge assets, such as research institutes and local universities, contributed to inducing human capital flows to the region.
References
Acemoglu, D.: A microfoundation for social increasing returns in human capital accumulation. Quart. J. Econ. 111(3), 779–804 (1996)

Anselin, L., Varga, A., Acs, Z.: Geographical spillovers and university research: a spatial econometric perspective. Growth Change 31, 501–515 (2000)

Beine, M., Docquier, F., Rapoport, H.: Brain drain and economic growth: theory and evidence. J. Develop. Econ. 64(1), 275–289 (2001)

Beine, M., Docquier, F., Rapoport, H.: Brain drain and human capital formation in developing countries: winners and losers. Econ. J. 118(528), 631–652 (2008)

Brooks, R.L.: Measuring university quality. Rev. Higher Edu. 29(1), 1–21 (2005)

Chung, C., Clark, J., Kim, B.: Is the growing skill premium a purely metropolitan issue? Econ. Lett. 102, 73–75 (2009)

Ciriaci, D.: Does university quality influence the interregional mobility of students and graduates? The case of Italy. Reg. Stud. 48(10), 1592–1608 (2014)

Clark, W.A.V., Coulter, R.: Who wants to move? The role of neighborhood change. Environ. Plan. A 47, 2683–2709 (2015)

Clemente, J., Larramona, G., Olmos, L.: Interregional migration and thresholds: evidence from Spain. Spatial Econ. Anal. 11(3), 276–293 (2016)

Crescenzi, R., Holman, N., Orru, E.: Why do they return? Beyond the economic drivers of graduate return migration. Ann. Reg. Sci. 59(3), 603–627 (2017)

Decressin, J.W.: Internal migration in west Germany and implications for east-west salary convergence. Rev. World Econ. 130(2), 231–257 (1994)

Eggert, W., Krieger, T., Meier, V.: Education, unemployment and migration. J. Pub. Econ. 94(5–6), 354–362 (2010)

Faggian, A., McCann, P.: Human capital, Graduate Migration and Innovation in British Regions. Camb. J. Econ. 33, 317–333 (2009)

Faggian, A., Rajbhandari, I., Dotzel, K.R.: The interregional migration of human capital and its regional consequences: a review. Reg. Stud. 51(1), 128–143 (2017)

Gabriel, S.A., Rosenthal, S.S.: Quality of the business environment versus quality of life: do firms and households like the same cities? Rev. Econ. Stat. 86(1), 438–444 (2004)

Glaeser, E.L., Mare, D.C.: Cities and skills. J. Labor Econ. 19(2), 316–342 (2001)

Heckman, J.J.: Sample selection bias as a specification error. Econometrica 47, 153–161 (1979)

Jaeger, A., Kopper, J.: Third mission potential in higher education: measuring the regional focus on different types of HEIs. Rev. Reg. Res. 34(2), 95–118 (2014)

Kaplan, D., Venezky, R.L.: Literacy and voting behavior: a bivariate probit model with sample selection. Soc. Sci. Res. 23(4), 350–367 (1994)

Kaplan, S., Grünwald, L., Hirte, G.: The effect of social networks and norms on the inter-regional migration intentions of knowledge-workers: the case of Saxony, Germany. Cities 55, 61–69 (2016)

Kazakis, P., Faggian, A.: Mobility education and labor market outcomes for US graduates: is selectivity important? Ann. Reg. Sci. 59(3), 731–758 (2017)

Koramaz, T.K., Dökmeci, V.: Impact of distance on migration in Turkey. Migr. Lett. 13(2), 269–294 (2016)

Krugman, P.R.: Increasing returns and economic geography. J. Polit. Econ. 99, 483–499 (1991)

Lazzeretti, L., Tavoletti, E.: Higher education excellence and local economic development: the case of the entrepreneurial university of Twente. Eur. Plan. Stud. 13(3), 475–493 (2005)

Liu, Y., Shen, J., Xu, W.: From school to university to work: migration of highly educated youth in China. Ann. Reg. Sci. 59, 651–676 (2017)

Lucas, R.E.: On the mechanics of economic development. J. Monet. Econ. 22(3), 3–42 (1988)

Lucas, R.E.: Lectures on Economic Growth. Harvard University Press, Cambridge, Massachusetts (2002)

Massey, D.S.: Social structure, household strategies, and the cumulative causation of migration. Popul. Index 56(1), 3–26 (1990)

McCollum, D., Liu, Y., Findlay, A., Feng, Z., Nightingale, G.: Determinants of occupational mobility: the importance of place of work. Reg. Stud. 52, 1–12 (2018)

Moretti, E.: Workers' education, spillovers and productivity: evidence from plant-level production functions. Am. Econ. Rev. 94(3), 656–690 (2004)

Nifo, A., Vecchione, G.: Do institutions play a role in skilled migration? The case of Italy. Reg. Stud. 48(10), 1628–1649 (2014)

RitsiläÈ, J., Tervo, H.: Regional differences in the role of migration in labour market adjustment: the case of Finland. In: Crampton, G. (ed.) Regional unemployment, job matching and migration. Series on European research in regional science, pp. 166–182. Pion, London (1999)

Robertson, S.: Friendship networks and encounters in student-migrants' negotiations of translocal subjectivity. Urban Stud. 55(3), 538–553 (2018)

Romer, P.M.: Endogenous technological change. J. Polit. Econ. 98(5), S71–S102 (1990)

Schmidt, C.: Optimal commuting and migration decisions under commuting cost uncertainty. Urban Stud. 51(3), 477–492 (2014)

Simonen, J., McCann, P.: Firm innovation: the influence of R&D cooperation and the geography of human capital inputs. J. Urban Econ. 64, 146–154 (2008)

Teney, C.: Immigration of highly skilled Euripean professionals to Germany: intra-EU brain gain or brain circulation? Innov. Eur. J. Soc. Sci. Res. 34, 1–25 (2019)

Todaro, M.P., Smith, S.C.: Economic Development. Pearson Education Limited, Harlow (1985)

Waldorf, B.S.: Is human capital accumulation a self-propelling process? Comparing educational attainment levels of movers and stayers. Ann. Reg. Sci. 43(2), 323–344 (2009)

Winship, C., Mare, R.D.: Models for sample selection bias. Ann. Rev. Sociol. 18(1), 327–350 (1992)
Additional information
Publisher's Note
Springer Nature remains neutral with regard to jurisdictional claims in published maps and institutional affiliations.
About this article
Cite this article
Woo, Y., Jiang, M. & Kim, E. Analyzing return migration of high school graduates from lagging regions. Lett Spat Resour Sci 14, 309–319 (2021). https://doi.org/10.1007/s12076-021-00280-7
Received:

Accepted:

Published:

Issue Date:
Keywords
University graduates

Job location decision

Return migration

R&D investment

Hometown effect
JEL Classifications