Abstract
This study examines the effect of improvement in public transportation on population and employment distribution in the Tokyo metropolitan area. Using an instrumental variable, my analysis reveals two noteworthy features, as follows: (1) capacity expansion by duplex line cause suburbanization of both population and employment, contrarily, new line by construction of train station have only negative effect on both population and employment distribution in suburb area, and no effect on ether population and employment in central city and subcenter. (2) in the central city, employment in insurance and real estate is decreasing, while it is increasing in sales because of capacity expansion.
Access options
Buy single article
Instant access to the full article PDF.
USD 39.95
Price includes VAT (USA)
Tax calculation will be finalised during checkout.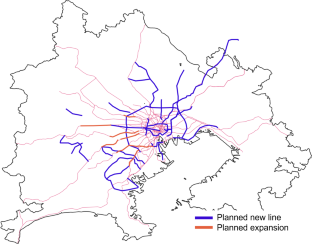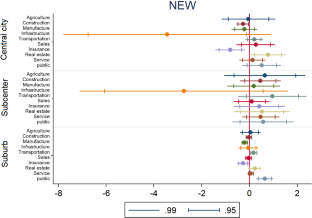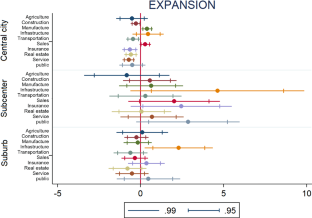 Notes
1.

Detailed explanation of data on TMA is available in "Appendix 1".

2.

According to Population census in 2000, 70% of people live within 1.5 km of a railroad station. Hence, I employ 1.5 km as a border of distance.

3.

The plan was to extend it to 658 km; however, only 317 km of the new line was actually built, and only 31 of the 65 planned sections between stations were actually constructed for the duplex line. In addition, I provide the first-stage results of Eq. (1) in Tables 2 and 3 of "Appendix 2". According to these first-stage results, the instrumental variable does not seem to be weak.

4.

5.

According to Adachi (2019), congestion is one of the factors causing suburbanization of employment.

6.

We use urban employment area, proposed by Kanemoto and Tokuoka (2002), to define the TMA. The outlying municipalities of a UEA are defined mainly by the condition that 10% or more of the employed workers commute to the core.

7.

The small tract is a subdivision of municipalities by cho and aza; therefore, the small tracts are narrower than those in a municipality.
References
Adachi, Y.: Why did highways cause suburbanization? The role of highway congestion. SSRN Working Paper Series. No. 3247032 (2019)

Baum-Snow, N.: Did highways cause suburbanization? Q. J. Econ. 122, 775–805 (2007)

Baum-Snow, N.: Urban transport expansions and changes in the spatial structure of US cities: implications for productivity and welfare. Rev. Econ. Stat. 102, 929–945 (2020)

Baum-Snow, N., Brandt, L., Henderson, J.V., Turner, M.A., Zhang, Q.: Roads, railroads, and decentralization of Chinese cities. Rev. Econ. Stat. 99, 435–448 (2017)

Downs, A.: The law of peak-hour expressway congestion. Traffic Q. 16, 393–409 (1962)

Downs, A.: Stuck in Traffic: Coping with Peak-hour Traffic Congestion. Brookings Institution Press, Washington (1992)

Garcia-López, M.: Urban spatial structure, suburbanization and transportation in Barcelona. J. Urban Econ. 72, 176–190 (2012)

Garcia-López, M., Holl, A., Viladecans-Marsal, E.: Suburbanization and highways in Spain, when the Romans and the Bourbons still shape their cities. J. Urban Econ. 85, 52–67 (2015)

Heblich, S., Redding, S.J., Strum, D.M.: The making of the modern metropolis: evidence from London. Q. J. Econ. 135, 2059–2133 (2020)

Kanemoto, Y., Tokuoka, K.: Proposal for the Standards of Metropolitan Areas of Japan. J. Appl. Region. Sci.. 7, 1–15 (in Japanese) (2002)
Additional information
Publisher's Note
Springer Nature remains neutral with regard to jurisdictional claims in published maps and institutional affiliations.
I am very grateful to Jiro Nemoto and Miquel-Angel Garcia-Lopez for their constructive comments and discussions. This work was supported by JSPS KAKENHI Grant Number JP19J12944 and 20K22128.
Supplementary Information
Below is the link to the electronic supplementary material.
Appendices
Appendix 1: Data on Tokyo metropolitan area
I focus on the change in population and employment caused by the improvement in train network from 2000 to 2015, with the Tokyo Metropolitan Area (TMA) as my core study area. The TMA exhibited at least three relevant characteristics.Footnote 6 According to the population census in 2000 and 2015, the population of TMA was around 32.5 million in 2000 and around 35 million in 2015, that is, TMA accounts for a quarter of the Japanese population, and its population is increasing. Second, half of the workers who live in the region commute to their workplaces by train, and the ratio of commuting modes does not change during the study period. Finally, the total length of the TMA railroad network was 2,705 km in 2015, with 22.5 million passengers per day in 2010. As the core transportation system, the TMA railroad network plays a key role.
My analysis focuses only on railroads that connect the central area to the subcenter or suburban area. My main explanatory variable includes transportation improvements to the train network between 2000 and 2015, especially, passenger-only improvements. Some issues from 2000 that the TMA railroad network needs to address are: i) relieving congestion and ii) improving accessibility to the central area. The duplex line aims to relieve congestion, and the new line will improve accessibility. Figure 4 shows the TMA with a duplex line and a new line.
I use the small tract as my unit of observation, including approximately 8000 tracts in the TMA sample.Footnote 7 The data on small tracts is from 2000, and I design the boundaries of these tracts in 2015 to be the same as that in 2000. The data on the small tracts are from the 2000 and 2015 Population Census produced by the Ministry of Internal Affairs and Communications.
Appendix 2: First stage
The results of the first stage in Eq. (1) verify the validity of the instrumental variable, the planned route network in the Tokyo metropolitan area. Tables 2 and 3 indicate that the instrumental variable, that is, planned routes, is a strong predictor of the actual route network.
Appendix 3: Robustness check
Table 4 and 5 show the results of the robustness check for distance. Each entry in these tables represents the results of second stage, and the implications from main results are the same for the distance of 1 km or 2 km for capacity expansion. On the other hand, the first-stage F-value of new line in central city for 1 km is below 10; hence, the point estimated that is not statistically significant may be not valid.
Appendix 4: Detailed results of estimation
In this section, I provide the detailed estimation results. Table 6 shows the full estimation results for the changes in population and employment distribution in the TMA from 2000 to 2015. Table 7 shows the results of point estimation for change in employment by industry in TMA, and Figs. 2 and 3 are from this table.
About this article
Cite this article
Adachi, Y. The impact of improvement in public transportation: evidence from the Tokyo metropolitan area. Lett Spat Resour Sci 14, 287–308 (2021). https://doi.org/10.1007/s12076-021-00279-0
Received:

Accepted:

Published:

Issue Date:
Keywords
Transportation infrastructure

Urban form

Suburbanization
JEL Classification