Abstract
Background
Magnetic resonance (MR) elastography and proton density fat fraction (PDFF) are emerging techniques for non-invasive assessment of liver stiffness and steatosis, respectively. We investigated the role of MR metrics in pre-treatment prognostication of hepatocellular carcinoma (HCC).
Methods
Patients with newly diagnosed HCC were prospectively recruited. Pre-treatment MR elastography and PDFF were performed on tumor and non-tumor regions. HCC treatment was categorized as potentially curative (resection/ablation) or non-curative (locoregional/systemic therapy). HCC recurrence, liver-related complications (ascites/ variceal bleeding/ hepatic encephalopathy) and mortality were monitored.
Results
Of the 158 recruited patients (mean age 62.9 years, 84.2% male, 82.9% viral hepatitis), 58.2% (n = 92) and 41.8% (n = 66) received potentially curative and non-curative therapy, respectively. Pre-treatment non-tumor liver stiffness independently predicted liver-related complications, regardless of treatment type (HR 1.384, 95% CI 1.067–1.796, p = 0.014). In the potentially curative therapy group, non-tumor stiffness and non-tumor PDFF were independently associated with HCC recurrence (HR 1.308, 95% CI 1.022–1.673 & HR 1.080, 95% CI 1.009–1.156 respectively, both p < 0.05); and non-tumor PDFF predicted mortality (HR 1.160, 95% CI 1.038–1.296, p = 0.009). In the non-curative group, tumor stiffness independently predicted liver-related complications (HR 1.299, 95% CI 1.023–1.651, p = 0.032), and a combination of tumor stiffness ≥ 5.7 kPa plus non-tumor stiffness ≥ 3.7 kPa was associated with a two-fold risk of liver-related complications (86.7% vs 40.0%, p < 0.001).
Conclusion
Pre-treatment MR elastography and PDFF over tumor and non-tumor regions demonstrated prognosticating roles in HCC. Simultaneous measurements of both metrics during conventional MR liver should be considered in the diagnostic workup of HCC.
Access options
Buy single article
Instant access to the full article PDF.
USD 39.95
Price excludes VAT (USA)
Tax calculation will be finalised during checkout.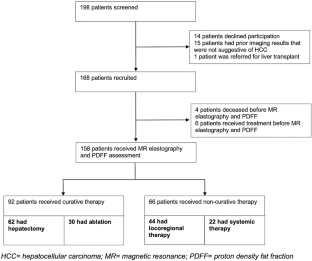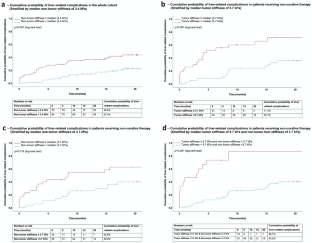 Data availability
The data from this study is available from the corresponding author upon reasonable request.
Abbreviations
AFP:

Alpha fetoprotein

BCLC:

Barcelona clinic liver cancer

BMI:

Body mass index

HCC:

Hepatocellular carcinoma

HR:

Hazard ratio

MELD:

Model for end-stage liver disease

MR:

Magnetic resonance

NAFLD:

Non-alcoholic fatty liver disease

PDFF:

Proton density fat fraction
References
Sung H, Ferlay J, Siegel RL, et al. Global cancer statistics 2020: GLOBOCAN estimates of incidence and mortality worldwide for 36 cancers in 185 countries. CA Cancer J Clin. 2021;71:209–249

Llovet JM, Kelley RK, Villanueva A, et al. Hepatocellular carcinoma. Nat Rev Dis Primers. 2021;7:6

Llovet JM, Brú C, Bruix J. Prognosis of hepatocellular carcinoma: the BCLC staging classification. Semin Liver Dis. 1999;19:329–338

Marrero JA, Kulik LM, Sirlin CB, et al. Diagnosis, staging, and management of hepatocellular carcinoma: 2018 practice guidance by the American Association for the Study of Liver Diseases. Hepatology. 2018;68:723–750

Chernyak V, Fowler KJ, Kamaya A, et al. Liver imaging reporting and data system (LI-RADS) version 2018: imaging of hepatocellular carcinoma in at-risk patients. Radiology. 2018;289:816–830

Omata M, Cheng A-L, Kokudo N, et al. Asia-Pacific clinical practice guidelines on the management of hepatocellular carcinoma: a 2017 update. Hep Int. 2017;11:317–370

Lee DH, Lee JM, Chang W, et al. Prognostic role of liver stiffness measurements using magnetic resonance elastography in patients with compensated chronic liver disease. Eur Radiol. 2018;28:3513–3521

Thomaides-Brears HB, Lepe R, Banerjee R, et al. Multiparametric MR mapping in clinical decision-making for diffuse liver disease. Abdom Radiol (NY). 2020;45:3507–3522

Cho HJ, Kim B, Kim HJ, et al. Liver stiffness measured by MR elastography is a predictor of early HCC recurrence after treatment. Eur Radiol. 2020;30:4182–4192

Siripongsakun S, Lee JK, Raman SS, et al. MRI detection of intratumoral fat in hepatocellular carcinoma: potential biomarker for a more favorable prognosis. AJR Am J Roentgenol. 2012;199:1018–1025

International Diabetes Federation. The IDF consensus worldwide definition of the metabolic syndrome. http://www.idf.org/webdata/docs/MetS_def_update2006.pdf. Accessed 22 July 2016.

Wiesner R, Edwards E, Freeman R, et al. Model for end-stage liver disease (MELD) and allocation of donor livers. Gastroenterology. 2003;124:91–96

Child CG, Turcotte JG. Surgery and portal hypertension. Major Probl Clin Surg. 1964;1:1–85

Chan A, Zhang WY, Chok K, et al. ALPPS versus portal vein embolization for hepatitis-related hepatocellular carcinoma: a changing paradigm in modulation of future liver remnant before major hepatectomy. Ann Surg. 2021;273:957–965

Ishak K, Baptista A, Bianchi L, et al. Histological grading and staging of chronic hepatitis. J Hepatol. 1995;22:696–699

Ohki T, Tateishi R, Shiina S, et al. Visceral fat accumulation is an independent risk factor for hepatocellular carcinoma recurrence after curative treatment in patients with suspected NASH. Gut. 2009;58:839–844

Shinkawa H, Tanaka S, Takemura S, et al. Obesity and recurrence-free survival in patients with hepatocellular carcinoma after achieving sustained virological response to interferon therapy for chronic hepatitis C. Ann Gastroenterol Surg. 2018;2:319–326

Mak LY, Hui RW, Fung J, et al. Diverse effects of hepatic steatosis on fibrosis progression and functional cure in virologically quiescent chronic hepatitis B. J Hepatol. 2020;73:800–806

Hui RWH, Seto WK, Cheung KS, et al. Inverse relationship between hepatic steatosis and hepatitis B viremia: results of a large case-control study. J Viral Hepatitis. 2018;25:97–104

Lallukka S, Sädevirta S, Kallio MT, et al. Predictors of liver fat and stiffness in non-alcoholic fatty liver disease (NAFLD)—an 11-year prospective study. Sci Rep. 2017;7:14561

Mathurin P, Beuzin F, Louvet A, et al. Fibrosis progression occurs in a subgroup of heavy drinkers with typical histological features. Aliment Pharmacol Ther. 2007;25:1047–1054

Vos B, Moreno C, Nagy N, et al. Lean non-alcoholic fatty liver disease (Lean-NAFLD): a major cause of cryptogenic liver disease. Acta Gastro-Enterol Belg. 2011;74:389–394

Patel K, Sebastiani G. Limitations of non-invasive tests for assessment of liver fibrosis. JHEP Rep. 2020;2:100067

Bae JS, Lee DH, Yi NJ, et al. Magnetic resonance elastography versus transient elastography in the prediction of complications after resection for hepatocellular carcinoma. Ann Surg. 2020

Singh S, Fujii LL, Murad MH et al. Liver stiffness is associated with risk of decompensation, liver cancer, and death in patients with chronic liver diseases: a systematic review and meta-analysis. Clin Gastroenterol Hepatol. 2013;11:1573–1584.e1571–1572 (quiz e1588–1579)

Geethanath S, Vaughan JT Jr. Accessible magnetic resonance imaging: a review. J Magnet Resonance Imaging (JMRI). 2019;49:e65–e77

Ling W, Lu Q, Lu C, et al. Effects of vascularity and differentiation of hepatocellular carcinoma on tumor and liver stiffness: in vivo and in vitro studies. Ultrasound Med Biol. 2014;40:739–746

Chan AWH, Zhong J, Berhane S, et al. Development of pre and post-operative models to predict early recurrence of hepatocellular carcinoma after surgical resection. J Hepatol. 2018;69:1284–1293
Acknowledgements
The authors thank Ms. Carol Yin Yu Chu, Ms. Carmen Chan and Ms. Crystal Kwan at The University of Hong Kong for the logistical arrangements for recruited patients; and Dr Andrew Siu Ho Lai, Dr Kin Wah Li, Dr Solomon Yig Joon Ka, Mr Benny Wing Hung Ho, Ms. Wendy Sau Yee Yu and Ms. Sophia Yuen Shan Lee at the Hong Kong Sanatorium Hospital for their collaboration and support of this project.
Funding
This study was supported by the Li Shu Pui Medical Foundation Research Grant, Li Ka Shing Faculty of Medicine, The University of Hong Kong. The study was performed independent of the sponsors.
Ethics declarations
Conflict of interest
MF Yuen is an advisory board member and/or received research funding from AbbVie, Arbutus Biopharma, Assembly Biosciences, Bristol Myer Squibb, Dicerna Pharmaceuticals, GlaxoSmithKline, Gilead Sciences, Janssen, Merck Sharp and Dohme, Clear B Therapeutics, Springbank Pharmaceuticals; and received research funding from Arrowhead Pharmaceuticals, Fujirebio Incorporation and Sysmex Corporation. WK Seto received speaker's fees from AstraZeneca and Mylan, is an advisory board member of CSL Behring, is an advisory board member and received speaker's fees from AbbVie, and is an advisory board member, received speaker's fees and researching funding from Gilead Sciences. The other authors have no conflict of interests.
Animal research (ethics)
This article does not contain any studies with animals.
Consent to participate (ethics)
All procedures were in accordance with the ethical standards of the responsible committee on human experimentation (institutional and national) and with the Helsinki Declaration of 1975, as revised in 2008. Informed consent was obtained from all patients for being included in the study.
Consent to publish (ethics)
Informed consent was obtained from all individual participants included in this study. No identifiable personal data from recruited patients were included in this article.
Plant reproducibility
Not applicable.
Registration and ethical approval
This study was registered and approved by the Institutional Review Board, University of Hong Kong/ Hospital Authority West Cluster; and the Research Ethics Committee, Hong Kong Sanatorium and Hospital.
Additional information
Publisher's Note
Springer Nature remains neutral with regard to jurisdictional claims in published maps and institutional affiliations.
Supplementary Information
Below is the link to the electronic supplementary material.
About this article
Cite this article
Hui, R.WH., Chan, A.CY., Lo, G. et al. Magnetic resonance elastography and proton density fat fraction predict adverse outcomes in hepatocellular carcinoma. Hepatol Int 16, 371–380 (2022). https://doi.org/10.1007/s12072-022-10305-y
Received:

Accepted:

Published:

Issue Date:

DOI: https://doi.org/10.1007/s12072-022-10305-y
Keywords