Abstract
Background
Data regarding the durability of HBV viral suppression with combination antiretroviral therapy (cART) containing tenofovir disoproxil fumarate (TDF) combined with lamivudine (3TC) or emtricitabine (FTC) in HIV/HBV-coinfected patients are scarce in hyperendemic areas of chronic HBV infection.
Methods
Between 2004 and 2016, HIV/HBV-coinfected Taiwanese with available baseline HBV DNA load were retrospectively reviewed. Determinations of plasma HBV DNA load, HBV serologic markers (HBsAg, anti-HBs, HBeAg, and anti-HBe), and liver function were performed after initiation of cART. Factors associated with time to undetectable HBV DNA load were explored.
Results
A total of 366 patients were included according to cART history: Group 1, 3TC as the only anti-HBV therapy (n = 73); Group 2, TDF-containing cART as initial therapy (n = 127); and Group 3, switch of 3TC-based to TDF-containing cART (n = 166). At year 5, HBV suppression was achieved in 77.8%, 95.7%, and 95.7% of Groups 1, 2 and 3, respectively. In multivariate Cox regression analysis, TDF ( ± 3TC or FTC) but not 3TC alone as initial anti-HBV therapy was significantly associated with HBV suppression (adjusted hazard ratio [aHR] 2.635; 95% CI 1.720–4.037), while HBeAg positivity at baseline was associated with failure to achieve HBV suppression (aHR 0.293; 95% CI 0.178–0.482). Loss of HBsAg occurred in 15 patients (4.1%), with 7 (1.9%) seroconversion to anti-HBs positivity, while HBeAg seroconversion occurred in 11 (16.9%) of 65 HBeAg-positive patients.
Conclusions
TDF-containing cART achieved durable HBV viral suppression in HIV/HBV-coinfected patients and HBeAg positivity at baseline was associated with failure to achieve HBV suppression despite long-term TDF-containing cART.
Access options
Buy single article
Instant access to the full article PDF.
USD 39.95
Price excludes VAT (USA)
Tax calculation will be finalised during checkout.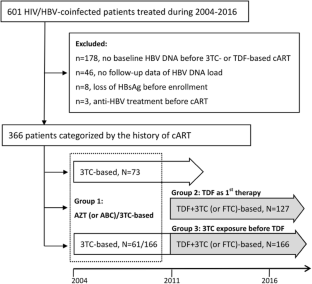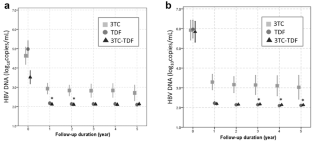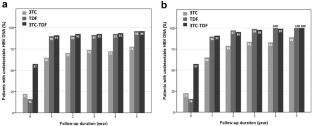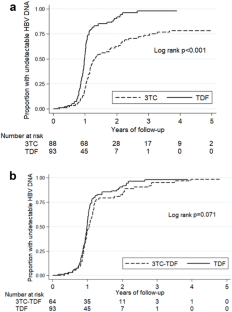 References
Thio CL, Seaberg EC, Skolasky R Jr, et al. HIV-1, hepatitis B virus, and risk of liver-related mortality in the Multicenter Cohort Study (MACS). Lancet. 2002;360(9349):1921–6.

Tang LSY, Covert E, Wilson E, Kottilil S. Chronic hepatitis B infection: a review. JAMA. 2018;319(17):1802–13.

Nikolopoulos GK, Paraskevis D, Psichogiou M, Hatzakis A. HBV-DNA levels predict overall mortality in HIV/HBV coinfected individuals. J Med Virol. 2016;88(3):466–73.

Sheng WH, Kao JH, Chen PJ, et al. Evolution of hepatitis B serological markers in HIV-infected patients receiving highly active antiretroviral therapy. Clin Infect Dis. 2007;45(9):1221–9.

Dharan NJ, Neuhaus J, Rockstroh JK, et al. Benefit of early versus deferred antiretroviral therapy on progression of liver fibrosis among people with HIV in the START randomized trial. Hepatology. 2019;69(3):1135–50.

Sun HY, Sheng WH, Tsai MS, Lee KY, Chang SY, Hung CC. Hepatitis B virus coinfection in human immunodeficiency virus-infected patients: a review. World J Gastroenterol. 2014;20(40):14598–614.

Panel on Antiretroviral Guidelines for Adults and Adolescents (2018) Guidelines for the use of antiretroviral agents in adults and adolescents living with HIV. Department of Health and Human Services. https://aidsinfo.nih.gov/contentfiles/lvguidelines/AdultandAdolescentGL.pdf. Accessed 26 May 2019.

Chen GF, Wang C, Lau G. Treatment of chronic hepatitis B infection-2017. Liver Int. 2017;37(Suppl 1):59–66.

Terrault NA, Lok ASF, McMahon BJ, et al. Update on prevention, diagnosis, and treatment of chronic hepatitis B: AASLD 2018 hepatitis B guidance. Hepatology. 2018;67(4):1560–99.

Kumar S, Tamura K, Jakobsen IB, Nei M. MEGA2: molecular evolutionary genetics analysis software. Bioinformatics. 2001;17(12):1244–5.

Kosi L, Reiberger T, Payer BA, et al. Five-year on-treatment efficacy of lamivudine-, tenofovir- and tenofovir + emtricitabine-based HAART in HBV-HIV-coinfected patients. J Viral Hepat. 2012;19(11):801–10.

Thio CL, Smeaton L, Hollabaugh K, et al. Comparison of HBV-active HAART regimens in an HIV-HBV multinational cohort: outcomes through 144 weeks. AIDS. 2015;29(10):1173–82.

Kang M, Hollabaugh K, Pham V, et al. Virologic and serologic outcomes of mono versus dual HBV therapy and characterization of HIV/HBV coinfection in a US cohort. J Acquir Immune Defic Syndr. 2014;66(2):172–80.

de Vries-Sluijs TE, Reijnders JG, Hansen BE, et al. Long-term therapy with tenofovir is effective for patients co-infected with human immunodeficiency virus and hepatitis B virus. Gastroenterology. 2010;139(6):1934–41.

Luo A, Jiang X, Ren H. Lamivudine plus tenofovir combination therapy versus lamivudine monotherapy for HBV/HIV coinfection: a meta-analysis. Virol J. 2018;15(1):139.

Tsai WC, Hsu WT, Liu WD, et al. Impact of antiretroviral therapy containing tenofovir disoproxil fumarate on the survival of patients with HBV and HIV coinfection. Liver Int. 2019. https://doi.org/10.1111/liv.14059.

Huang YS, Chang SY, Sheng WH, et al. Virological response to tenofovir disoproxil fumarate in HIV-positive patients with lamivudine-resistant hepatitis B virus coinfection in an area hyperendemic for hepatitis B virus infection. PLoS ONE. 2016;11(12):e0169228.

Bihl F, Martinetti G, Wandeler G, et al. HBV genotypes and response to tenofovir disoproxil fumarate in HIV/HBV-coinfected persons. BMC Gastroenterol. 2015;15:79.

Hafkin JS, Osborn MK, Localio AR, et al. Incidence and risk factors for incomplete HBV DNA suppression in HIV/HBV-co-infected patients initiating tenofovir-based therapy. J Viral Hepat. 2014;21(4):288–96.

Price H, Dunn D, Pillay D, et al. Suppression of HBV by tenofovir in HBV/HIV coinfected patients: a systematic review and meta-analysis. PLoS ONE. 2013;8(7):e68152.

Audsley J, Bent SJ, Littlejohn M, et al. Effects of long-term tenofovir-based combination antiretroviral therapy in HIV-hepatitis B virus coinfection on persistent hepatitis B virus viremia and the role of hepatitis B virus quasispecies diversity. AIDS. 2016;30(10):1597–606.

Matthews GV, Seaberg EC, Avihingsanon A, et al. Patterns and causes of suboptimal response to tenofovir-based therapy in individuals coinfected with HIV and hepatitis B virus. Clin Infect Dis. 2013;56(9):e87–94.

Kitrinos KM, Corsa A, Liu Y, et al. No detectable resistance to tenofovir disoproxil fumarate after 6 years of therapy in patients with chronic hepatitis B. Hepatology. 2014;59(2):434–42.

Hongthanakorn C, Chotiyaputta W, Oberhelman K, et al. Virological breakthrough and resistance in patients with chronic hepatitis B receiving nucleos(t)ide analogues in clinical practice. Hepatology. 2011;53(6):1854–63.

Boyd A, Gozlan J, Maylin S, et al. Persistent viremia in human immunodeficiency virus/hepatitis B coinfected patients undergoing long-term tenofovir: virological and clinical implications. Hepatology. 2014;60(2):497–507.

Liu Y, Corsa AC, Buti M, et al. No detectable resistance to tenofovir disoproxil fumarate in HBeAg+ and HBeAg- patients with chronic hepatitis B after 8 years of treatment. J Viral Hepat. 2017;24(1):68–74.

Boyd A, Maylin S, Gozlan J, et al. Use of hepatitis B surface and "e" antigen quantification during extensive treatment with tenofovir in patients co-infected with HIV-HBV. Liver Int. 2015;35(3):795–804.

Lin CL, Kao JH. Perspectives and control of hepatitis B virus infection in Taiwan. J Formos Med Assoc. 2015;114(10):901–9.

Agarwal K, Brunetto M, Seto WK, et al (2018) 96 weeks treatment of tenofovir alafenamide vs. tenofovir disoproxil fumarate for hepatitis B virus infection. J Hepatol 68(4):672–681

Gallant J, Brunetta J, Crofoot G, et al. Brief report: efficacy and safety of switching to a single-tablet regimen of elvitegravir/cobicistat/emtricitabine/tenofovir alafenamide in HIV-1/Hepatitis B-coinfected adults. J Acquir Immune Defic Syndr. 2016;73(3):294–8.
Ethics declarations
Conflict of interest
C.-C. H. has received research support from Gilead Sciences, Merck, and ViiV and speaker honoraria from Gilead Sciences and ViiV, and served on the advisory boards for Gilead Sciences and ViiV. Yu-Shan Huang, Hsin-Yun Sun, Sui-Yuan Chang, Yu-Chung Chuang, Aristine Cheng, Sung-Hsi Huang, Yi-Chia Huang, Guan-Jhou Chen, Kuan-Yin Lin, Yi-Ching Su, Wen-Chun Liu have no conflicts of interest.
Ethical approval
The study was approved by the NTUH Research Ethics Committee (registration number, NTUH-201201028RIB).
Informed consent
The written or oral informed consent was waived.
Additional information
Publisher's Note
Springer Nature remains neutral with regard to jurisdictional claims in published maps and institutional affiliations.
Electronic supplementary material
Below is the link to the electronic supplementary material.
About this article
Cite this article
Huang, YS., Sun, HY., Chang, SY. et al. Long-term virological and serologic responses of chronic hepatitis B virus infection to tenofovir disoproxil fumarate-containing regimens in patients with HIV and hepatitis B coinfection. Hepatol Int 13, 431–439 (2019). https://doi.org/10.1007/s12072-019-09953-4
Received:

Accepted:

Published:

Issue Date:

DOI: https://doi.org/10.1007/s12072-019-09953-4
Keywords