Abstract
Background
Liver cirrhosis is known to have low survival rate, and its assessment in relation with other fatal diseases will help us design appropriate health interventions. This study compares the mortality of liver cirrhosis with that of five major cancers (lung, colorectal, stomach, liver, and breast cancers).
Methods and results
We used the National Health Insurance Service–National Sample Cohort (NHIS–NSC) which provides data for 1,025,340 representative samples of the 46,605,433 people in Korea from 2002 to 2010. During the 8 years, 800 out of 2609 liver cirrhosis patients died and 1316 out of 4852 patients with the five major cancers died. When we estimated the mortality between liver cirrhosis and five major cancers, the relative mortality for liver cirrhosis was greater [hazard ratio 1.47 (95% CI 1.28–1.67) after age, gender, area of residence, type of insurance, insurance premium level (proxy for income level), and comorbidities were adjusted for]. When a sensitivity analysis was performed by excluding patients with both liver cirrhosis and one of the five cancers, the relative mortality was still greater for liver cirrhosis [hazard ratio 1.27 (95% CI 1.10–1.47)]. Furthermore, when we limited liver cirrhosis patients to those with decompensated liver cirrhosis, the relative mortality of decompensated liver cirrhosis was even greater than that of the five cancers [hazard ratio 1.82 (95% CI 1.51–2.20)].
Conclusions
The mortality of liver cirrhosis is greater than that of the five major cancers. This implies the need to prioritize appropriate health interventions for liver cirrhosis.
Access options
Buy single article
Instant access to the full article PDF.
US$ 39.95
Tax calculation will be finalised during checkout.
Subscribe to journal
Immediate online access to all issues from 2019. Subscription will auto renew annually.
US$ 79
Tax calculation will be finalised during checkout.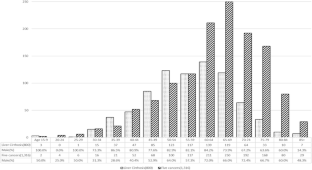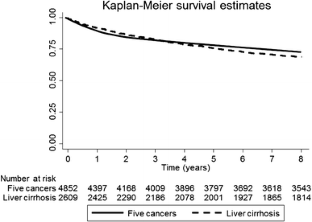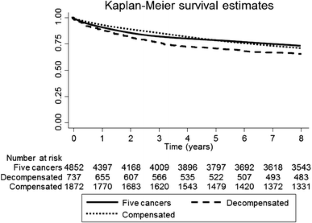 References
1.

GBD 2013 Mortality and Causes of Death Collaborators. Global, regional, and national age-sex specific all-cause and cause-specific mortality for 240 causes of death, 1990–2013: a systematic analysis for the Global Burden of Disease Study 2013. Lancet 2015;385:117–171

2.

Ge PS, Runyon BA. Treatment of patients with cirrhosis. N Engl J Med 2016;375:767–777

3.

Kochanek KD, Murphy SL, Xu J, Tejada-Vera B. Division of vital statistics. deaths: final data for 2014. Natl Vital Stat Rep 2016;65:1–122

4.

Garcia-Tsao G, Friedman S, Iredale J, Pinzani M. Now there are many (stages) where before there was one: in search of a pathophysiological classification of cirrhosis. Hepatology 2010;51:1445–1449

5.

Tsochatzis EA, Bosch J, Burroughs AK. Liver cirrhosis. Lancet 2014;383:1749–1761

6.

D'Amico G, Garcia-Tsao G, Pagliaro L. Natural history and prognostic indicators of survival in cirrhosis: a systematic review of 118 studies. J Hepatol 2006;44:217–231

7.

D'Amico G, Pasta L, Morabito A, D'Amico M, Caltagirone M, Malizia G, et al. Competing risks and prognostic stages of cirrhosis: a 25-year inception cohort study of 494 patients. Aliment Pharmacol Ther 2014;39:1180–1193

8.

Fleming KM, Aithal GP, Card TR, West J. All-cause mortality in people with cirrhosis compared with the general population: a population-based cohort study. Liver Int 2012;32:79–84

9.

Asrani SK, Larson JJ, Yawn B, Therneau TM, Kim WR. Underestimation of liver-related mortality in the United States. Gastroenterology 2013;145:375–382

10.

Vilstrup H, Amodio P, Bajaj J, Cordoba J, Ferenci P, Mullen KD, et al. Hepatic encephalopathy in chronic liver disease: 2014 practice guideline by the American Association for the Study of Liver Diseases and the European Association for the Study of the Liver. Hepatology 2014;60:715–735

11.

Runyon BA. Introduction to the revised American Association for the Study of the Liver Diseases practice guideline: management of adult patients with ascites due to cirrhosis 2012. Hepatology 2013;57:1651–1653

12.

European Association for the Study of the Liver. EASL clinical practice guidelines on the management of ascites, spontaneous bacterial peritonitis, and hepatorenal syndrome in cirrhosis. J Hepatol 2010;53:397–417

13.

Global Burden of Disease Cancer Collaboration. Global, regional, and national cancer incidence, mortality, years of life lost, years lived with disability, and disability-adjusted life-years for 32 cancer groups, 1990 to 2015. A systematic analysis for the Global Burden of Disease Study. JAMA Oncol 2017;3:524–548

14.

Ferlay J, Soerjomataram I, Dikshit R, Eser S, Mathers C, Rebelo M, et al. Cancer incidence and mortality worldwide: sources, methods and major patterns in GLOBOCAN 2012. Int J Cancer 2015;136:E359–E386

15.

Murray CJL, Lopez AD. Measuring the global burden of disease. N Engl J Med 2013;369:448–457

16.

Murray CJL, Ezzati M, Flaxman AD, et al. GBD 2010: design, definitions, and metrics. Lancet 2012;380:2063–2066

17.

Lozano R, Naghavi M, Foreman K, et al. Global and regional mortality from 235 causes of death for 20 age groups in 1990 and 2010: a systematic analysis for the Global Burden of Disease Study 2010. Lancet 2012;380:2095–2128

18.

Lee J, Lee JS, Park SH, Shin SA, Kim K. Cohort profile: The National Health Insurance Service-National Sample Cohort (NHIS-NSC), South Korea. Int J Epidemiol 2016. https://doi.org/10.1093/ije/dyv319

19.

Quan H, Sundararajan V, Halfon P, Fong A, Burnand B, Luthi J, et al. Coding algorithms for defining comorbidities in ICD-9-CM and ICD-10 administrative data. Med Care 2005;43:1130–1139

20.

WHO. WHO methods and data sources for country-level causes of death 2000–2015. Global Health Estimates Technical Paper WHO/HIS/IER/GHE/2016.3

21.

Chung W. The cost of liver disease in Korea: methodology, data, and evidence. Clin Mol Hepatol 2015;21:14–21

22.

Jepsen P, Vilstrup H, Andersen PK, Lash TL, Sørensen HT. Comorbidity and survival of Danish cirrhosis patients: a nationwide population-based cohort study. Hepatology 2008;48:214–220

23.

Jepsen P, Vilstrup H, Lash TL. Development and validation of a comorbidity scoring system for patients with cirrhosis. Gastroenterology 2014;146:147–156

24.

Ratib S, Fleming KM, Crooks CJ, Aithal GP, West J. 1 and 5 year survival estimates for people with cirrhosis of the liver in England, 1998–2009: a large population study. J Hepatol 2014;60:282–289

25.

Kim CY, Kim JW, Lee HS, Yoon YB, Song IS. Natural history and survival rate of chronic liver diseases in Korea—20 years prospective analysis. Korean J Med 1994;46:168–180

26.

Jung KW, Won YJ, Kong HJ, Oh CM, Shin A, Lee JS. Survival of Korean adult cancer patients by stage at diagnosis, 2006–2010: national cancer registry study. Cancer Res Treat 2013;45(3):162–171

27.

Blachier M, Leleu H, Peck-Radosavljevic M, Valla DC, Roudot-Thoraval F. The burden of liver disease in Europe: a review of available epidemiological data. J Hepatol 2013;58:593–608

28.

Schneeweiss S. Learning from big health care data. N Engl J Med 2014;370:2161–2163

29.

Genta RM, Sonnenberg A. Big data in gastroenterology research. Nat Rev Gastroenterol Hepatol 2014;11:386–390

30.

Song SO, Jung CH, Song YD, Park CY, Kwon HS, Cha BS, et al. Background and data configuration process of a nationwide population-based study using the Korean National Health Insurance System. Diabetes Metab J 2014;38:395–403
Acknowledgements
This study was presented at the annual conference of the American Association for the Study of Liver Diseases (AASLD) [Hepatology 2017;66(Suppl 1):95A]. We would like to thank for the help of Ki Tae Suk, M.D., and Sang Hyun Choi, M.D., in preparation of the presentation at The Liver Meeting 2017.
Funding
This study was supported by the Korean Association for the Study of the Liver (KASL) and the Korean Liver Foundation. The funders had no role in the study design, data collection and analysis, decision to publish, or preparation of the manuscript.
Ethics declarations
Conflict of interest
Wankyo Chung, Changik Jo, Woo Jin Chung, and Dong Joon Kim have declared that no competing interests exist.
About this article
Cite this article
Chung, W., Jo, C., Chung, W.J. et al. Liver cirrhosis and cancer: comparison of mortality. Hepatol Int 12, 269–276 (2018). https://doi.org/10.1007/s12072-018-9850-5
Received:

Accepted:

Published:

Issue Date:
Keywords
Liver cirrhosis

Cancer

Mortality