Endoscopic treatments for portal hypertension
Special Issue - Portal Hypertension
Abstract
Acute esophageal variceal hemorrhage is a dreaded complication of portal hypertension. Its management has evolved rapidly in recent years. Endoscopic therapy is often employed to arrest bleeding varices as well as to prevent early rebleeding. The combination of vasoconstrictor and endoscopic therapy is superior to vasoconstrictor or endoscopic therapy alone for control of acute esophageal variceal hemorrhage. After control of acute variceal bleeding, combination of banding ligation and beta-blockers is generally recommended to prevent variceal rebleeding. To prevent the catastrophic event of acute variceal bleeding, endoscopic banding ligation is an important tool in the prophylaxis of first bleeding. Endoscopic obturation with cyanoacrylate is usually utilized to arrest acute gastric variceal hemorrhage as well as to prevent rebleeding. It can be concluded that endoscopic therapies play a pivotal role in management of portal hypertensive bleeding.
Keywords
Esophageal varices 
Sclerotherapy 
Banding ligation 
Gastric varices 
Endoscopic obturation 
Introduction
Many etiologies are associated with development of portal hypertension. Collaterals generally develop to decompress the elevated pressure and blood flow. Collaterals that develop and protrude to the lumen of the gastrointestinal tract become so-called varices, most commonly encountered growing around the lower esophagus and cardia. Esophageal and gastric varices can be easily detected by endoscopy. Acute esophageal variceal hemorrhage is one of the most dreaded complications of portal hypertension, with mortality of up to 40% and rebleeding rate of 60% in survivors [1, 2, 3]. Fortunately, the mortality of acute esophageal variceal hemorrhage has decreased to 20% in recent years [4]. Other than hemodynamic and clinical parameters, endoscopic findings of variceal sizes and red color signs are important predictive factors for variceal rupture. Hence, preventing first variceal bleeding, treatment of acute variceal bleeding, as well as prevention of variceal rebleeding are all integral parts of the management of complications related to portal hypertension [5]. Endoscopic therapy plays a pivotal role in management of all three aspects of variceal bleeding. This article focuses on the role of endoscopy in management of portal hypertension.
Timing of endoscopy for portal hypertensive bleeding
It is generally agreed that cirrhotic patients suffering from acute upper gastrointestinal hemorrhage should receive endoscopy to confirm the bleeding sources [5]. Prior to endoscopic therapy, resuscitation is required and vasoconstrictors should be instituted. However, the most appropriate time to perform endoscopic examination remains undetermined. One study showed that patients presenting with stable vital signs and no signs of active bleeding can be managed with vasoconstrictors and receive endoscopic examination during working hours of endoscopists [6]. On the other hand, some studies have shown that patients with portal hypertension presenting with hematemesis should receive emergency endoscopic therapy to achieve a higher hemostatic rate [7, 8]. The latest Baveno Consensus on portal hypertension suggests that endoscopy should be performed within 12 h for cirrhotic patients with acute upper gastrointestinal bleeding [5].
Modalities of endoscopic therapy for esophageal variceal bleeding
Endoscopic injection sclerotherapy (EIS) has been widely employed to arrest acute variceal bleeding for more than three decades [9, 10]. The volume of sclerosant in each injection and the interval of treatment vary greatly among operators, and no standard EIS method could be established [11]. The advantages of EIS include easy technique and highly effective hemostatic rate. Before the advent of endoscopic variceal ligation (EVL), EIS was the most widely used endoscopic therapy in management of acute variceal bleeding. The hemostatic rate achieved by emergency EIS ranged between 60 and 100%.
On the other hand, EVL has been employed to treat variceal bleeding since 1986 [
12
]. Several ligation devices have been developed for clinical use. Currently, multi-ligator is the most commonly used device. Some experts claim that the cylinder attached to the endoscope may obscure detection of the bleeding point when using EVL during active bleeding. Use of an overtube may facilitate endoscope entry into the esophagus and protect airways during massive bleeding or massive vomitus at endoscopy, but may also be associated with esophageal laceration or perforation [
13
]. EVL technique also varies greatly among endoscopists. It is better to deploy at least one rubber band on each prominent varix. However, deployment of many rubber bands during one EVL session did not prove to be more effective [
14
]. The optimal interval for EVL has been an issue of controversy [
15
,
16
,
17
]. The American Society of Gastroenterology Standards of Practice suggests 1–8-week intervals for primary and secondary prophylaxis [
18
]. A comparison between EIS and EVL is presented in Table 
1
. Posttreatment ulcer bleeding may occur in about 20% of patients receiving EIS and 2% of patients receiving EVL. Most of these patients may be treated conservatively, e.g., using vasoconstrictors, proton pump inhibitors, and sucralfate powder. Severe cases may require balloon tamponade, self-expanding metal stent, or transjugular intrahepatic portosystemic stent (TIPSS).
Table 1
Comparison between EIS and EVL
 

EIS

EVL

Mechanism

Chemical

Mechanical

For acute variceal bleeding

 
 

Active variceal bleeding

Technically easier

Technically more difficult

Acute hemostasis

Similar efficacy or inferior

Similar efficacy or superior

Very early rebleeding rate

Higher

Lower

Acute impact on portal pressure

Increased

Not increased

For prevention of rebleeding

 
 

Treatment interval

Days to weeks

2–4 weeks

Rebleeding rates

More common

Fewer

Treatment sessions required for

variceal obliteration

More sessions

Fewer

Rates of variceal obliteration

Similar

Similar

Variceal recurrence

Less common

More common

Complications

More common

Fewer

 Post treatment ulcers

Less common but deeper

More common but shallower

 Post treatment ulcer bleeding

More common

Less common

Esophageal stricture

More common

Less common

Infectious sequelae

More common

Less common

Survival

Similar or worse

Similar or better

Prophylaxis of first bleeding

Not suitable

Suitable
Injection of tissue adhesive agent Histoacryl, a method widely used to arrest gastric variceal bleeding [19], has also been employed to treat acute esophageal variceal hemorrhage with some success [20]. Use of tissue adhesive in esophageal variceal hemorrhage is not common, possibly due to the high effectiveness of EVL.
Acute esophageal variceal hemorrhage
Prevention of esophageal variceal rebleeding
Primary prophylaxis for first bleeding from esophageal varices
It is estimated that esophageal varices may be noted in 50% of cirrhotic patients. Since variceal bleeding may lead to high incidence of mortality and rebleeding, primary prophylaxis of first bleeding from esophageal varices is mandatory in patients with high-risk esophageal varices.
For prevention of first bleeding from esophageal varices, endoscopic examination is required to confirm presence of high-risk esophageal varices. Though other modalities such as capsule endoscopy, computed tomogram scan, as well as Fibroscan have been assessed for their role in detecting esophageal varices [
65
,
66
], endoscopy is still regarded as irreplaceable. Most guidelines recommend endoscopic examinations in patients suspected of cirrhosis. If no varices are noted, then follow-up endoscopic examination at intervals of 2 years is advised. If mild varices without red color signs are noted, it is advised to repeat endoscopic examination at 1-year intervals [
5
]. For patients with mild varices and red color signs, nonselective beta-blockers are the first option in the absence of contraindications. Among patients with large varices, either nonselective beta-blockers or EVL can be considered. The algorithm to prevent first variceal bleeding is shown in Fig. 
2
.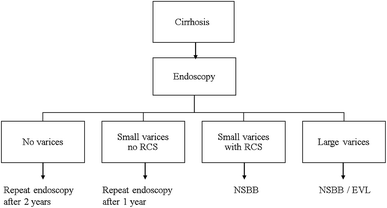 Gastric varices
Though the incidence of gastric variceal bleeding is lower than that of esophageal variceal bleeding, rupture of gastric varices usually results in more severe hemorrhage and higher mortality than esophageal varices [78]. Optimal therapy for bleeding gastric varices was not established until recent years.
Ectopic variceal bleeding
Patients with portal hypertensive may develop varices along the gastrointestinal tract other than gastroesophageal varices. Because the incidence of ectopic variceal bleeding is appreciably low as compared with bleeding arising from gastroesophageal varices, no modalities have been well documented to be both effective and safe in the management of ectopic variceal bleeding. Endoscopic therapies including EIS, EVL, argon plasma coagulation, and endoscopic glue obturation have been reported to be effective in treating duodenal, small bowel, colon, and rectal varices [94, 95]. A retrospective analysis from Japan showed that EIS may be associated with lower incidence of rebleeding as compared with EVL in the management of rectal variceal bleeding [96].
Portal hypertensive gastropathy (PHG) bleeding
Portal hypertensive gastropathy refers to changes in the mucosa of the stomach in patients with portal hypertension. Portal hypertensive gastropathy may appear as snake skin mosaic pattern, black–brown spots, or even active hemorrhage [5]. Endoscopic therapy of varices may accentuate PHG [97, 98]. Treatment of PHG is aimed at reducing hepatic venous pressure gradients, most often by pharmacologic means, but may require shunt procedures in severe cases. Endoscopic treatment of acute bleeding secondary to PHG is generally ineffective. Endoscopic therapy with argon plasma coagulation (APC) or coagulation therapy may be considered on an individual basis [99].
Hemospray is a proprietary mineral blend powder developed specifically for endoscopic hemostasis. Several case reports have shown successful hemostasis of PHG bleeding by use of Hemospray [100].
Discussion
Endoscopy is nowadays of paramount importance in assessing the severity of gastroesophageal varices as well as gastropathy for patients with portal hypertension. Endoscopic examination is still required to confirm the presence of varices. A wide armamentarium can be employed to manage variceal bleeding. EVL has currently replaced EIS as endoscopic therapy of choice in the arresting of active variceal bleeding as well as inactive variceal bleeding at endoscopy. Among patients with acute variceal bleeding and endoscopic treatment failure, rescue therapy with balloon tamponade, self-expanding metal stent, or TIPSS may be indicated, depending on available expertise and facility. For prevention of esophageal variceal rebleeding, EVL plus beta-blockers is regarded as the first choice. TIPSS should be considered for patients with repeated rebleeding despite endoscopic therapy. To prevent first esophageal variceal bleeding, EVL is a good alternative to beta-blockers.
Regarding treatment of gastric variceal bleeding, glue injection has been proved superior compared with EIS or EVL in arresting acute bleeding as well as preventing rebleeding. Glue injection may also be applied in the prevention of first bleeding from gastric varices.
In summary, endoscopic examinations and endoscopic therapy have played important roles in portal hypertensive bleeding over the last three decades and may continue to do so in the future.
Notes
Compliance with Ethical Standards
Funding
This study was not funded.
Conflict of Interest
Gin-Ho Lo declares that he has no conflicts of interest.
Ethical approval
This article does not contain any studies with human participants or animals performed by the author.
Copyright information
© Asian Pacific Association for the Study of the Liver 2017