Abstract
Infections of the deep spaces of the neck often present a true clinical challenge to a Head and Neck surgeon which may rapidly spread due to the various connections between the spaces resulting in morbidity and mortality. This study aims to obtain knowledge about various DNSI's and their predisposing factors.. It was a hospital based retrospective cross-sectional study done in Goa Medical College, India. A total of 300 patients who presented with DNSI's over the past 7 years were studied. Simple proportions and percentages were calculated and Chi-square test was used to study associations. A total of 300 patients were evaluated and male preponderance was seen. Most of the patients were seen belonging to the pediatric age group (26%). Infections of dental origin (45.67%) were the most common etiological factor associated with poor oral hygiene and tobacco chewing (12.67%). Major comorbidities were anemia (34%) and diabetes (19.3%) which were directly related to the complications. The most common complication was airway compromise (14.66%) which was treated by tracheostomy. DNSI should be treated like a medical as well as a surgical emergency which can be life-threatening especially in diabetics and elderly who are immunocompromised and need special attention. Odontogenic infections associated with poor oral hygiene and tobacco chewing could be prevented by educating the population about oral hygiene.
Access options
Buy single article
Instant access to the full article PDF.
USD 39.95
Price excludes VAT (USA)
Tax calculation will be finalised during checkout.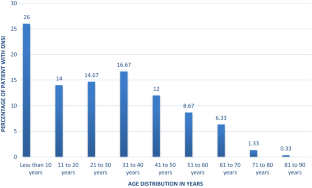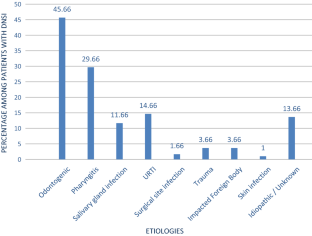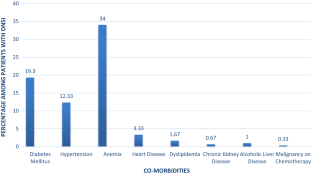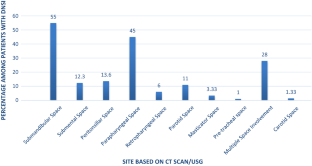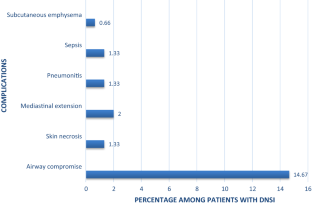 References
Hazarika P, Nayak DR, Balakrishnan R (2019) Textbook of ear, nose, throat & head-neck surgery: clinical and practical, 4th edn. CBS Publishers and Distributors Pvt. Ltd, India and Bangladesh

Gujrathi AB, Ambulgekar V, Kathait P (2016) Deep neck space infection—a retrospective study of 270 cases at tertiary care center. World J Otorhinolaryngol Head Neck Surg. 2(4):208–213. https://doi.org/10.1016/j.wjorl.2016.11.003

Johnson JT, Rosen CA (2013) Bailey's head and neck surgery: otolaryngology, 5th edn. Lippincott Williams & Wilkins, Philadelphia, pp 794–811

Wilkie MD, De S, Krishnan M (2019) Defining the role of surgical drainage in paediatric deep neck space infections. Clin Otolaryngol 44(3):366–371. https://doi.org/10.1111/coa.13315

Adil E, Tarshish Y, Robertson D (2015) The public health impact of pediatric deep neck space infections. Otolaryngol Head Neck Surg 153:1036–1041

Sharma K, Das D, Joshi M, Barman D, Sarma AJ (2018) Deep neck space infection: a study in diabetic population in a tertiary care centre. Indian J Otolaryngol Head Neck Surg 70(1):22–27

Kataria G, Saxena A, Bhagat S, Singh B, Kaur M, Kaur G (2015) Deep neck space infections: a study of 76 cases. Iran J Otorhinolaryngol 27(81):293–299

Mungul S, Maharaj S (2019) Review of paediatric deep neck space infection. J Lung Health Dis 3:1–4. https://doi.org/10.29245/2689-999X/2019/3.1152

Khavdu PJ, Fefar AD, Mistry SN, Chavada PS (2018) A study of deep neck spaces infection in present era at tertiary care teaching hospital. Int J Otorhinolaryngol Head Neck Surg 4:1276–1280

Khokle P, Lahane VJ, Mishra S, Choudhary M (2017) A study on presentation, etiology, complications and management of deep neck space infections: our experience. Int J Otorhinolaryngol Head Neck Surg 3:1002–1009

Yang W, Hu L, Wang Z et al (2015) Deep Neck Infection: A Review of 130 Cases in Southern China. Medicine (Baltimore) 94(27):e994. https://doi.org/10.1097/MD.0000000000000994

Anil S, Al-Ghamdi HS (2006) The impact of periodontal infections on systemic diseases. An update for medical practitioners. Saudi Med J 27(6):767–776

Brito TP, Hazboun IM, Fernandes FL, Bento LR, Zappelini CE, Chone CT et al (2017) Deep neck abscesses: study of 101 cases. Braz J Otorhinolaryngol 83:341–348

Almutairi DM, Alqahtani RM, Alshareef N, Alghamdi YS, Al-Hakami HA, Algarni M. Deep Neck Space Infections: A Retrospective Study of 183 Cases at a Tertiary Hospital [published correction appears in Cureus. 2020 Mar 30;12(3):c29]. Cureus. 2020; 12(2):e6841. https://doi.org/10.7759/cureus.6841

Ibrahim OR, Lugga AS, Suleiman BM, Yohanna J (2019) Deep neck space infection (retropharyngeal and parapharyngeal abscesses) with upper airway obstruction in a 7-day-old neonate. J Clin Neonatol 8:128–130

Nirmalkumar J, Sankaranaarayanan G (2017) A study on deep neck space infections. Otolaryngol Online J 7:1–6

Huang TT, Liu TC, Chen PR, Tseng FY, Yeh TH, Chen YS (2004) Deep neck infection: analysis of 185 cases. Head Neck 26:854–860

Kauffmann P, Cordesmeyer R, Tröltzsch M, Sömmer C, Laskawi R (2017) Deep neck infections: a single-center analysis of 63 cases. Med Oral Patol Oral Cir Bucal 22(5):e536–e541. https://doi.org/10.4317/medoral.21799.PMID:28809368;PMCID:PMC5694174

Rao DD, Desai A, Kulkarni RD, Gopalkrishnan K, Rao CB (2010) Comparison of maxillofacial space infection in diabetic and nondiabetic patients. Oral Surg Oral Med Oral Pathol Oral RadiolEndod 110:e7-12

Kang SK, Lee S, Oh HK, Kang MW, Na MH, Yu JH, Koo BS, Lim SP (2012) Clinical features of deep neck infections and predisposition factorsfor mediastinal extension. Korean J Thorac Cardiovasc Surg 45(3):171–176. https://doi.org/10.5090/kjtcs.2012.45.3.171

Maharaj S, Ahmed S, Pillay P (2019) Deep neck space infections: a case series and review of the literature. Clin Med Insights Ear Nose Throat. https://doi.org/10.1177/1179550619871274

de la Cuesta FR, Cortes Castell E, Garcia Ruiz ME, SeveraFerrandiz G (2019) Abscesoscervicalesprofundosinfantiles: experiencia de una unidad de ORL infantil de referenciadurante 15 a˜nos. An Pediatr (Barc) 91:30–36

Coticchia JM, Getnick GS, Yun RD et al (2004) Age-, site-, and time-specific differences in pediatric deep neck abscesses. Arch Otolaryngol Head Neck Surg 130:201–207

Bakir S, Tanriverdi MH, Gun R et al (2012) Deep neck space infections: a retrospective review of 173 cases. Am J Otolaryngol 33(1):56–63. https://doi.org/10.1016/j.amjoto.2011.01.003

Har-El G, Aroesty JH, Shaha A, Lucente FE (1994) Changing trends in deep neck abscess. A retrospective study of 110 patients. Oral Surg Oral Med Oral Pathol 77(5):446–450. https://doi.org/10.1016/0030-4220(94)90221-6

Mayor GP, Millán JMS (2001) Martínez VA Is conservative treatment of deep neck space infections appropriate? Head And Neck 23:126–133
Ethics declarations
Conflict of interest
There is no conflicts of interest and no sources of funding.
Additional information
Publisher's Note
Springer Nature remains neutral with regard to jurisdictional claims in published maps and institutional affiliations.
Rights and permissions
Springer Nature or its licensor (e.g. a society or other partner) holds exclusive rights to this article under a publishing agreement with the author(s) or other rightsholder(s); author self-archiving of the accepted manuscript version of this article is solely governed by the terms of such publishing agreement and applicable law.
About this article
Cite this article
Desa, C., Tiwari, M., Pednekar, S. et al. Etiology and Complications of Deep Neck Space Infections: A Hospital Based Retrospective Study. Indian J Otolaryngol Head Neck Surg (2022). https://doi.org/10.1007/s12070-022-03428-z
Received:

Accepted:

Published:

DOI: https://doi.org/10.1007/s12070-022-03428-z
Keywords
Deep neck space infections (DNSI)

Tracheostomy

Odontogenic

Diabetes mellitus (DM)

Anaemia