Abstract
Patients with tinnitus experience difficulties in cognitive control and executive functions. Many of which are regarded as the cause of tinnitus rather than its complications. Methods for the improvement of inhibitory and cognitive control seem to be effective in the control of tinnitus. In this study, transcranial direct current stimulation and auditory Stroop exercise were have been to improve inhibitory control and the ability to ignore tinnitus in patients suffering from chronic tinnitus. 34 patients with chronic tinnitus (> 6 months) were randomly divided into two groups. The first group consist of 17 patients who received 6 sessions of tDCS followed by 6 sessions of auditory Stroop training. The second group received 6 sessions of sham tDCS followed by 6 sessions of auditory Stroop training. The initial evaluations including pure tone audiometry, psychoacoustic measurements, tinnitus handicap inventory (THI) survey and visual analog scale (VAS) of annoyance and loudness were performed before, immediately after, and one month after the tDCS, sham, and Stroop training. The results of this study revealed a significant reduction in THI score, VAS of loudness, and annoyance of tinnitus. A significant correlation was detected between the reaction time of incongruent words in the Stroop task and improvement of THI score and VAS of annoyance. Combined tDCS and Stroop training efficiently improve chronic tinnitus.
This is a preview of subscription content,
to check access.
Access this article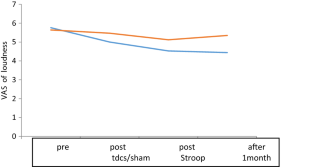 References
Ma X et al (2021) An integrated physical regulation theory and classification of acute tinnitus. Curr Med Sci 41(1):84–86

Makar SK (2021) Etiology and pathophysiology of tinnitus: a systematic review. Int Tinnitus J 25(1):76–86

Hall DA et al (2022) Systematic evaluation of the T30 neurostimulator treatment for tinnitus: a double-blind randomised placebo-controlled trial with open-label extension. Brain Sci 12(3):317

McFerran DJ et al (2019) Why is there no cure for tinnitus? Front Neurosci 13:802

Sedley W et al (2016) An integrative tinnitus model based on sensory precision. Trends Neurosci 39(12):799–812

Campbell J, Bean C, LaBrec A (2018) Normal hearing young adults with mild tinnitus: reduced inhibition as measured through sensory gating. Audiol Res 8(2):214

Rauschecker JP, Leaver AM, Mühlau M (2010) Tuning out the noise: limbic-auditory interactions in tinnitus. Neuron 66(6):819–826

Araneda R et al (2018) A key role of the prefrontal cortex in the maintenance of chronic tinnitus: an fMRI study using a Stroop task. NeuroImage Clin 17:325–334

Chambers CD, Garavan H, Bellgrove MA (2009) Insights into the neural basis of response inhibition from cognitive and clinical neuroscience. Neurosci Biobehav Rev 33(5):631–646

Golm D et al (2016) Tinnitus-related distress: evidence from fMRI of an emotional stroop task. BMC Ear, Nose Throat Disord 16(1):10

De Ridder D et al (2015) Thalamocortical dysrhythmia: a theoretical update in tinnitus. Front Neurol 6:124

Langguth B et al (2012) Neuroimaging and neuromodulation: complementary approaches for identifying the neuronal correlates of tinnitus. Front Syst Neurosci 6:15

De Ridder D et al (2022) Tinnitus and the triple network model: a perspective. Clin Exp Otorhinolaryngol 15(205):212

Xing M, Kallogjeri D, Piccirillo JF (2021) Investigating the impact of cognitive training for individuals with Bothersome tinnitus: a randomized controlled trial. Otolaryngol Head Neck Surg 165:0194599821994742

Sherlock LP, Brungart DS (2021) Functional impact of bothersome tinnitus on cognitive test performance. Int J Audiol 60(12):1000–1008

Kisley MA et al (2005) Age-related change in neural processing of time-dependent stimulus features. Cogn Brain Res 25(3):913–925

Aslam F, Aslam A, Zaheer MJP (2018) Comparison between time taken to complete MMSE score by demented and depressed patients. Med Speech Lang Hear Res 13(4):209–213

Trevis KJ, McLachlan NM, Wilson SJ (2016) Cognitive mechanisms in chronic tinnitus: psychological markers of a failure to switch attention. Front Psychol 7:1262

Wilkinson AJ, Yang L (2012) Plasticity of inhibition in older adults: retest practice and transfer effects. Psychol Aging 27(3):606

Andersson G et al (2005) Stroop facilitation in tinnitus patients: an experiment conducted via the World Wide Web. Cyberpsychol Behav 8(1):32–38

Christensen TA et al (2011) Neural substrates of attentive listening assessed with a novel auditory Stroop task. Front Hum Neurosci 4:236

Talanow T, Ettinger U (2018) Effects of task repetition but no transfer of inhibitory control training in healthy adults. Acta Psychol 187:37–53

Henkin Y et al (2010) Auditory conflict processing: behavioral and electrophysiologic manifestations of the Stroop effect. J Am Acad Audiol 21(7):474–486

Castro-Meneses LJ, Johnson BW, Sowman PF (2016) Vocal response inhibition is enhanced by anodal tDCS over the right prefrontal cortex. Exp Brain Res 234(1):185–195

Coffman BA, Trumbo MC, Clark VP (2012) Enhancement of object detection with transcranial direct current stimulation is associated with increased attention. BMC Neurosci 13(1):108

Oldrati V, Colombo B, Antonietti A (2018) Combination of a short cognitive training and tDCS to enhance visuospatial skills: a comparison between online and offline neuromodulation. Brain Res 1678:32–39

Sallard E et al (2018) Modulation of inhibitory control by prefrontal anodal tDCS: a crossover double-blind sham-controlled fMRI study. PLoS ONE 13(3):e0194936

Araneda R et al (2015) Altered inhibitory control and increased sensitivity to cross-modal interference in tinnitus during auditory and visual tasks. PLoS ONE 10(3):e0120387

Faber M et al (2012) Top down prefrontal affective modulation of tinnitus with multiple sessions of tDCS of dorsolateral prefrontal cortex. Brain Stimul 5(4):492–498

Lee JH, Ra J-J, Kim YH (2014) Adequacy of the simplified version of the tinnitus handicap inventory (THI-S) to measure tinnitus handicap and relevant distress. Korean J Audiol 18(1):19

Teismann H et al (2014) Combining transcranial direct current stimulation and tailor-made notched music training to decrease tinnitus-related distress–a pilot study. Plos One 9(2):e89904

Hogeveen J et al (2016) Effects of high-definition and conventional tDCS on response inhibition. Neurorehabil Neural Repair 9(5):720–729

Giordano J et al (2017) Mechanisms and effects of transcranial direct current stimulation. Dose-Response 15(1):1559325816685467

Haller M, Hall DA (2017) Evaluation of the acoustic coordinated reset (CR®) neuromodulation therapy for tinnitus: update on findings and conclusions. Front Psychol 8:1893

Nitsche MA et al (2006) Dopaminergic modulation of long-lasting direct current-induced cortical excitability changes in the human motor cortex. Eur J Neurosci 23(6):1651–1657

Fregni F et al (2006) Cognitive effects of repeated sessions of transcranial direct current stimulation in patients with depression. Wiley Subscription Services Inc, A Wiley Company Hoboken, pp 482–484

Galal S, Ismail N, Niel G (2020) A systematic review and meta-analysis of randomized controlled trials on the effect of transcranial magnetic stimulation on tinnitus management. Cent Asian J Glob Health. https://doi.org/10.5195/cajgh.2020.356
Funding
No funding was received to assist with the preparation of this manuscript.
Ethics declarations
Conflict of interest
The authors declare that they have no conflicting interests.
Ethical Approval
Before commencing the research, the experimental protocol of the study was registered on the Iranian Registry of Clinical Trials under the registration code IRCT20120215009014N366 based on an approval from the Medical Ethics Committee of the Iran University of Medical Science (as per the Ethics Code IR.IUMS.FMD.REC.1399.379), with all participants provided their written and informed consent upon receiving adequate explanation on the experimental protocol.
Additional information
Publisher's Note
Springer Nature remains neutral with regard to jurisdictional claims in published maps and institutional affiliations.
Rights and permissions
Springer Nature or its licensor (e.g. a society or other partner) holds exclusive rights to this article under a publishing agreement with the author(s) or other rightsholder(s); author self-archiving of the accepted manuscript version of this article is solely governed by the terms of such publishing agreement and applicable law.
About this article
Cite this article
Emadi, M., Moossavi, A. & Akbari, M. Combined Bifrontal Transcranial Direct Current Stimulation and Auditory Stroop Training in Chronic Tinnitus. Indian J Otolaryngol Head Neck Surg 75, 8–13 (2023). https://doi.org/10.1007/s12070-022-03258-z
Received:

Accepted:

Published:

Issue Date:

DOI: https://doi.org/10.1007/s12070-022-03258-z
Keywords