Abstract
Functional role of the acoustic reflex in preventing over stimulation of the inner auditory system by decreasing sound intensity along with the previous reports of acoustic reflex abnormalities in individuals having hyperacusis point towards the involvement of acoustic reflex deficit in the origin of hyperacusis especially when any medical condition leading to hyperacusis is not associated. However this issue remains contradictory owing to limited comprehensive investigation. This study was undertaken to ascertain the relationship between hyperacusis and the acoustic reflex. Threshold, amplitude and latency of the acoustic reflex were measured in two different groups of individuals having hyperacusis; Group 1: 14 individuals having hyperacusis with hearing loss (HwHL) and Group 2: 17 individuals having hyperacusis without hearing loss (HwoHL). Control group (Group 3) consisted of 15 normal hearing individuals who never experienced hyperacusis. Result showed a significant group effect on all the measured characteristics of the acoustic reflex. ARTs were found to be significantly higher in HwHL and HwoHL when compared to NHwoH. ARTs were statistically similar for HwoHL and NHwoH. HwoHL's ARAs and ARLs were significantly smaller and prolonged, respectively, when compared to HwHL and NHwoH. HwHL and NHwoH had statistically similar ARAs and ARLs. This study confirms acoustic reflex abnormalities in some individuals having hyperacusis with or without hearing loss. It further highlight the importance of involving acoustic reflex testing in the assessment of hyperacusis especially when hyperacusis is not associated with hearing loss or any other medical condition that may lead to hyperacusis.
Access options
Buy single article
Instant access to the full article PDF.
US$ 39.95
Tax calculation will be finalised during checkout.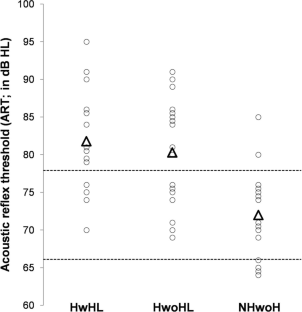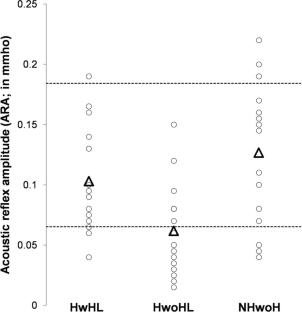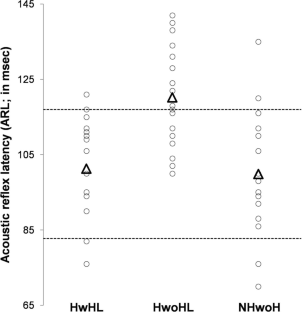 Availability of Data and Material
The datasets generated during and/or analysed during the current study are available from the corresponding author on reasonable request.
References
1.

Tyler RS, Pienkowski M, RojasRoncancio E et al (2014) A Review of hyperacusis and future directions: part i definitions and manifestations. Am J Audiol 23:402–419. https://doi.org/10.1044/2014_AJA-14-0010

2.

Phillips DP, Carr MM (1998) Disturbances of loudness perception. J Am Acad Audiol 9:371–379

3.

Khalfa S, Bruneau N, Rogé B, Georgieff N, Veuillet E, Adrien JL, Collet L (2004) Increased perception of loudness in autism. Hear Res 198(1–2):87–92. https://doi.org/10.1016/j.heares.2004.07.006

4.

Neal M, Cavanna AE (2012) P3 selective sound sensitivity syndrome (misophonia) and Tourette syndrome. J Neuro Psychiatry Clin Neurosci 83(10):e1–e1. https://doi.org/10.1136/jnnp-2012-303538.20

5.

Song JJ, De Ridder D, Weisz N et al (2014) Hyperacusis-associated pathological resting-state brain oscillations in the tinnitus brain: a hyperresponsiveness network with paradoxically inactive auditory cortex. Brain Struct Funct. https://doi.org/10.1007/s00429-013-0555-1

6.

Hébert S, Paiement P, Lupien SJ (2004) A physiological correlate for the intolerance to both internal and external sounds. Hear Res 190(1–2):1–9. https://doi.org/10.1016/S0378-5955(04)00021-8

7.

Dauman R, Bouscau-Faure F (2005) Assessment and amelioration of hyperacusis in tinnitus patients. Acta Oto-laryngol 125(5):503–509. https://doi.org/10.1080/00016480510027565

8.

Baguley DM (2003) Hyperacusis. J R Soc Med 96(12):582–585. https://doi.org/10.1258/jrsm.96.12.582

9.

Katzenell U, Segal S (2001) Hyperacusis review and clinical guidelines. Otol Neurotol 22:321–326. https://doi.org/10.1097/00129492-200105000-00009

10.

Evans EF (1975) The sharpening of cochlear frequency selectivity in the normal and abnormal cochlea. Audiology 14:419–422. https://doi.org/10.3109/00206097509071754

11.

Fagelson M, Baguley D M (2018) Hyperacusis and disorders of sound intolerance: clinical and research perspectives 1st edn. Plural

12.

Auerbach BD, Rodrigues PV, Salvi RJ (2014) Central gain control in tinnitus and hyperacusis. Front Neurol 5:206. https://doi.org/10.3389/fneur.2014.00206

13.

Auerbach BD (2019) Physiological mechanisms of hyperacusis: an update. ENT Audiol News 27(6). https://www.entandaudiologynews.com/features/audiology-features/post/physiological-mechanisms-of-hyperacusis-an-update

14.

Adour KK, Wingerd J (1974) Idiopathic facial paralysis (Bell's palsy): factors affecting severity and outcome in 446 patients. Neurology 24:1112–1116. https://doi.org/10.1212/wnl.24.12.1112

15.

McCandless GA, Georing DM (1974) Changes in loudness after stapedectomy. Arch Otolaryngol 100(5):344–350. https://doi.org/10.1001/archotol.1974.00780040356005

16.

Citron D, Adour KK (1978) Acoustic reflex and loudness discomfort in acute facial paralysis. Arch Otolaryngol 104:303–306. https://doi.org/10.1001/archotol.1978.00790060005001

17.

Collard ME, Parker W (1984) Exaggerated acoustic reflex response in a patient with transient facial palsy and hyperacusis. Am J Otol 5:355–359

18.

Gothelf D, Farber N, Raveh E et al (2006) Hyperacusis in Williams syndrome: characteristics and associated neuroaudiologic abnormalities. Neurology 66(3):390–395. https://doi.org/10.1212/01.wnl.0000196643.35395.5f

19.

Zakrisson JE, Borg E (1974) Stapedius reflex and auditory fatigue. Audiology 13(3):231–235. https://doi.org/10.3109/00206097409071680

20.

Borg ERIK, Counter SA, Rosler G (1984) Theories of middle-ear muscle function. In: Silman S (Ed) The acoustic reflex: basic principles and clinical applications, pp 63–99. https://doi.org/10.1080/14992027.2017.1416189

21.

Knudson IM, Shera CA, Melcher JR (2014) Increased contralateral suppression of otoacoustic emissions indicates a hyperresponsive medial olivocochlear system in humans with tinnitus and hyperacusis. J Neurophysiol 112(12):3197–3208. https://doi.org/10.1152/jn.00576.2014

22.

Sahley TL, Nodar RH, Musiek FE (1997) Efferent auditory system: structure and function. San Diego. Singular

23.

Hickox AE, Lieberman MC (2014) Is noise-induced cochlear neuropathy key to the generation of hyperacusis or tinnitus? J Neurophysiol 111(3):552–564. https://doi.org/10.1152/jn.00184.2013

24.

Knipper M, Van Dijk P, Nunes I, Rüttiger L, Zimmermann U (2013) Advances in the neurobiology of hearing disorders: recent developments regarding the basis of tinnitus and hyperacusis. Prog Neurobiol 111:17–33. https://doi.org/10.1016/j.pneurobio.2013.08.002

25.

Liberman MC, Guinan JJ (1998) Feedback control of the auditory periphery: anti-masking effects of middle ear muscles vs olivocochlear efferents. J Commun Disord 31(6):471–482. https://doi.org/10.1016/s0021-9924(98)00019-7

26.

Gelfand SA (2005) The acoustic reflex. In: Katz J (ed) Handbook of clinical audiology, 5th edn. Lippincott Williams & Wilkins, Baltimore, pp 205–232

27.

Gordon AG (1986) Abnormal middle ear muscle reflexes and audiosensitivity. Br J Audiol 20(2):95–99. https://doi.org/10.3109/03005368609079002

28.

Downs DW, Crum MA (1980) The hyperactive acoustic reflex: four case studies. Arch Otolaryngol 106(7):401–404. https://doi.org/10.1001/archotol.1980.00790310025006

29.

Anari M, Axelsson A, Eliasson A, Magnusson L (1999) Hypersensitivity to sound: questionnaire data, audiometry and classification. Scand audiol 28(4):219–230. https://doi.org/10.1080/010503999424653

30.

Brandy WT, Lynn JM (1995) Audiologic findings in hyperacusic and non-hyperacusic subjects. Am J Audiol 4(1):46–51. https://doi.org/10.1044/1059-0889.0401.46

31.

Silman S (2012) The acoustic reflex: basic principles and clinical applications. Elsevier, Amsterdam

32.

Stach BA (1987) The acoustic reflex in diagnostic audiology: from Metz to present. Ear Hear 8(4):36S–42S. https://doi.org/10.1097/00003446-198708001-00008

33.

Hall JW (1982) Acoustic reflex amplitude II effect of age-related auditory dysfunction. Audiology 21(5):386–399. https://doi.org/10.3109/00206098209072753

34.

Borg E (1982) Time course of the human acoustic stapedius reflex: a comparison of eight different measures in normal-hearing subjects. Scand Audiol 11(4):237–242. https://doi.org/10.3109/01050398209087473

35.

Qiu WW, Stucker FJ (1998) Characterization of acoustic reflex latency in normal-hearing subjects. Scand Audiol 27:43–49. https://doi.org/10.1080/010503998419696

36.

Khalfa SS, Dubal E, Veuillet F, Perez-Diaz R, Jouvent L, Collet (2002) Psychometric normalization of a hyperacusis questionnaire. J Otorhinolaryngol Relat Spec 64(6):436–442. https://doi.org/10.1159/000067570
Ethics declarations
Conflict of interest
The authors declare that they have no conflict of interest.
Ethical Approval
All procedures performed in studies involving human participants were in accordance with the ethical standards of the institutional and/or national research committee and with the 1964 Helsinki declaration and its later amendments or comparable ethical standards.
Informed Consent
Informed consent was obtained from all individual participants included in the study.
Additional information
Publisher's Note
Springer Nature remains neutral with regard to jurisdictional claims in published maps and institutional affiliations.
Electronic supplementary material
Below is the link to the electronic supplementary material.
About this article
Cite this article
Saxena, U., Singh, B.P., Kumar, S.B.R. et al. Acoustic Reflexes in Individuals Having Hyperacusis of the Auditory Origin. Indian J Otolaryngol Head Neck Surg 72, 497–502 (2020). https://doi.org/10.1007/s12070-020-02002-9
Received:

Accepted:

Published:

Issue Date:
Keywords
Hyperacusis

Acoustic reflexes

Threshold

Latency

Amplitude