Abstract
LPRD is a common condition in patients attending ENT OPDs. Although esophageal manometry and 24 h pH monitoring is considered the gold standard for diagnosis, it is an expensive and time consuming investigation. Newer clinical scales have been developed for diagnosing LPR such as RSI, RFS, Carlsson-Dent, ReQuest, GerdQ, etc. The objective of the study is to compare RSI with RFS and to establish its effectiveness in diagnosing LPRD among OPD patients. It's a descriptive cross-sectional study. ENT outpatients with features of LPRD were asked to fill RSI proforma (score ≥ 13 abnormal), after which they were subjected to indirect laryngoscopy to obtain the RFS (score ≥ 7 diagnostic of LPRD). RSI was compared with RFS. Sensitivity, specificity, positive predictive value (PPV), negative predictive value (NPV) and accuracy of RSI were noted. Of 165 patients, 53.9% were females. Mean RSI scores in males and females were 11.9 and 11.5 and mean RFS scores were 6.4 and 5.7 respectively. RSI had 79.1% sensitivity and 83.7% specificity in diagnosing LPRD with PPV 76.8%, NPV 85.4% and accuracy 81.8% (Chi square value 64.5, p ≤ 0.01). There was substantial agreement between RSI and RFS (Cohen's kappa: 0.625, p ≤ 0.0001). RSI is a simple tool to diagnose LPRD which doesn't mandate invasive procedures such as endoscopy or esophageal manometry. Hence it can be used effectively to diagnose LPRD in ENT outpatients and start the treatment at the earliest.
This is a preview of subscription content,
to check access.
Access this article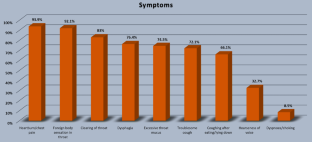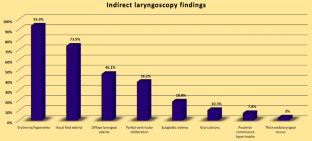 References
Kavitt RT, Vaezi MF (2015) Diseases of the esophagus. Cummings otolaryngology head and neck surgery, 6th edn. Elsevier, Philadelphia, pp 1007–1012

Nunes HS, Pinto JA, Zavanela AR, Cavallini AF, Freitas GS, Garcia FE (2016) Comparison between the reflux finding score and the reflux symptom index in the practice of otorhinolaryngology. Int Arch Otorhinolaryngol 20(3):218–221

Karakaya E et al (2015) Reflux finding score and reflux symptom index. JAREM 5:68–74

Belafsky PC, Postma GN, Amin MR, Koufman JA (2002) Symptoms and findings of laryngopharyngeal reflux. Ear Nose Throat J 81(Suppl 2):10

Carlsson R, Dent J, Bolling-Sternevald E et al (1998) The usefulness of a structured questionnaire in the assessment of symptomatic gastroesophageal reflux disease. Scand J Gastroenterol 33:1023–1029

Bardhan KD, Stanghellini V, Armstrong D, Berghöfer P, Gatz G, Mönnikes H (2004) Evaluation of GERD symptoms during therapy. Part I: development of the new GERD questionnaire ReQuest TM. Digestion 69:229–237

Jones R, Junghard O, Dent J et al (2009) Development of the GerdQ, a tool for the diagnosis and management of gastro-oesophageal reflux disease in primary care. Aliment Pharmacol Ther 30:1030–1038

Koufman JA, Aviv JE, Casiano RR, Shaw GY (2002) Laryngopharyngeal reflux: position statement of the committee on speech, voice, and swallowing disorders of the American Academy of Otolaryngology-Head and Neck Surgery. Otolaryngol Head Neck Surg 127(1):32–35

Koufman J, Sataloff RT, Toohill R (1996) Laryngopharyngeal reflux: consensus conference report. J Voice 10(3):215–216

Mesallam TA, Stemple JC, Sobeih TM, Elluru RG (2007) Reflux symptom index versus reflux finding score. Ann Otol Rhinol Laryngol 116(6):436–440

Pokharel M, Shrestha I, Dhakal A, Purbey B, Amatya RCM (2016) Reflux symptom index and reflux finding score in diagnosis of laryngopharyngeal reflux. Kathmandu Univ Med J 56(4):332–336

Gelardi M et al (2018) Correlation between the reflux finding score and the reflux symptom index in patients with laryngopharyngeal reflux. J Biol Regul Homeost Agents 32(1 Suppl. 2):29–31

Vázquez de la Iglesia F, FernándezGonzález S, Gómez Mde L (2007) Laryngopharyngeal reflux: correlation between symptoms and signs by means of clinical assessment questionnaires and fibroendoscopy. Is this sufficient for diagnosis? Acta Otorrinolaringol Esp 58(9):421–425

Park KH, Choy SM, Kwon SUK, Yoon SW, Kim SUK (2006) Diagnosis of laryngopharyngeal reflux among globus patients. Otolaryngol Head Neck Surg 134:81–85

Almeida AGP, Saliture TBS, Silva ASS, Eckley CA (2013) Translation and cultural adaptation of the Reflux Finding Score into Brazilian Portuguese. Braz J Otorhinolaryngol 79(1):47–53
Funding
No funds received for this study.
Ethics declarations
Conflict of interest
The authors declare that they have no conflict of interest.
Ethical Approval
All procedures performed in the study involving human participants were in accordance with the ethical standards of the institutional ethical committee (Institutional Ethical Committee, JJMMC, Davangere. Reference Number: JJMMC/IEC-Sy-68-2018) and with the 1964 Helsinki declaration and its later amendments or comparable ethical standards.
Informed Consent
As photographs or identifying details or personal details of the participants have not been disclosed in this study, informed consent was not necessary. Complete anonymity of the participants has been maintained in this study.
Research Involving Human Participants and/or Animals
Yes, human participants.
Additional information
Publisher's Note
Springer Nature remains neutral with regard to jurisdictional claims in published maps and institutional affiliations.
About this article
Cite this article
Mallikarjunappa, A.M., Deshpande, G.A. Comparison of Reflux Symptom Index (RSI) with Reflux Finding Score (RFS) and Its Effectiveness in Diagnosis of Laryngopharyngeal Reflux Disease (LPRD). Indian J Otolaryngol Head Neck Surg 74 (Suppl 2), 1809–1813 (2022). https://doi.org/10.1007/s12070-020-01814-z
Received:

Accepted:

Published:

Issue Date:

DOI: https://doi.org/10.1007/s12070-020-01814-z
Keywords