Abstract
Cherubism might occur in solitary cases or in several members of the family, often in many generations. Treatment depends on the clinical course of the disease. The reported case is an example of solitary sporadic occurrence within a family, which is a less documented condition in the literature.
This is a preview of subscription content, log in to check access.
Access options
Buy single article
Instant access to the full article PDF.
US$ 39.95
Price includes VAT for USA
Subscribe to journal
Immediate online access to all issues from 2019. Subscription will auto renew annually.
US$ 99
This is the net price. Taxes to be calculated in checkout.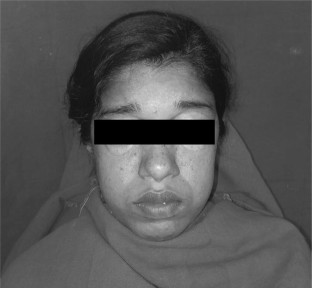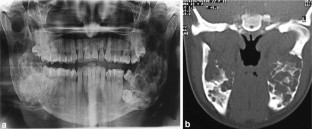 References
1.

Srichinthu KK, Yoithapprabhunath TR, Chitturi RT, Yamunadevi A, Potsangbam AD, Sningh DN (2016) Fibro osseous lesions-classifications, pathophysiology and importance of radiology: a short review. Int Biol Biomed J Winter 2(1):11–20

2.

Kaur M, Shah S, Babaji P, Singh J, Nair D, Kamble SS (2014) Cherubism: a rare case report. J Nat Sci Biol Med 5:488–491

3.

Prajapati VK (2013) Non-familial Cherubism. Contemp Clin Dent 4:88–89

4.

Degala S, Mahesh KP, Monalisha (2015) Cherubism: a case report. J Maxillofac Oral Surg 14(1):S258–S262

5.

Seward GR, Hankey GT (1957) Cherubism. Oral Surg Oral Med Oral Pathol 10(10):952–974

6.

Jain V, Gamanagatti SR, Gadodia A, Kataria P, Bhatti SS (2007) Non-familial cherubism. Singap Med J 48:e253

7.

Mehrotra D, Kesarwani A, Nandlal (2011) Cherubism: case report with review of literature. J Maxillofac Oral Surg 10(1):64–70
Funding
This case report has not been financially supported by any person or institute.
Ethics declarations
Conflict of interest
The authors declare that they have no conflict of interest.
Ethical Approval
For this type of study, formal consent is not required.
Additional information
Publisher's Note
Springer Nature remains neutral with regard to jurisdictional claims in published maps and institutional affiliations.
About this article
Cite this article
Singla, S., Narula, R., Goyal, R. et al. Non Familial Cherubism: A Case Report. Indian J Otolaryngol Head Neck Surg 71, 865–867 (2019). https://doi.org/10.1007/s12070-019-01619-9
Received:

Accepted:

Published:

Issue Date:
Keywords
Fibro-osseous lesions

Cherubism

Familial

Giant cells