Abstract
Primary osteosarcoma of sphenoid and ethmoid sinus present as a challenge in head neck cancer. A 17 year female presented with left sided hemifacial pain, headache with nasal discharge. Clinico-radiological finding showed mass in sphenoethmoid recess spreading to adjacent structures. Endoscopic resection was done. Histopathological diagnosis was osteosarcoma of sphenoid and ethmoid sinus. Adjuvant chemotherapy administered. Osteosarcomas of sphenoid and ethmoid sinus are aggressive tumors with variable clinical features warranting high clinical suspicion.
This is a preview of subscription content, log in to check access.
Access options
Buy single article
Instant access to the full article PDF.
US$ 39.95
Price includes VAT for USA
Subscribe to journal
Immediate online access to all issues from 2019. Subscription will auto renew annually.
US$ 99
This is the net price. Taxes to be calculated in checkout.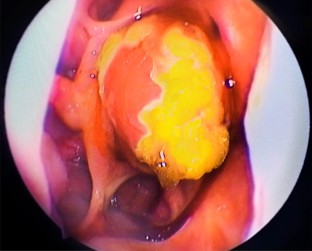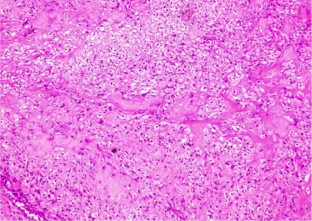 References
1.

Watkinson JC, Gilbert RW (2012) Stell and Maran's textbook of head and neck surgery and oncology, 5th edn. Hodder Arnold, UK

2.

Kennedy DW, Hwang PH (2012) Rhinology diseases of nose, sinuses and skull base, 1st edn. Thieme, New York

3.

Vege DS, Borges AM, Aggarwal K, Balasubramanian G, Parikh DM, Bhase B (1991) Osteosarcoma of the craniofacial bones. A clinico-pathological study. J Craniomaxillofac Surg 19:90–93

4.

Rajendran R (2009) Benign and malignant tumours of oral cavity. In: Shafer WG, Hine MK, Levy BM (eds) Shafer's textbook of oral pathology, 6th edn. Elsevier, Gurgaon, pp 80–218

5.

Rosenthal MA, Mougos S, Wiesenfeld D (2003) High-grade maxillofacial osteosarcoma: evolving strategies for a curable cancer. Oral Oncol 39:402–404

6.

Mendenhall WM, Fernandes R, Werning JW, Vaysberg M, Malyapa RS, Mendenhall NP (2011) Head and neck osteosarcoma. Am J Otolaryngol 32(6):597–600

7.

Gadwal SR, Gannon FH, Fanburg-Smith JC, Becoskie EM, Thompson LD (2001) Primary osteosarcoma of the head and neck in pediatric patients: a clinicopathologic study of 22 cases with a review of the literature. Cancer 91(3):598–605

8.

Park HR, Min SK, Cho HD, Cho SJ, Lee JH, Lee Y, Park YK (2004) Osteosarcoma of the ethmoid sinus. Skeletal Radiol 33(5):291–294

9.

Jasnau S, Meyer U, Potratz J, Jundt G, Kevric M, Joos UK et al (2008) Craniofacial osteosarcoma experience of the cooperative German–Austrian–Swiss osteosarcoma study group. Oral Oncol 44:286–294

10.

Lee YY, Van Tassel P, Nauert C, Raymond AK, Edeiken J (1988) Craniofacial osteosarcomas: plain film, CT, and MR findings in 46 cases. AJR Am J Roentgenol 150:1397–1402
Ethics declarations
Conflict of interest
The authors declare that they have no competing interests.
Ethical Statement
All procedures performed in this study involving human participant were in accordance with the ethical standards of the institution and/or national research committee and with 1964 Declaration Of Helsinki and its later amendments or comparable ethical standards.
Informed Consent
A written informed consent has been obtained from the patient.
Additional information
Publisher's Note
Springer Nature remains neutral with regard to jurisdictional claims in published maps and institutional affiliations.
About this article
Cite this article
Mitra, S., Dubey, A.B. & Janweja, M. Primary Osteosarcoma of Sphenoid and Ethmoid Sinus in a 17 Year Female: Case Report. Indian J Otolaryngol Head Neck Surg 71, 2136–2139 (2019). https://doi.org/10.1007/s12070-019-01618-w
Received:

Accepted:

Published:

Issue Date:
Keywords
Osteosarcoma

Sphenoid

Ethmoid

Paranasal sinus