Abstract
Thyroid swelling is the most common swelling among the endocrine disorder. It can affect any age group. USG neck will help to diagnose the solid and cystic lesions. The treatment is surgical excision. FNAC is a good diagnostic tool to minimize the incidence of thyroidectomy. FNAC is cost effective, reliable and OPD procedure. Final diagnosis can only be made by HPE postoperatively. The aim of this study is to find out the relative occurrence of various pathological conditions presenting as midline thyroid swellings and clinicopathological and radiological examination of the thyroid swellings. A one and half year prospective study which was carried out from October 2016 to April 2018 in ENT department of MMIMSR, Mullana, Ambala. Informed written consent was taken from all the patients. A complete clinical, radiological, cytological an HP Examination was done. Total 50 patients were included in the study. Complete clinical data of the patient was gathered from medical records. The maximum number of patients in present study was found in an age group of 31–40 years (34%). There was female predominance with female to male ratio of 7.3:1. Most of the patients belonged to rural background i.e. 42 (84%) patients. Most of the patients present with Left sided neck swelling i.e. 18 (36%) patients. Ultrasound revealed that non neoplastic lesions were present in 44 (88%) patients and 6 (12%) patients had neoplastic lesions. FNAC showed that non neoplastic lesions were present in 38 (76%) patients and 12 (24%) patients had neoplastic lesions. On HPE, non neoplastic and neoplastic lesions were present in 36 (72%) and 14 (28%) patients respectively. Colloid goiter was the most common among the non neoplastic lesions in 29 (58%) patients. Papillary carcinoma was the most common malignant disease in 4 (8%) patients. Thyroid swelling was most commonly seen during the 3rd and 4th decade of life, with a female preponderance. Most common benign thyroid swelling is Colloid goiter and papillary carcinoma was the most common malignant disease. Histopathology is considered as a gold standard.
This is a preview of subscription content, log in to check access.
Access options
Buy single article
Instant access to the full article PDF.
US$ 39.95
Price includes VAT for USA
Subscribe to journal
Immediate online access to all issues from 2019. Subscription will auto renew annually.
US$ 99
This is the net price. Taxes to be calculated in checkout.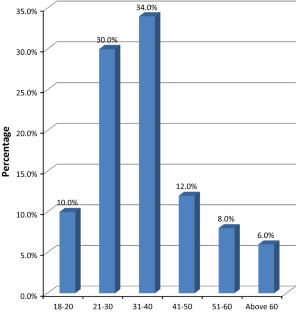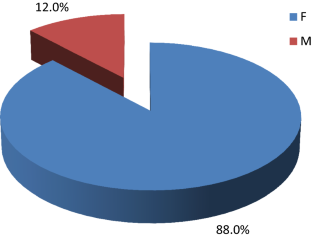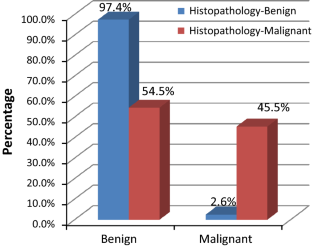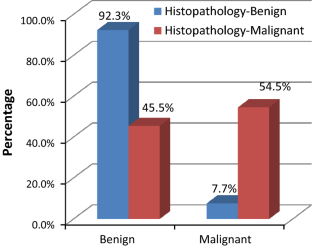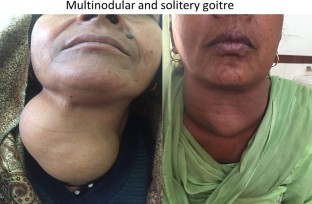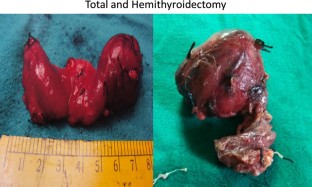 References
1.

Park K (2009) Nutrition and health. In: Park K (ed) Park's textbook of preventive and social medicine, 20th edn. Bhanot, Jabalpur, p 557

2.

Krukowski Zygmunt J (2004) The thyroid and thyroglossal duct. Bailey and Love's short practice of surgery, 24th edn. London, pp 776–804

3.

Vander JB, Gaston EA, Dawber TR (1968) The significance of nontoxic thyroid nodule: final report of a 15 year study of incidence of thyroid malignancy. Ann Int Med 69(3):537–540

4.

Ramsden J, Watkinson J (2008) Thyroid cancer. In: Glesson M, Browning G, Burton M (eds) Scott Browns otorhinolaryngology, head and neck surgery, 7th edn. Hodder Arnold, London, pp 2663–2701

5.

Burch HB, Burman KD, Reed HL, Buckner L, Raber T (1996) Fine needle aspiration of thyroid nodules. Determinant of insufficiency rate and malignancy yield at thyroidectomy. Acta Cytol 40(6):1176–1183

6.

Rosen IB, Wallace C, Strawbridge HG, Walfish PG (1981) Re-evaluation of needle aspiration cytology in detection of thyroid cancer. Surgery 90(4):747–756

7.

Santosh UP, Kumar SKB, Trupthi MC, Bobobalan S (2014) A comprehensive approach to thyroid swellings: clinical, cytological, sonological and histopathological correlation. Otolaryngol Clin Int J 6(1):5–8

8.

Kumari K, Mrudula R (2014) Solitary thyroid nodule: cytopathology and histopathology. Eur J Biomed Pharmaceut Sci 1(2):482–490

9.

Wani KA, Mustafa GH, Wani RA, Hussain Z, Arif SH, Malik AA et al (2007) Clinical study of neoplastic thyroid swellings with reference to surgical management. JK Pract 14(1):19–21

10.

Rout K, Ray CS, Behera SK, Biswal R (2011) A comparative study of FNAC and histopathology of thyroid swellings. Indian J Otolaryngol Head Neck Surg 63(4):370–372

11.

Amjad KM, Abdul M, Moosabba MS, Manjula S, Pushpalatha P (2011) A Clinicopathological study and management of thyroid swelling. J Adv Res Biol Sci 3(1):1–5

12.

Gupta M, Gupta S, Gupta V (2010) Correlation of fine needle aspiration cytology with histopathology in the diagnosis of solitary thyroid nodules. J Thyroid Res 2010:37905

13.

Gupta A, Jaipal D, Kulhari S, Gupta N (2016) Histopathological study of thyroid lesions and correlation with ultrasonography and thyroid profile in western zone of Rajasthan, India. Int J Res Med Sci 4(4):1204–1208

14.

Sivanandan R, Soo KC (2002) Pattern of cervical lymph node metastases from papillary carcinoma of the thyroid. Br J Surg 88(9):1241–1244

15.

Padmawar MR, Kher K, Kakade A (2014) Clinicopathological study of multinodular goiter at AVBRH. Int J Biomed Adv Res 05(01):10–13

16.

Basharat R, Bukhari MH, Saeed S, Hamid T (2011) Comparison of fine needle aspiration cytology and thyroid scan in solitary thyroid nodule. Patholog Res Int 2011:754041

17.

Hariprasad S, Srinivas T (2017) Clinicopathological study of thyroid swellings—a 2 year prospective study. Indian J Basic Appl Med Res 6(3):152–160

18.

Kessler A, Gavriel H, Zahav S, Vaiman M, Shlamkovitch N, Shegal S et al (2005) Accuracy and consistency of fine needle aspiration biopsy in the diagnosis and management of solitary thyroid nodules. IMAJ 7(6):371–373

19.

Kaur K, Sonkhya N, Bapna A, Mital P (2002) A comparative study of fine needle aspiration cytology, ultrasonography and radionuclide scan in the management of solitary thyroid nodule: a prospective analysis of 50 cases. Indian J Otolaryngol Head Neck Surg 54(2):96–101

20.

Papini E, Guglielmi R, Bianchini A, Crescenzi A, Taccogna S, Nardi F (2002) Risk of malignancy in nonpalpable thyroid nodules: predictive value of ultrasound and color-Doppler features. J Clin Endocrinol Metab 87(5):1941–1946

21.

Takashima S, Fukuda H, Nomura N, Kishimoto H, Kim T, Kobayashi T (1995) Thyroid nodules: re-evaluation with ultrasound. J Clin Ultrasound 23(3):179–184

22.

Jena A, Patnayak R, Prakash J, Sachan A, SureshV LA (2015) Malignancy in solitary thyroid nodule: a clinicoradiopathological evaluation. IJEM 19(4):498–503

23.

Borgohain R, Lal RK, Chatterjee P, Brahma N, Khanna S (2014) A study of cyto-histological correlation in the diagnosis of thyroid swelling. IOSR-JDMS 13:46–49

24.

Vyas CS, Vijayvargiya SC, Porwal S, Gupta R, Swarnkar M (2013) A study of thyroid swelling with clinicopathological parameters. Int J Biol Med Res 4(2):3250–3252

25.

Shin JH, Baek JH, Chung J, Ha EJ, Kim JH, Lee YH et al (2016) Ultrasonography diagnosis and imaging-based management of thyroid nodules: revised Korean Society of Thyroid Radiology consensus statement and recommendations. Korean J Radiol 17(3):370–395
Ethics declarations
Conflict of interest
The authors declared that they have no conflict of interest.
Human and Animal Rights
All procedures performed in studies involving human participants were in accordance with the ethical standards of the institutional research committee and with the 1964 Helsinki declaration and its later amendments or comparable ethical standards.
Informed Consent
Informed consent was obtained from all individual participants included in the study.
Additional information
Publisher's Note
Springer Nature remains neutral with regard to jurisdictional claims in published maps and institutional affiliations.
About this article
Cite this article
Chaudhary, M., Baisakhiya, N. & Singh, G. Clinicopathological and Radiological Study of Thyroid Swelling. Indian J Otolaryngol Head Neck Surg 71, 893–904 (2019). https://doi.org/10.1007/s12070-019-01616-y
Received:

Accepted:

Published:

Issue Date:
Keywords
Thyroid swelling

Thyroidectomy

FNAC

Bethesda classification

USG

TIRAD