Abstract
Dentigerous cyst (DC) is the most common developmental cyst that occurs in either jaw with a reported frequency of 18.1% (Jones et al. J Oral Pathol Med 35:500–507, 2006). DC literally means a tooth bearing cyst, and it is named due to the fact the it is almost always associated with an impacted or unerupted tooth in the jaw. The most common tooth involved by DC is mandibular third molar, since it is most common tooth to get impacted, followed by mandibular canine, maxillary third molars and mandibular premolars and less commonly maxillary central incisor. However, the association of mandibular second molar is unusual with an incidence of about 1.1%. We report a case of a 28 years old male diagnosed with an impacted mandibular third molar associated with DC and its surgical management.
This is a preview of subscription content, log in to check access.
Access options
Buy single article
Instant access to the full article PDF.
US$ 39.95
Price includes VAT for USA
Subscribe to journal
Immediate online access to all issues from 2019. Subscription will auto renew annually.
US$ 99
This is the net price. Taxes to be calculated in checkout.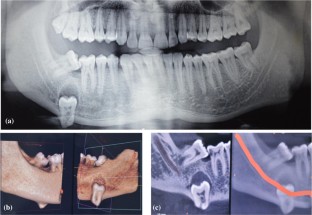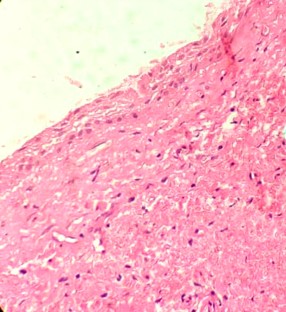 References
1.

Jones AV, Craig GT, Franklin CD (2006) Range and demographics of odontogenic cysts diagnosed in a UK population over a 30-year period. J Oral Pathol Med 35:500–507

2.

Shear M, Speight PM (2009) Cysts of the oral and maxillofacial regions, 4th edn. Blackwell Publishing, London

3.

Robinson Hamilton (1975) Cysts of the oral cavity. In: Archer H (ed) Oral and maxillofacial surgery, 5th edn. W.B. Saunders, Philadelphia

4.

Ikeshima A, Tamura Y (2003) Differential diagnosis between dentigerous cyst and benign tumour with an embedded tooth. J Oral Sci 44:13–17

5.

Ustner E, Fitoz S, Atasoy C, Erden I, Akyar S (2003) Bilateral maxillary dentigerous cyst: a case report. Oral Surg Oral Med Oral Pathol Oral Radiol Endodontol 95:632–635

6.

Ziccardi VB, Eggleston TI, Schneider R (1997) Using fenestration technique to treat a large dentigerous cyst. J Am Dent Assoc 128:201–205

7.

Zerrin E, Husniye DK, Peruze C (2014) Dentigerous cysts of the jaws: clinical and radiological findings of 18 cases. J Oral Maxillofac Radiol 2(3):77–81

8.

Robert MW, Blakey GH, Jacoway JR, Chen SC, Morris CR (1994) Enlarged dental follicles, a follicular cyst, and enamel hypoplasia in a patient with Lowe syndrome. Oral Surg Oral Med Oral Pathol 77(3):264–265

9.

Anjana G, Varma B, Ushus P (2011) Management of a dentigerous cyst: a two-year review. Int J Clin Pediatr Dent 4(2):147–151

10.

Jindal G, Batra H, Kaur S, Vashist D (2015) Dentigerous cyst associated with mandibular 2nd molar: an unusual entity. J Maxillofac Oral Surg 14(Suppl 1):154–157

11.

Contar CMM, Thome CA, Pompermayer A, Sarot JR, Vinagre RO, Machado MAN (2015) Marsupialization of dentigerous cyst: report of a case. J Maxillofac Oral Surg 14(Suppl 1):4–6

12.

Kamra S, Pai KM, Vineetha R, Kamath A, Kudwa A (2018) Dentigerous cyst associated with unerupted mandibular second molar: an unusual entity. J Health Sci Res 9(1):31–33

13.

Fujii R, Kawakami M, Hyomoto M, Ishida J, Kirita T (2008) Panoramic findings for predicting eruption of mandibular premolars associated with dentigerous cyst after marsupialization. J Oral Maxillofac Surg 66:272–276

14.

Meningaud JP, Oprean N, Pitak-Arnnop P, Bertrand J (2006) Odontogenic cysts: a clinical study of 695 cases. J Oral Sci 48:59–62

15.

Johnson LM, Sapp JP, Mcintire DN (1994) Squamous cell carcinoma arising from a dentigerous cyst. J Oral Maxillofac Surg 52:987–990

16.

Clauser C, Zuccati G, Barone R, Villano A (1994) Simplified surgical-orthodontic treatment of a dentigerous cyst. J Clin Orthod 28:103–106
Ethics declarations
Conflict of interest
The authors declare that they have no conflict of interest.
Informed Consent
A written informed consent has been obtained from the patient.
Ethical Approval
This paper was exempted from ethical approval.
Additional information
Publisher's Note
Springer Nature remains neutral with regard to jurisdictional claims in published maps and institutional affiliations.
About this article
Cite this article
Jendi, S.K., Shaikh, S. The Tooth Crossing the Confinement of Mandible: An Unique Expression of Central Variety of Dentigerous Cyst. Indian J Otolaryngol Head Neck Surg 71, 860–864 (2019). https://doi.org/10.1007/s12070-019-01614-0
Received:

Accepted:

Published:

Issue Date:
Keywords
Dentigerous cyst

Enucleation

Second molar