Abstract
This is a prospective observational cross sectional study comprising of 57 patients who were having symptoms of chronic rhinosinusitis which were evaluated with the help of computed tomography scan (coronal and axial sections) to measure the thickness of all walls of maxillary sinus and it's volume. Computed tomographic imaging of sinonasal region has become the gold standard in the evaluation of patients with chronic sinusitis. The maxillary sinus is pyramidal in shape with lateral wall of nose forming its base and its apex is directed towards zygomatic process. All three dimensions of the maxillary sinus were measured and the volume of each maxillary sinus was also calculated. Hyperostosis of maxillary sinus tended to increase maxillary sinus walls thickness which ultimately results into decrease in maxillary sinus volume in chronic rhinosinusitis patients.
This is a preview of subscription content, log in to check access.
Access options
Buy single article
Instant access to the full article PDF.
US$ 39.95
Price includes VAT for USA
Subscribe to journal
Immediate online access to all issues from 2019. Subscription will auto renew annually.
US$ 99
This is the net price. Taxes to be calculated in checkout.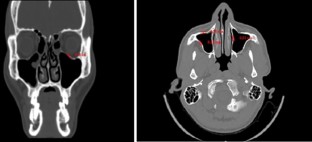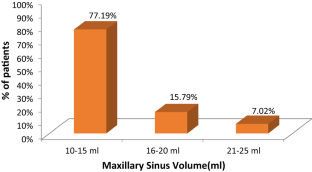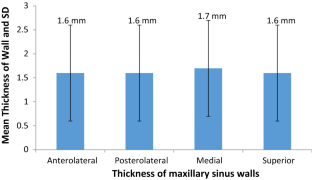 References
1.

Benninger MS, Ferguson B, Hadley J et al (2003) Adult chronic rhinosinusitis: definitions diagnosis, epidemiology, and pathophysiology. Otolaryngol Head Neck Surg 129(3(suppl)):S1–S32

2.

Cho SH et al (2010) Factors for maxillary sinus volume and craniofacial anatomical features in adults with chronic rhinosinusitis. Arch Otolaryngol Head Neck Surg 136(6):610–615

3.

Tiwari R, Goyal R (2015) Study of anatomical variations on CT in chronic sinusitis. Indian J Otolaryngol Head Neck Surg 67(1):18–20. https://doi.org/10.1007/s12070-014-0734-2

4.

Kim HY, Kim MB, Dhong HJ et al (2008) Changes of maxillary sinus volume and bony thickness of the paranasal sinuses in longstanding pediatric chronic rhinosinusitis. Int J Pediatr Otorhinolaryngol 72(1):103–108
Additional information
Publisher's Note
Springer Nature remains neutral with regard to jurisdictional claims in published maps and institutional affiliations.
About this article
Cite this article
Sonone, J., Nagpure, P.S., Puttewar, M. et al. Changes in Maxillary Sinus Volume and It's Walls Thickness Due to Chronic Rhinosinusitis: A Prospective Study. Indian J Otolaryngol Head Neck Surg 71, 2182–2185 (2019). https://doi.org/10.1007/s12070-019-01613-1
Received:

Accepted:

Published:

Issue Date:
Keywords
Chronic rhinosinusitis

Maxillary sinus volume

Hyperostosis

Computed tomography