Abstract
To find out parental expectations regarding outcomes of unilateral cochlear implantation prior to surgery and experience received by them after cochlear implantation and 1 year of regular auditory verbal therapy, with respect to the communication abilities, social skills and participation. Total of 200 parents of hearing impaired children participated in the study. A closed ended questionnaire containing 13 questions were used to collect the data. The participants were instructed to complete all the questions provided based on their expectations and experiences. The descriptive statistics were used to determine the frequency and percentage. Among 200 parents, almost all (95%) of the parents expected to have improvement in all the subscale of communication abilities, social skills and participation. 68.5% of the parents experienced improvement in their child's communication abilities, such as, response to quiet sounds, repetition of words without seeing speaker's face, elimination of use of gestures, easy communication and verbal expression for needs, thoughts and feelings. 76% of the parents experienced improvement in social skills and participations, such as, good relationship with elders, siblings and peers, making friends outside the family, actively participating in the activity done by other children and easily accepted by peers in the classroom. A large number of parents met with their expectations and a small proportion of families were found to be disappointed due to high hopes and unrealistic expectation before implantation, which had adverse effect on the children's performance.
This is a preview of subscription content, log in to check access.
Access options
Buy single article
Instant access to the full article PDF.
US$ 39.95
Price includes VAT for USA
Subscribe to journal
Immediate online access to all issues from 2019. Subscription will auto renew annually.
US$ 99
This is the net price. Taxes to be calculated in checkout.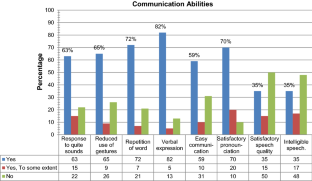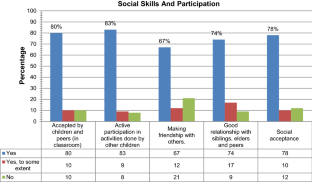 Abbreviations
CI:

Cochlear implantation

AVT:

Auditory verbal therapy

HI:

Hearing impaired
References
1.

Katz J, Medwetsky L, Burkard RF, Hood LJ (2009) Handbook of clinical audiology. Wolters Kluwer, Lippincott William & Wilkins

2.

Stefanini MR, Morettin M, Zabeu JS, Bevilacqua MC, Moret ALM (2014) Parental perspectives of children using cochlear implant. CoDAS 26(6):487–493

3.

Johnston JC (2008) An assessment of parents decision making regarding pediatric cochlear implant. Can J Speech Lang Pathol Audiol 32(4):169

4.

Perold JL (2001) An investigation into the expectations of mothers of children with cochlear implants. J Cochlear Implants Int Interdiscip J 2(1):39–58

5.

Zaidman-Zait A, Most T (2005) Cochlear implants in children with hearing loss: maternal expectations and impact on the family. Volta Rev 105:129–150

6.

Archbold SM, Lutman ME, Gregory S, O'Neill C, Nikolopoulos TP (2002) Parents and their deaf child: their perceptions three years after cochlear implantation. Deafness Educ Int 4(1):12–40

7.

Archbold S, Sach T, O'Neill C, Lutman M, Gregory S (2006) Deciding to have a cochlear implant and subsequent after-care: parental perspectives. Deafness Educ Int 8(4):190–206

8.

Hyde M, Punch R, Komesaroff L (2010) A comparison of the anticipated benefits and received outcomes of pediatric cochlear implantation: parental perspectives. Am Ann Deaf 155(3):322–338

9.

Moroe N, Kathrada N (2016) The long-term concerns post cochlear implantation as experienced by parents/caregivers of prelingually deaf children between the ages of 3 and 5 years in Gauteng Province, South Africa. S Afr J Child Health 10(2):126–129

10.

Hintermair M (2006) Parental resources, parental stress, and socioemotional development of deaf and hard of hearing children. J Deaf Stud Deaf Educ 11:494–513

11.

Weisel A, Most T, Michael R (2007) Mothers' stress and expectations as a function of time since a child's CI. J Deaf Stud Deaf Educ 12:55–64

12.

Nikolopouos TP, Lloyd H, Archbold SM, O'Donoghue GM (2001) Pediatric cochlear implantation: the parent's perspective. Arch Otolaryngol Head Neck Surg 127:363–367

13.

Huttunen K, Valimaa T (2010) Parents' view on changes in their child's communication and linguistics and socioemotional development after cochlear implantation. J Deaf Stud Deaf Educ 15(4 Fall 2010):383–404

14.

Kumar P, Sanju HK, Mishra R, Singh V, Mohan P (2017) Parental expectation from children with cochlear implants in indian context: a questionnaire based study. Int Arch Otorhinolaryngol 21(2):156–160

15.

Singh S, Vashist S, Ariyaratn TV (2015) One-year experience with the Cochlear™ Paediatric Implanted Recipient observational Study (Cochlear P-IROS) in New Delhi, India. J Otol 10(2015):57–65

16.

Kumar S, Rout N, Kumar N, Chatterjee I, Selvakumaran H (2012) Performance of india children with cochlear implant on PEACH scale. ISRN Otolaryngology. Volume 2013, Article ID 565096, 6 pp

17.

Archbold SM, Sacah T, O'Neill C, Lutmen ME, Gregory S (2008) Outcomes form cochlear implantation for child and family. Deafness Educ Int 10(3):120–142

18.

MeysemYorgun et al (2015) Quality of life in pediatric cochlear implantation. J Int Adv Otol 11(3):218–221

19.

Incesulu A, Vural M, Erkam U (2003) Children with cochlear implants: parental perspective. Otol Neurotol 24:605–611

20.

Nikolopoulos TP, Lioumi D, Stamataki S, O'Donoghue GM, Guest M, Hall A-M (2006) Evidence-based overview of ophthalmic disorders in deaf children: a literature update. Otol Neurotol 27(Suppl. 1):S1–S24

21.

Sach T, Whynes D (2005) Paediatric cochlear implantation: the views of parents. Int J Audiol 44:400–407

22.

Beadle EAR, McKinley DJ, Nikolopoulos TP, Brough J, O'Donoghue GM, Archbold SM (2005) Long-term functional outcomes and academic—occupational status in implanted children after 10 to 14 years of cochlear implant use. Otol Neurotol 26:1152–1160
Ethics declarations
Informed Consent
Informed consent was obtained from all individual participants included in the study.
Ethical Approval
All procedure performed in this study including human participants were in accordance with the ethical standards of the institutional ethics committee.
Additional information
Publisher's Note
Springer Nature remains neutral with regard to jurisdictional claims in published maps and institutional affiliations.
Appendix
Appendix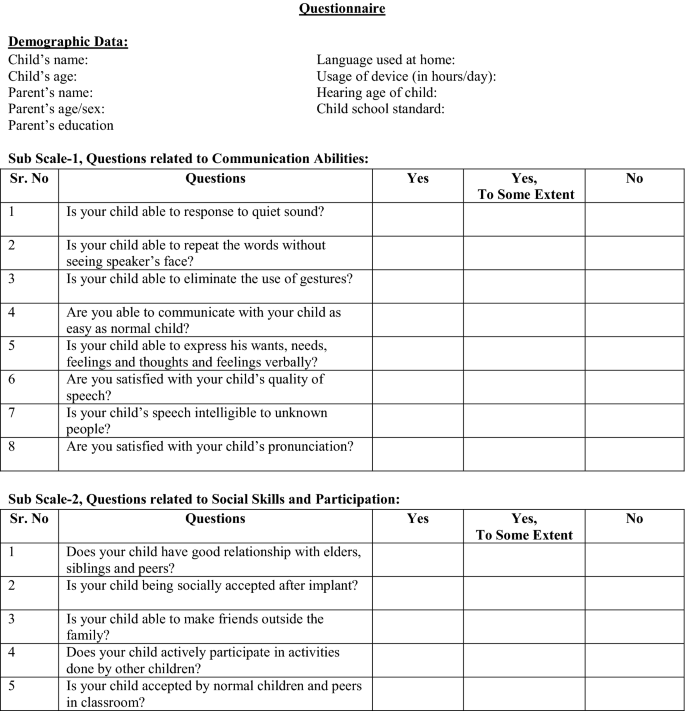 About this article
Cite this article
Singh, U., Kapasi, A., Patel, N. et al. Expectations and Experience of Children with Unilateral Cochlear Implantation: A Parental Perspective. Indian J Otolaryngol Head Neck Surg 71, 442–448 (2019). https://doi.org/10.1007/s12070-019-01611-3
Received:

Accepted:

Published:

Issue Date:
Keywords
Unilateral cochlear implantation

Parental expectation and experience

Communication abilities

Social skills and participation