Abstract
Functional organ preservation is a major challenge in management of advanced laryngeal and hypopharyngeal carcinoma. Although ideal approach is a subject of much debate, radiotherapy with or without chemotherapy is most commonly used modality. This randomized study was conducted to compare functional organ preservation by chemoradiation (CRT) versus concomitant boost radiotherapy (CBRT). A total of 40 patients with advanced (stage III/stage IVa) laryngeal and hypopharyngeal cancer were randomized to receive either CRT (n = 20) to a dose of 66 Gy in 33 fractions over 6.5 weeks with concurrent cisplatin (100 mg/m2 on days 1, 22 and 43) or CBRT (n = 20) to a dose of 67.5 Gy in 40 fractions over 5 weeks. Patients were assessed for organ preservation rate, toxicities, voice and swallowing functions utilizing Voice Related Quality of Life (VRQOL) and MD Anderson Dysphagia Inventory (MDADI) scores, respectively, for minimum follow up of 6 months. Organ preservation rate (intact disease free larynx) at 6 months post treatment was observed in 100% in CRT arm and 95% in CBRT arm. There was no significant difference in mucositis and dermatitis in two arms (p = 0.82 and 0.78, respectively). Dysphagia was observed more in CRT arm (n = 12 vs n = 6). Late toxicities grade 3 xerostomia, grade 2 dysguesia, were seen significantly more in CRT arm. There was no statistical difference between the two arms in terms of VRQOL (p = 0.55) and MDADI scores (p = 0.13). In CRT arm 13 patients complete response and in CBRT arm 12 patients had complete response. Accelerated fractionation with concomitant boost schedule is as effective as CRT in anatomical and functional preservation of larynx. The toxicities, voice and dysphagia related quality of life is comparable.
This is a preview of subscription content, log in to check access.
Access options
Buy single article
Instant access to the full article PDF.
US$ 39.95
Price includes VAT for USA
Subscribe to journal
Immediate online access to all issues from 2019. Subscription will auto renew annually.
US$ 99
This is the net price. Taxes to be calculated in checkout.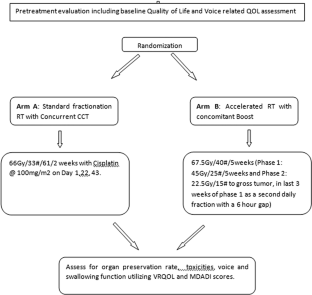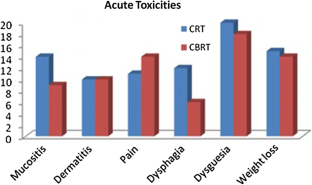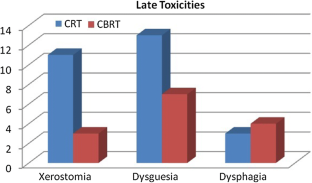 References
1.

Ferlay J, Shin HR, Bray F, Forman D, Mathers C, Parkin DM (2010) Estimates of worldwide burden of cancer in 2008. Int J Cancer 127:2893–2917

2.

Chin D, Boyle GM, Porceddu S, Theile DR, Parsons PG, Coman WB (2006) Head and neck cancer: past, present and future. Expert Rev Anticancer Ther 6(7):1111–1118

3.

Takiar R, Nadayil D, Nandakumar A (2010) Projections of number of cancer cases in India (2010–2020) by cancer groups. Asian Pac J Cancer Prev 11(4):1045–1049

4.

Fu KK, Pajak TF, Trotti A, Jones CU, Spencer SA, Philips TL et al (2000) A Radiation Therapy oncology Group (RTOG) phase III randomized study to compare hyperfractionation and two variants of accelerated fractionation to standard fractionation radiotherapy for head and neck squamous cell carcinomas: first report of RTOG 9003. Int J Radiat Oncol Biol Phys 48:7–16

5.

Ang K, Pajak T, Rosenthal DI, Nguyen F, Lu C, Kim H, Axelrod R, List M, Silverman C, Weber RS (2007) A phase III trial to compare standard versus accelerated fractionation in combination with concurrent cisplatin for head and neck carcinomas (RTOG 0129): Report of compliance and toxicity. Int J Radiat Oncol Biol Phys 69(3):S12–S13

6.

Edge SB, American Joint Committee on Cancer (2010) AJCC cancer staging handbook: from the AJCC cancer staging manual. Springer, New York

7.

Mor V, Laliberte L, Morris JN, Wiemann M (1984) The Karnofsky performance status scale: an examination of its reliability and validity in a research setting. Cancer 53(9):2002–2007

8.

Hogikyan ND, Sethuramann G (1999) Validation of an instrument to measure voice-related quality of life (V-RQOL). J Voice 13:557–569

9.

Chen Amy Y, Frankonski Ralph, Bishop-Leone Julie et al (2001) The development and validation of dysphagia-specific QOL questionnaire. Arch Otolaryngol Head Neck Surg 127:870–876

10.

Fu KK, Clery M, Ang KK, Byhardt RW, Maor MH, Beitler JJ (1995) Randomized phase I/II trial of two variants of accelerated fractionated radiotherapy regimens for advanced head and neck cancer: results of RTOG 88-09. Int J Radiat Oncol Biol Phys 3:589–597

11.

MacKenzie R, Balogh J, Choo R, Franssen E (1999) Accelerated radiotherapy with delayed concomitant boost in locally advanced squamous cell carcinoma of the head and neck. Int J Radiat Oncol Biol Phys 45:589–595

12.

Ghoshal S, Goda JS, Mallick I, Kehwar TS, Sharma SC (2008) Concomitant boost radiotherapy compared conventional radiotherapy in squamous cell carcinoma of the head and neck—a phase III from a single institution in India. Clin Oncol (R Coll Radiol) 20:212–220

13.

Marcial VA, Pajak TF, Mohiuddin M, Cooper JS, Al Sarraf M, Mowry PA et al (1990) Concomitant cisplatin chemotherapy and radiotherapy in advanced mucosal squamous cell carcinoma of the head and neck. Long-term results of the Radiation Therapy Oncology Group study 81-17. Cancer 66:1861–1868

14.

Adelstein DJ, Kalish LA, Adams GL, Wagner H Jr, Oken MM, Remick SC et al (1993) Concurrent radiation therapy and chemotherapy for locally unresectable squamous cell head and neck cancer: an Eastern Cooperative Oncology Group pilot study. J Clin Oncol 11:2136–2142

15.

Fung K, Lyden TH et al (2005) Voice and Swallowing outcomes of an organ preservation trial for advanced laryngeal cancer. Int J Radiat Oncol Biol Phys 63:1395–1399

16.

Arlene FA, Gopfert H (2003) Concurrent chemotherapy and radiotherapy for organ preservation in advanced laryngeal cancers. N Eng J Med 349:2091–2098

17.

Lefebvre JL, Ang KK, Larynx Preservation Consensus Panel (2009) Larynx preservation clinical trial design: key issues and recommendations—a consensus panel summary. Head Neck 31(4):429–441

18.

Loiuse Lambert et al (2010) Organ preservation with concurrent chemoradiation for advanced laryngeal cancers. Int J Radiat Oncol Biol Phys 76:398–402

19.

Kawashima M, Hayashi R, Tahara M, Yamazaki M, Miyazaki M, Arahira S, Ogino T (2007) Accelerated radiotherapy and larynx preservation in favorable-risk patients with T2 or worse hypopharyngeal cancer. Jpn J Clin Oncol 37(5):345–352
Ethics declarations
Conflict of interest
The authors declare that they have no conflict of interest.
Ethical Approval
The study was conducted after approval from Institute Ethics Committee.
Additional information
Publisher's Note
Springer Nature remains neutral with regard to jurisdictional claims in published maps and institutional affiliations.
About this article
Cite this article
Hakim, A., Ghoshal, S., Verma, R. et al. Comparison of Functional Organ Preservation by Concomitant Boost Radiotherapy Versus Concurrent Chemoradiation in Locally Advanced Carcinoma of Larynx or Hypopharynx: A Prospective Randomized Study. Indian J Otolaryngol Head Neck Surg 71, 360–366 (2019). https://doi.org/10.1007/s12070-019-01604-2
Received:

Accepted:

Published:

Issue Date:
Keywords
Larynx

Hypopharynx

Organ preservation