Abstract
To evaluate the type, location, severity of headache and their relation to various nasal and sinus related pathological conditions. All the patients presenting with acute and chronic sinus and nasal infections along with headache were included in the study. The diagnostic confirmation was done with clinical along with radiological and endoscopic evaluation. Various parameters categorized accordingly. Chronic rhinosinusitis/chronic recurrent rhinosinusitis are the most common nasal condition seen in oto-rhino-laryngology OPD which has enormous economic burden and significant morbidity on general population. The headache is the commonest associated symptom which is needed to be given attention. The location, variation, pattern of the headache can guide us towards the correct diagnosis.
This is a preview of subscription content, log in to check access.
Access options
Buy single article
Instant access to the full article PDF.
US$ 39.95
Price includes VAT for USA
Subscribe to journal
Immediate online access to all issues from 2019. Subscription will auto renew annually.
US$ 99
This is the net price. Taxes to be calculated in checkout.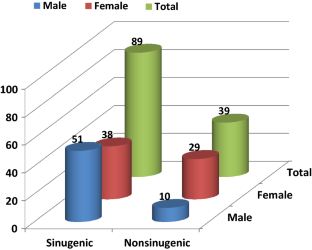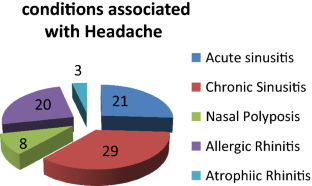 References
1.

Cady RK, Dodick DW, Lewine HL et al (2005) Sinus headache: a neurology, otolaryngology, allergy and primary care consensus on diagnosis and treatment. Mayo Clin Proc 80:908–916

2.

Chow AW, Benninger MS, Brool I et al (2012) IDSA clinical practice guidelines for acute bacterial rhinosinusitis in children and adults. Clin Infact Dis 5:72–112

3.

Seiden AM, Vincent TM (2001) Headache and the frontal sinus. Otolaryngol Clin North Am 34(1):227–241

4.

Levine H, Setgen M, Holy C (2014) Why the confusion about sinus headache? Otolaryngol Cin North Am 47:169–174

5.

(2015) Sinus headaches. American Academy of Otolaryngology-Head and Neck Surgery. http://www.entnet.org/contant/sinus-headaches. Accessed 23 July 2015

6.

Keri E, DelGaudio JM (2008) Treatment of sinus headache as migraine: the diagnostic utility of triptans. Laryngoscope 118:2235–2239

7.

Eross EJ, Dodick DW, Eross MD (2014) The sinus, allergy and migraine study (SAMS). Headache 44:462

8.

Pramod Kumar et al. (2000) Indian journal of otolaryngolofy. April–June 52(2)

9.

De Frietas J (2006) Revista Brasilerve de otolaryngologia. Nov–Dec 72(6)

10.

Wening BH et al (1983) Frontal sinusitis and its intracranial complications. Int J Pediatr Otorhinolaryngol 5:285

11.

Aaseth K, Grande RB, Kvaerner K et al (2010) Chronic rhinosinusitis gives a ninefold increased risk of chronic headache. The Akershus study of chronic headache. Cephalalgia 30:152–160

12.

Ku M, Silverman B, Prifti N, Ying W, Persaud Y, Schneider A (2006) Prevalance of migraine headache in patients with allergic rhinitis. Ann Allergy Asthma Immunol 97(2):226–230

13.

Parsona DS, Batra PS (1998) FESS outcome for contact point headache. Laryngoscope 108(5):696–702
Ethics declarations
Conflict of interest
All authors declare that they have no conflict of interest.
Ethical Approval
All procedures performed in studies involving human participants were in accordance with the ethical standards of the institutional and/or national research committee and with the 1964 Helsinki declaration and its later amendments or comparable ethical standards.
Ethical Approval
This article does not contain any studies with animals performed by any of the authors.
Informed Consent
Informed consent was obtained from all individual participants included in the study.
Additional information
Publisher's Note
Springer Nature remains neutral with regard to jurisdictional claims in published maps and institutional affiliations.
About this article
Cite this article
Maurya, A., Qureshi, S., Jadia, S. et al. "Sinus Headache": Diagnosis and Dilemma?? An Analytical and Prospective Study. Indian J Otolaryngol Head Neck Surg 71, 367–370 (2019). https://doi.org/10.1007/s12070-019-01603-3
Received:

Accepted:

Published:

Issue Date:
Keywords
Headache

Sinusitis

Sinugenic

Non-sinugenic

Migraine