Abstract
Kimura's disease, also known as Eosinophilic Granuloma, is a rare chronic condition seen mainly in Oriental population. It presents with subcutaneous nodules, lymphadenopathy, salivary gland hypertrophy with peripheral eosinophilia and raised serum IgE levels; rarely renal involvement may also be present. Its etiology mainly remains unknown. We present a case series of two patients. Our first case is a middle aged female which presented with a parotid swelling, mimicking a parotid neoplasm. Further investigations revealed associated intra-parotid and cervical lymphadenopathy. An excisional biopsy in the form of Superficial Parotidectomy with lymph node excision was done. Histopathological examination of the excised specimen revealed it to be a case of Kimura's disease. Our second case, a young adult, presented with a gradually increasing post-auricular swelling. Preliminary investigations in this case pointed towards Kimura's disease. Excision biopsy of the lesion was done. Histopathological studies confirmed the diagnosis for the same. Both the patients are under our regular follow up and remain disease-free at a follow up of 1 year and 8 months respectively.
This is a preview of subscription content, log in to check access.
Access options
Buy single article
Instant access to the full article PDF.
US$ 39.95
Price includes VAT for USA
Subscribe to journal
Immediate online access to all issues from 2019. Subscription will auto renew annually.
US$ 99
This is the net price. Taxes to be calculated in checkout.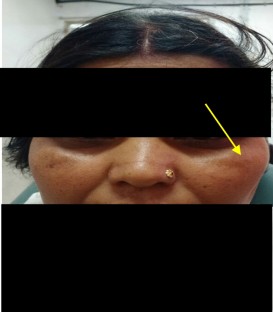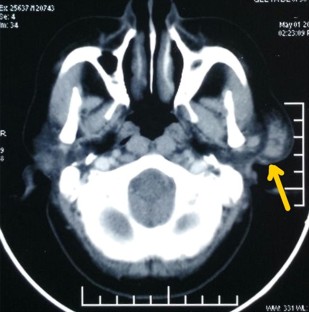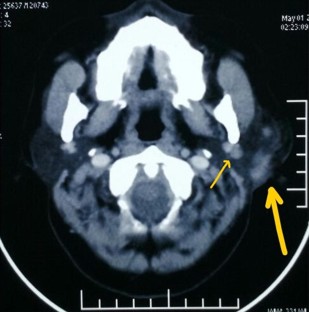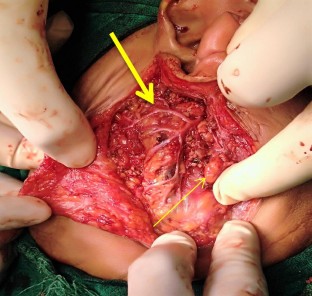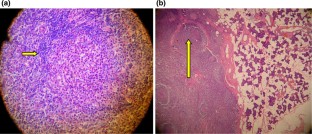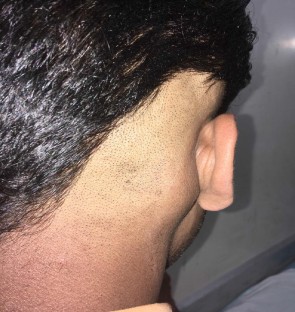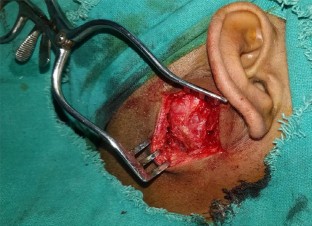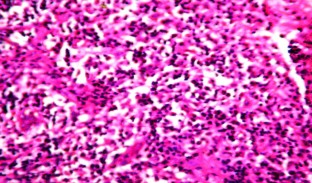 References
1.

Kimm HT, Szeto C (1937) Eosinophilic hyperplastic lymphogranuloma, comparison with mikulicz's disease. Chin Med J 23:699–700

2.

Dik VK, van der Wiel BA, Vasmel WL (2010) Kimura's disease of the parotid glands and multiple cervical lymph nodes. Neth J Med 68:175–177

3.

Sah P, Kamath A (2013) Kimura's disease- an unusual presentation involving subcutaneous tissue, parotid gland and lymph node. J Oral Maxillofac Pathol 17(3):455–459

4.

Sud K, Saha T, Das A, Kakkar N, Jha V, Kohli HS et al (1996) Kimura's disease and minimal-change nephrotic syndrome. Nephrol Dial Transplant 11:1349–1351

5.

Suguna BV, Hemalatha M (2014) Kimura's disease: a case series with literature review. Int J Biomed Res 5:513

6.

Larroche C, Bletry O (2005) Kimura's disease, orphanet encyclopedia. http://www.orpha.net/data/patho/GB/uk-kimura.pdf. Accessed 1 Dec 2010

7.

Meningaud JP, Pitak-Arnnop P, Fouret P, Bertrand JC (2017) Kimura's disease of the parotid region: report of 2 cases and review of the literature. J Oral Maxillofac Surg 65:134–140

8.

Kumar V, Salini, Haridas S (2010) Kimura's disease: an uncommon cause of lymphadenopathy. Indian J Med Pediatric Oncol 31:89–90
Additional information
Publisher's Note
Springer Nature remains neutral with regard to jurisdictional claims in published maps and institutional affiliations.
About this article
Cite this article
Gupta, A., Shareef, M., Lade, H. et al. Kimura's Disease: A Diagnostic and Therapeutic Challenge. Indian J Otolaryngol Head Neck Surg 71, 855–859 (2019). https://doi.org/10.1007/s12070-019-01601-5
Received:

Accepted:

Published:

Issue Date:
Keywords
Kimura's disease

Intra-parotid lymph nodes

Peripheral eosinophilia

Serum IgE

Superficial parotidectomy