Abstract
Removal of sharp foreign bodies in the aero-digestive tract may inflict iatrogenic damage to the esophagus, trachea or other vital structures in case of impalement. We describe the 'Kangaroo' technique for safe and effective removal of sharp objects from the upper aero-digestive tracts. Index Case 1: 1-year old boy presented to us with an open (un)safety-pin lodged in the upper esophagus. The technique of removal of the pin by the Kangaroo technique, along-with the mechanics of en-pouching the (un)safety-pin has been described. Index Case 2: 8 years old boy presented with accidental aspiration of a razor blade. The removal of the blade from his trachea was executed by the Kangaroo technique. The Kangaroo technique is described for safe endoscopic extraction of sharp foreign body from the aero-digestive tract while protecting the surrounding tissues, to maintain control of the object during extraction and to avoid causing iatrogenic damage by enclosing the foreign body in a 'kangaroo pouch'. The advantages and limitations of the technique have been discussed. The Kangaroo technique is safe, effective and reproducible way to effect removal of sharp object from the aerodigestive tract while preventing iatrogenic injury to the surrounding organs.
This is a preview of subscription content, log in to check access.
Access options
Buy single article
Instant access to the full article PDF.
US$ 39.95
Price includes VAT for USA
Subscribe to journal
Immediate online access to all issues from 2019. Subscription will auto renew annually.
US$ 99
This is the net price. Taxes to be calculated in checkout.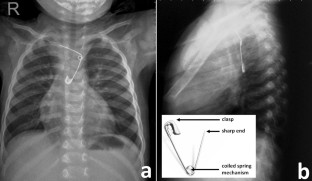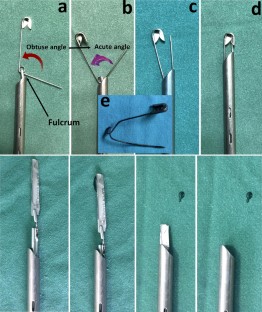 References
1.

Mitra A, Bajpai M (2016) Impacted sharp oesophageal foreign bodies—a novel technique of removal with the paediatric bronchoscope. J Trop Pediatr 62:161–164

2.

Higo R, Matsumoto Y, Ichimura K, Kaga K (2003) Foreign bodies in the aerodigestive tract in pediatric patients. Auris Nasus Larynx 30:397–401

3.

Gilyoma JM, Chalya PL (2011) Endoscopic procedures for removal of foreign bodies of aerodigestive tract: The Bugando Medical Centre Experience. BMC Ear Nose Throat Disorders 11:2

4.

Panda SS, Bajpai M, Singh A, Baidya DK, Jana M (2014) Foreign body in the bronchus in children: 22 years experience in a tertiary care paediatric centre. Afr J Paediatr Surg 11:252–255

5.

Singh A, Bajpai M, Panda SS, Chand K, Jana M, Ali A (2014) Oesophageal foreign body in children: 15 years experience in a tertiary care paediatric centre. Afr J Paediatr Surg 11:238–241

6.

Eisen GM, Baron TH, Dominitz JA, Faigel DO, Goldstein JL, Johanson JF et al (2002) Guideline for management of ingested foreign bodies. Gastrointest Endosc 55:802–806

7.

Li ZS, Sun ZX, Zou DW, Xu GM, Wu RP, Liao Z (2006) Endoscopic management of foreign bodies in the upper GI tract: experience with 1088 cases in China. Gastrointest Endosc 64:485–492

8.

ASGE Standards of Practice Committee, Ikenberry SO, Jue TL, Anderson MA, Appalaneni V, Banerjee S et al (2011) Management of ingested foreign bodies and food impactions. Gastrointest Endosc 73:1085–1091
Ethics declarations
Conflict of interest
The authors declare that they have no conflict of interest.
Informed Consent
Informed written consent has been obtained from all participants included in this study.
Additional information
Publisher's Note
Springer Nature remains neutral with regard to jurisdictional claims in published maps and institutional affiliations.
About this article
Cite this article
Bajpai, M., Goel, P., Gupta, A. et al. Sharp Foreign Bodies of the Aero-Digestive Tract: Endoscopic Removal by the 'Kangaroo' Technique. Indian J Otolaryngol Head Neck Surg 71, 933–938 (2019). https://doi.org/10.1007/s12070-019-01598-x
Received:

Accepted:

Published:

Issue Date:
Keywords
Kangaroo technique

Sharp foreign body

Aero-digestive tract

Safety-pin

Razor blade

Bronchoscopy

Esophagoscopy