Abstract
Lymphomas have frequent relapses; early diagnosis is important to treat and improve outcomes. Clinical exam and imaging are useful but confirmation with biopsy is always required. Minimally exploratory surgery is a tool to take good samples with precision and safety. Evaluate the use of ROLL technique to track non-palpable lesions on the neck which were suspicious of recurrence in lymphoma patients. A retrospective review of the patients with high probability of lymphoma relapse who were biopsied using ROLL technique. Suspicious lesions on the neck where identified on the follow up of five lymphoma patients. Roll technique was used successfully to guide the biopsy. There were no complications. Relapse was confirmed in two patients; the other three was reactive follicular hyperplasia. Management was redirected on relapsing patients. ROLL technique proved to be a simple, safe and effective method to detect and biopsy non- palpable lesions on the neck of patients with suspicious relapsing lymphoma.
This is a preview of subscription content, log in to check access.
Access options
Buy single article
Instant access to the full article PDF.
US$ 39.95
Price includes VAT for USA
Subscribe to journal
Immediate online access to all issues from 2019. Subscription will auto renew annually.
US$ 99
This is the net price. Taxes to be calculated in checkout.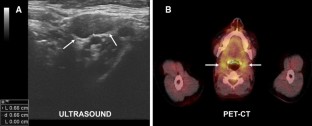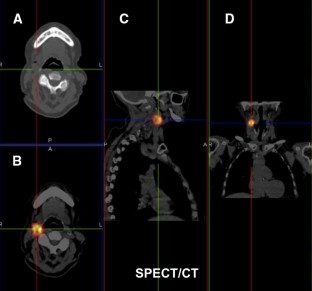 References
1.

Seshadri T, Kuruvilla J, Crump M, Keating A (2008) Salvage therapy for relapsed/refractory diffuse large B cell lymphoma. Biol Blood Marrow Transplant 14:259–267

2.

Shinya T, Fujii S, Asakura S, Taniguchi T, Yoshi K, Alafate A, Sato S, Yoshino T, Kanazawa S (2012) Dual-time-point F-18 FDG PET/CT for evaluation in patients with malignant lymphoma. Ann Nucl Med 26(8):616–621. https://doi.org/10.1007/s12149-012-0619-y

3.

Povoski SP, Neff RL, Mojzisik CM, O'Malley DM, Hinkle GH, Hall NC, Murrey DA Jr, Knopp MV, Martin EW Jr (2009) A comprehensive overview of radioguided surgery using gamma detection probe technology. World J Surg Oncol 27(7):11. https://doi.org/10.1186/1477-7819-7-11

4.

Van der Ploeg IM, Hobbelink M, van den Bosch MA, Mali WP, Borel IH, van Hillegersberg R (2008) 'Radioguided occult lesion localisation' (ROLL) for non-palpable breast lesions: a review of the relevant literature. Eur J Surg Oncol 34:1–5

5.

Ilgan S, Oztürk E, Yildiz R, Emer O, Ayan A, Görgülü S et al (2010) Combination of preoperative ultrasonographic mapping and radioguided occult lesion localization in patients with locally recurrent/persistent papillary thyroid carcinoma: a practical method for central compartment reoperations. Clin Nucl Med 35:847–852

6.

Gallamini A, Hutchings M, Rigacci L, Specht L, Merli F, Hansen M et al (2007) Early interim 2-[18F]fluoro-2-deoxy-d-glucose positron emission tomography is prognostically superior to international prognostic score in advanced-stage Hodgkin's lymphoma: a report from a joint Italian-Danish study. J Clin Oncol 25:3746–3752

7.

Mikhaeel NG, Hutchings M, Fields PA, O'Doherty MJ, Timothy AR (2005) FDG-PET after two to three cycles of chemotherapy predicts progression-free and overall survival in high-grade non-Hodgkin lymphoma. Ann Oncol 16:1514–1523

8.

Hutchings M (2009) Barrington SF (2009) PET/CT for therapy response assessment in lymphoma. J Nucl Med 50(Suppl 1):21S–30S

9.

Torizuka T, Nakamura F, Kanno T et al (2004) Early therapy monitoring with FDG- PET in aggressive non-Hodgkin's lymphoma and Hodgkin's lymphoma. Eur J Nucl Med Mol Imaging 31:22–28

10.

Nadeem R, Chagla LS, Harris O et al (2005) Occult breast lesions: a comparison between radioguided occult lesion localisa- tion (ROLL) vs wire-guided lumpectomy (WGL). Breast 14:283–289

11.

Infante JR, Rayo JI, Serrano J, Domínguez ML, Garcia L, Duran C et al (2015) Clinical application of ROLL technique in non-breast diseases. Complementary use after PET-CT study. Rev Esp Med Nucl Imagen Mol 34(3):162–166

12.

Haerle Stephan K, Stoeckli Sandro J (2011) SPECT/CT for lymphatic mapping of sentinel nodes in early squamous cell carcinoma of the oral cavity and oropharynx. Int J Mol Imaging. https://doi.org/10.1155/2011/106068
Ethics declarations
Conflict of interest
The authors declare that there is no conflict of interest.
Informed Consent
Informed consent was obtained from the patients for performance surgery.
Research Involving Human Participants and/or Animals
This article did not require any experiment involving any animal but was based on a retrospective clinical investigation just on human participants.
Additional information
Publisher's Note
Springer Nature remains neutral with regard to jurisdictional claims in published maps and institutional affiliations.
About this article
Cite this article
Cadena-Piñeros, E., Parra-Charris, J.S. Radioguided Surgery of Non-palpable Neck Lymph Node in Lymphoma Patients. Indian J Otolaryngol Head Neck Surg 71, 430–434 (2019). https://doi.org/10.1007/s12070-019-01591-4
Received:

Accepted:

Published:

Issue Date:
Keywords
Lymphoma

Minimally invasive surgical procedures

Single photon emission computed tomography computed tomography

Tissue adhesions