Abstract
Fourth branchial pouch anomalies represent one of the rarest types of all branchial apparatus anomalies. They appear in the first lifedecade in a form of recurrent left-sided neck masses which demands surgical treatment. Accidental finding, appearance later in life and spontaneous resolving are really rare. We present a case of a 43-year-old man with accidental finding of asymptomatic fourth pouch cyst and fistula following follicular thyroid cancer surgery. The day after the surgery, suction bottle was filled with little white crumbs and the wound started to suppurate. Barium swallow revealed the presence of a fistulous canal that arose from the left pyriform sinus. Meanwhile, the pathologist confirmed the presence of a lateral neck cyst within this thyroid lobe. The patient was operated on but fistulous canal was not visualized. In the meantime, wound discharge ceased spontaneously. At 1-year follow up, the patient was still well and free from any symptoms. These anomalies may manifest not only in childhood but may stay asymptomatic for a long time. It seems that the fistula can resolve spontaneously and that conservative approach is an alternative to multiple surgical procedures.
This is a preview of subscription content, log in to check access.
Access options
Buy single article
Instant access to the full article PDF.
US$ 39.95
Price includes VAT for USA
Subscribe to journal
Immediate online access to all issues from 2019. Subscription will auto renew annually.
US$ 99
This is the net price. Taxes to be calculated in checkout.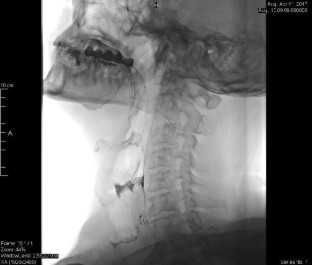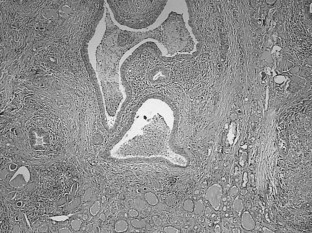 References
1.

Prasad SC et al (2014) Branchial anomalies: diagnosis and management. Int J Otolaryngol 2014:237015

2.

Patel AB, Hinni ML (2011) The fourth branchial complex anomaly: a rare clinical entity. Case Rep Otolaryngol 2011:958652

3.

Pal I et al (2009) Fourth branchial pouch sinus: an unusually late initial presentation. Indian J Otolaryngol Head Neck Surg 61(1):72–75

4.

Nicoucar K et al (2010) Management of congenital third branchial arch anomalies: a systematic review. Otolaryngol Head Neck Surg 142(1):21e2–28e2

5.

Nicoucar K et al (2009) Management of congenital fourth branchial arch anomalies: a review and analysis of published cases. J Pediatr Surg 44(7):1432–1439

6.

Hallak B et al (2014) Residual fistula of fourth branchial arch anomalies and recurrent left-side cervical abscess: clinical case and review of the literature. Case Rep Otolaryngol 2014:931279

7.

Yoo TK et al (2014) Fourth branchial anomaly presenting with a lateral neck mass in a neonate. J Neonatal Surg 3(3):34

8.

Cases JA et al (2000) Recurrent acute suppurative thyroiditis in an adult due to a fourth branchial pouch fistula. J Clin Endocrinol Metab 85(3):953–956

9.

Liberman M et al (2002) Ten years of experience with third and fourth branchial remnants. J Pediatr Surg 37(5):685–690

10.

Arunachalam P, Vaidyanathan V, Sengottan P (2015) Open and endoscopic management of fourth branchial pouch sinus: our experience. Int Arch Otorhinolaryngol 19(4):309–313
Ethics declarations
Conflict of interest
We declare that we have no conflict of interest.
Ethical Approval
All procedures performed in studies involving human participants were in accordance with the ethical standards of the institutional and/or national research committee and with the 1964 Helsinki declaration and its later amendments or comparable ethical standards.
Informed Consent
Informed consent was obtained from the patient included in the study.
Additional information
Publisher's Note
Springer Nature remains neutral with regard to jurisdictional claims in published maps and institutional affiliations.
About this article
Cite this article
Bumber, B., Hodzic-Redzic, S., Prgomet, D. et al. Spontaneous Resolution of Fourth Branchial Fistula Following Thyroid Surgery: Case Report. Indian J Otolaryngol Head Neck Surg 71, 879–882 (2019). https://doi.org/10.1007/s12070-019-01588-z
Received:

Accepted:

Published:

Issue Date:
Keywords
Pyriform sinus

Cysts

Thyroid cancer

Follicular

Neck

Barium