Abstract
Tinnitus is defined as phantom auditory perception without corresponding acoustic or mechanical correlates in cochlea. Existing evidence on its physiological basis is wide ranging, but its origin is still under exploration. To objectify this subjective phenomenon, Auditory Brainstem response test is used. The primary purpose of our study was to ascertain any significant difference in auditory electrophysiological response parameters in sensorineural hearing loss with tinnitus group when compared to controls (normal hearing subjects). Secondary aim was to find correlation of these parameters with degree of hearing loss and severity of tinnitus. This was a case control study conducted in the department of Otorhinolaryngology in tertiary care hospital, New Delhi over a period of one and half years. The study comprised of one hundred and sixty patients out of which, fifty-five patients were sensorineural hearing loss with tinnitus and fifty-one patients were normal hearing subjects. General medical and audiological assessment was done. Significant increase in latency of wave I, III, V and increase in inter peak latency of I–III, III–V, I–V was observed in tinnitus with sensorineural hearing loss group when compared to controls. It was reported that on increasing degree of hearing loss, there was increase in latency of wave I, III, V and increase in inter peak latency of wave I–III, I–V in the former group.
This is a preview of subscription content, log in to check access.
Access options
Buy single article
Instant access to the full article PDF.
US$ 39.95
Price includes VAT for USA
Subscribe to journal
Immediate online access to all issues from 2019. Subscription will auto renew annually.
US$ 99
This is the net price. Taxes to be calculated in checkout.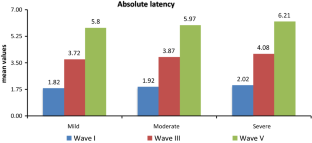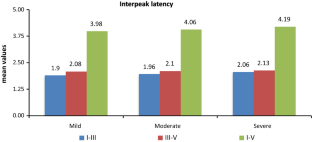 References
1.

Jastreboff PJ (1990) Phantom auditory perception (tinnitus): mechanisms of generation and perception. Neurotic Res 8:221–254

2.

Jacobson GP, Calder JA, Newman CW, Peterson EL, Wharton JA, Ahmad BK (1996) Electrophysiological indices of selective auditory attention in subjects with and without tinnitus. Hear Res 97:66–74

3.

Kaltenbach JA (2006) The dorsal cochlear nucleus as a participant in the auditory, attentional and emotional components of tinnitus. Hear Res 216:224–234

4.

Shulman A, Seitz MR (1981) Central tinnitus–diagnosis and treatment. Observations simultaneous binaural auditory brain responses with monaural stimulation in the tinnitus patient. Laryngoscope 91:2025–2035

5.

Shulman A (1983) ABR and tinnitus: an overview. J Laryngol Otol 97(Suppl 9):170–177

6.

Rosenhall U, Axelsson A (1995) Auditory brainstem response latencies in patients with tinnitus. Scand Audiol 24:97–100

7.

Ikner CL, Hassen AH (1990) The effect of tinnitus on ABR latencies. Ear Hear 11:16–20

8.

Ravikumar G, Murthy VA (2016) A study of brainstem auditory evoked responses in normal hearing patients with tinnitus. Indian J Otolaryngol Head Neck Surg 68:429–433. https://doi.org/10.1007/s12070-015-0917-5

9.

Kehrle HM, Granjeiro RC, Sampaio ALL, Bezerra R, Almeida VF, Oliveira CA (2008) Comparison of auditory brainstem response results in normal-hearing patients with and without tinnitus. Arch Otolaryngol Head Neck Surg 134:647–651. https://doi.org/10.1001/archotol.134.6.647

10.

Said EA (2012) Electrophysiological differences in sensorineural hearing loss patients with and without problem-tinnitus. Egypt J Otolaryngol 28:22–34

11.

Goljanian TA, Barati B, Moslemi S (2017) Comparing OAE and ABR tests in tinnitus patients with and without hearing loss. J Otorhinol Facial Plast Surg 2017:e4

12.

Singh S, Munjal SK, Panda NK (2011) Comparison of auditory electrophysiological responses in normal- hearing patients with and without tinnitus. J Laryngol Otol 125(7):668–672

13.

Milloy V, Fournier P, Benoit D, Noreña A, Koravand A (2017) Auditory brainstem responses in tinnitus: a review of who, how, and what? Front Aging Neurosci 9:237. https://doi.org/10.3389/fnagi.2017.00237

14.

Maurizi M, Ottaviani F, Paludetti G (1985) Contribution to the differentiation of peripheral versus central tinnitus via auditory brain stem response evaluation. Audiology 24:207–216

15.

Konadath S, Puttabasappa M (2016) Auditory brainstem response and late latency response in individuals with tinnitus having normal hearing. Interact Rare Dis Res 5(4):262–268

16.

Choudhary UA, Khan IA (2017) Brain stem evoked response audiometry responses in tinnitus patients: a study on auditory evaluation in a tertiary teaching hospital of Hyderabad. Int J Sci Stud 5(6):30–34
Ethics declarations
Conflict of interest
The authors declare that they have no conflict of interest.
Ethical approval
All procedures involving human participants were in accordance with the ethical standards of the institution.
Informed consent
Informed consent was obtained from all individuals participants included in this study.
Additional information
Publisher's Note
Springer Nature remains neutral with regard to jurisdictional claims in published maps and institutional affiliations.
About this article
Cite this article
Majhi, S.K., Khandelwal, K. & Shareef, M. Auditory Brainstem Response in Patients of Tinnitus with Sensorineural Hearing Loss. Indian J Otolaryngol Head Neck Surg 71, 1495–1499 (2019). https://doi.org/10.1007/s12070-018-1568-0
Received:

Accepted:

Published:

Issue Date:
Keywords
Tinnitus

Sensorineural hearing loss

Auditory brainstem response

Absolute latency

Inter peak latency