Abstract
Osteomas are benign, slow growing, usually sessile osteogenic tumors of unknown etiology. They arise from proliferation of either cancellous or compact bone. They can be central, peripheral or extra-skeletal based on their origin from endosteum, periosteum or extra-skeletal soft tissue respectively. They are commonly found in the skull and facial bones, the most common site in the maxillofacial region being paranasal sinuses. Among the jaw bones the most common site is the mandible. The hard palate is a rare site for such osteomas with a very few cases reported in literature. We report a case of large pedunculated peripheral osteoma of the hard palate in a 38 year old male. The tumor was excised with no recurrence after 3 years followup.
This is a preview of subscription content, log in to check access.
Access options
Buy single article
Instant access to the full article PDF.
US$ 39.95
Price includes VAT for USA
Subscribe to journal
Immediate online access to all issues from 2019. Subscription will auto renew annually.
US$ 99
This is the net price. Taxes to be calculated in checkout.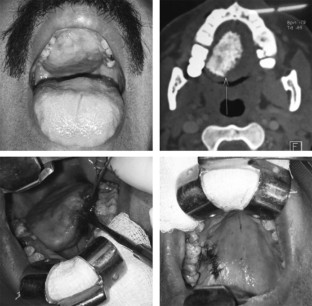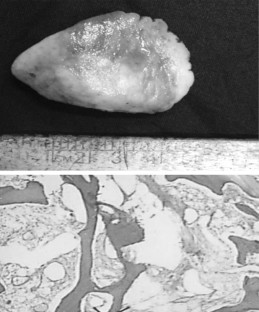 References
1.

Prabhuji ML, Kishore HC, Sethna G, Moghe AG (2012) Peripheral osteoma of the hard palate. J Indian Soc Periodontol 16:134–137

2.

Gundewar S, Kothari DS, Mokal NJ, Ghame A (2013) Osteomas of the craniofacial region: a case series and review of literature. Indian J Plast Surg 46:479–485

3.

Sayan NB, Ucok C, Karasu HA, Gunhan O (2002) Peripheral osteoma of the oral and maxillofacial region: a study of 35 new cases. J Oral Maxillofac Surg 60(11):1299–1301

4.

Woldenberg Y, Nash M, Bodner L (2005) Peripheral osteoma of the maxillofacial region: diagnosis and management—a study of 14 cases. Med Oral Patol Oral Cir Bucal 10:E139–E142

5.

Larrea-Oyarbide N, Valmaseda-Castellon E, Berini-Aytes L, Gay-Escoda C (2008) Osteomas of the craniofacial region. Review of 106 cases. J Oral Pathol Med 37(1):38–42

6.

Nah KS (2011) Osteomas of the craniofacial region. Imaging Sci Dent 41(3):107–113

7.

Viswanatha B (2013) Peripheral osteoma of the hard palate. Ear Nose Throat J 92(8):E31

8.

Ramoglu M, Yanik S, Bozdag Z, Aras MH (2016) Peripheral osteoma of the hard palate: a rare case report and literature review. J Istanb Univ Fac Dent 50(2):43–48

9.

Bountaniotis F, Melakopoulos I, Tzerbos F (2017) Solitary peripheral osteoma of the hard palate case report and literature review. Sultan Qaboos Univ Med J. 17(2):e234–e237
Ethics declarations
Conflict of interest
All authors involved have no conflict of interest.
Ethical Approval
All procedures performed in this study were in accordance with the ethical standards of the institutional and/or national research committee and with the 1964 Helsinki declaration and its later amendments or comparable ethical standards.
Informed Consent
Informed consent was obtained from the participant included in the study.
Additional information
Publisher's Note
Springer Nature remains neutral with regard to jurisdictional claims in published maps and institutional affiliations.
About this article
Cite this article
Saxena, S., Ashwin, V.G. & Rajinikanth, D. A Sizeable Solitary Pedunculated Peripheral Osteoma of the Hard Palate: A Case Report. Indian J Otolaryngol Head Neck Surg 71, 813–815 (2019). https://doi.org/10.1007/s12070-018-1561-7
Received:

Accepted:

Published:

Issue Date:
Keywords
Hard palate

Osteoma

Maxilla

Peripheral