Abstract
Sialolipoma is a rare tumour found within both major and minor salivary glands, it is recently described as a variant of salivary gland lipoma. Sialolipoma was first described by Pusiol et al. (Indian J Pathol Microbiol 52(3):379–382, 2009). Sialolipoma is well circumscribed and contains mature adipose tissue admixed with benign salivary gland component. We report a case of 62 years old female who presented with the complaint of swelling in the right parotid region for 5 years duration. Apart from cosmetic reason she had no other complain. All specific investigations done were inconclusive and suggested a benign tumor. Histopathological examination after superficial parotidectomy suggested sialolipoma. As newly described tumor type, care should be taken to distinguish oncocytic sialolipoma from other salivary gland neoplasms such as simple lipoma, pleomorphic adenoma, or oncocytoma.
This is a preview of subscription content, log in to check access.
Access options
Buy single article
Instant access to the full article PDF.
US$ 39.95
Price includes VAT for USA
Subscribe to journal
Immediate online access to all issues from 2019. Subscription will auto renew annually.
US$ 99
This is the net price. Taxes to be calculated in checkout.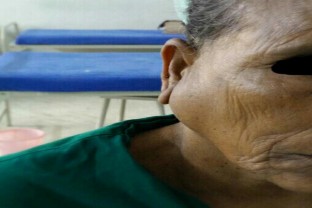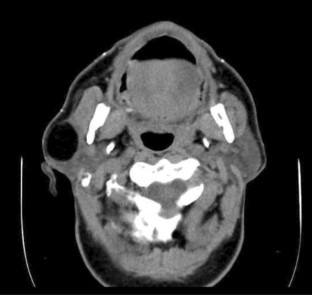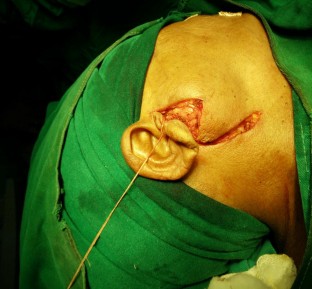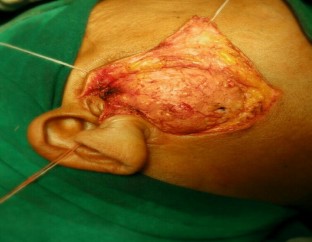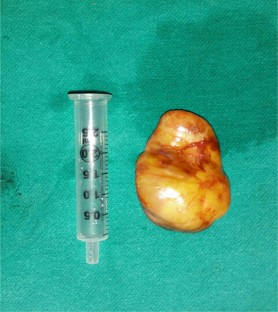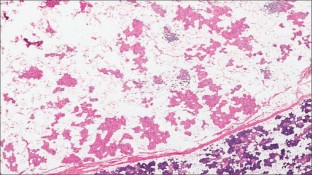 References
1.

Ilie M, Hofman V, Pedeutour F, Attias R, Santini J, Hofman P (2010) Onco-cytic lipoadenoma of the parotid gland: immunohistochemical and cytogenetic analysis. Pathol Res Pract 206(1):66–72

2.

Nagao T, Sugano I, Ishida Y, Asoh A, Munakata S, Yamazaki K et al (2001) Sialolipoma: a report of seven cases of a new variant of salivary gland lipoma. Histopathology 38(1):30–36

3.

Jang YW, Kim SG, Pai H, Park JW, Lee YC, Rotaru H (2009) Sialolipoma: case report and review of 27 cases. Oral Maxillofac Surg 13(2):109–113

4.

Okada H, Yokoyama M, Hara M, Akimoto Y, Kaneda T, Yamamoto H (2009) Sialolipoma of the palate: a rare care and review of literature. Oral Surg Oral Med Oral Pathol Oral Radiol Endod 108(4):571–576

5.

Cappabianca S, Colella G, Pezzullo MG, Russo A, Oaselli F, Brunese L et al (2008) Lipomatous lesions of the head and neck region: imaging findings in comparison with histological type. Radiol Med 113:758–770

6.

Sohail Q, Ryan M, Messy S, Nadam Z (2013) Sialolipoma of parotid gland: case report with literature review comparing major and minor salivary gland sialolipoma. J Oral Maxillofac Pathol 17(1):95–97

7.

Akrish S, Leiser Y, Shamira D, Peled M (2011) Sialolipoma of the salivary gland: two new cases, literature review, and histogenetic hypothesis. J Oral Maxillofac Surg 69:1380–1384

8.

Saleh HA, Harmse JL, Michie BA, Blair RL (1998) Lipomatosis of the minor salivary glands. J Laryngol Otal 112:895–897

9.

Yau KC, Tsang WYW, Chan JKC (1997) Lipoadenoma of the parotid gland with probable striated duct differentiation. Mod Pathol 20:242–246

10.

Pusiol T, Franceschetti I, Scialpi M, Piscioli I (2009) Oncocytic sialolipoma of the submandibular gland with sebaceous differentiation: a new pathological entity. Indian J Pathol Microbiol 52(3):379–382
Ethics declarations
Conflict of interest
The authors declare that they have no conflict of interest.
Ethical Approval
The study was approved by the Institutional Ethics Committee.
Additional information
Publisher's Note
Springer Nature remains neutral with regard to jurisdictional claims in published maps and institutional affiliations.
About this article
Cite this article
Shrikrishna, B.H., Patel, V.I., Stephan, R. et al. Sialolipoma of Parotid Gland a Rare Histological Presentation. Indian J Otolaryngol Head Neck Surg 71, 805–808 (2019). https://doi.org/10.1007/s12070-018-1558-2
Received:

Accepted:

Published:

Issue Date:
Keywords
Sialolipoma

Benign salivary gland tumour

Parotid gland

Lipoma