Abstract
Labyrinthectomy is an effective surgical procedure for the management of poorly compensated unilateral peripheral vestibular dysfunction in the presence of a nonserviceable hearing. It involves removal of labyrinthine portion of the inner ear and exenteration of the neuroepithelium. In our institution, 8 cases underwent surgical labyrinthectomy from a period of 2013–2018 for various extensive disease manifestations, age ranges from 2 to 48 years. Includes, a child of 2 years age presented with bilateral foul smelling otorrhoea with external auditory canal cartilaginous stenosis, 5 cases of extensive cholesteatoma with labrynthitis and 2 cases of purulent labrynthitis among them 1 were suffering from Tuberculosis and was on Category 1 ATT and other one suffering from extensive granulation at the tympanomastoid area which was inconclusive of the diagnosis even after histopathological examination, so treated as tuberculosis and started on prophylactic antitubercular treatment in addition to surgery. All patients except the child gave past history of giddiness, but at the time of presentation they were not having giddiness or noticeable nystagmus and all had profound unilateral sensorineural hearing loss. Thus all the patients underwent a radical mastoidectomy with total labyrinthectomy and blind sac closure in 2 patients.
This is a preview of subscription content, log in to check access.
Access options
Buy single article
Instant access to the full article PDF.
US$ 39.95
Price includes VAT for USA
Subscribe to journal
Immediate online access to all issues from 2019. Subscription will auto renew annually.
US$ 99
This is the net price. Taxes to be calculated in checkout.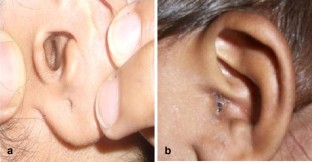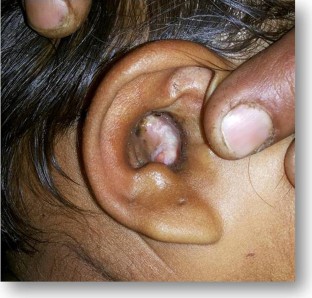 References
1.

Chang MY, Park MK, Park SH, Suh MW, Lee JH, Oh SH (2018) Surgical labyrinthectomy of the rat to study the vestibular system. J Vis Exp JoVE 19:135

2.

Willatt DJ, Yung MW (1988) Prognostic factors in labyrinthectomy. J Laryngol Otol 102(9):785–787

3.

Schuknecht HF (1973) Destructive labyrinthine surgery. Arch Otolaryngol 97(2):150–151

4.

Langman AW, Lindeman RC (1993) Surgery for vertigo in the nonserviceable hearing ear: transmastoid labyrinthectomy or translabyrinthine vestibular nerve section. Laryngosc 103(12):1321–1325

5.

Langman AW, Lindeman RC (1998) Surgical labyrinthectomy in the older patient. Otolaryngol Head Neck Surg 118(6):739–742
Acknowledgements
We are thankful to Dr S. M. Azeem Mohiyuddin Head of ENT and Head and Neck Surgery, Sri Devaraj Urs Medical College, Tamaka, Kolar for his helpful discussion and technical expertise. My sincere and great thanks for Gopinathan Pillai, Associate professor, ENT in Pushpagiri Medical College and Research sciences and Jagan O. A., Lecturer, Clinical Virology Department, Amrita Institute of Medical Science and Research for supporting me and helping in editing the article.
Ethics declarations
Conflict of interest
The authors declare no conflict of interest or commercial affiliation related to this study.
Additional information
Publisher's Note
Springer Nature remains neutral with regard to jurisdictional claims in published maps and institutional affiliations.
About this article
Cite this article
Prasad, K.C., Gopi, I.V., Harshitha, T.R. et al. Labyrinthectomy: Our Experience in a Tertiary Care Centre. Indian J Otolaryngol Head Neck Surg 71, 1474–1477 (2019). https://doi.org/10.1007/s12070-018-1557-3
Received:

Accepted:

Published:

Issue Date:
Keywords
Labyrinthectomy

Cholesteatoma

Aural atresia

Radical mastoidectomy

Blind sac closure