Abstract
Laryngeal leiomyosarcoma is a rare smooth muscle malignancy of the head and neck region. Diagnosis is based on immunohistochemistry. Here we present a case of laryngeal leiomyosarcoma that was diagnosed and treated in our center, focusing on the clinical features, histological diagnosis and management of this rare disease.
Access options
Buy single article
Instant access to the full article PDF.
USD 39.95
Price excludes VAT (USA)
Tax calculation will be finalised during checkout.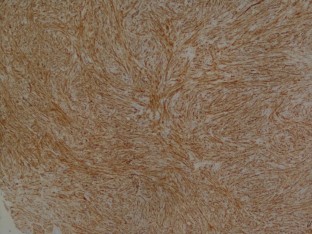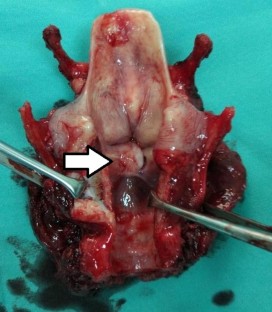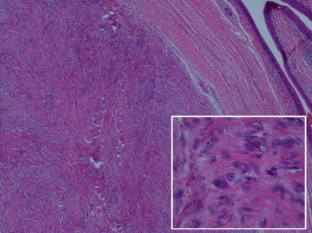 References
Wadhwa AK, Gallivan H, O'Hara BJ et al (2000) Leiomyosarcoma of the larynx: diagnosis aided by advances in immunohistochemical staining. Ear Nose Throat J 79:42–46

Frank DI (1941) Leiomyosarcoma of the larynx. Arch Otorhinolaryngol 34:493–500

Marioni G, Staffieri C, Marino F, Staffieri A (2005) Leiomyosarcoma of the larynx: critical analysis of the diagnostic role played by immnohistochemostry. Am J Otolaryngol Head Neck Med Surg 26:201–206

Morera Serna E, Fernandez CAP, Jambrina CF, Munoz JR, Gil MAP (2007) Laryngeal leiomyosarcoma. Acta Otorrinolaringol Esp 58:445–448

Skoulakis et al (2006) Laryngeal leiomyosarcoma: a case report and review of the literature. Eur Arch Otorhinolaryngol 263:929–934

Mckiernan DC, Watters GWR (1995) Smooth muscle tumors of the larynx. J Laryngol Otol 109:77–79

Khadivi E, Taziky MH, Jafarian AH, Sadr MN (2013) Laryngeal leiomyosarcoma: a case report and review of article. Iran J Otorhinolaryngol 24:253–257
About this article
Cite this article
Ng, B.H.K., Tang, I.P., Suhashini, G. et al. Laryngeal Leiomyosarcoma: A Rare Case. Indian J Otolaryngol Head Neck Surg 71 (Suppl 1), 795–797 (2019). https://doi.org/10.1007/s12070-018-1553-7
Received:

Accepted:

Published:

Issue Date:

DOI: https://doi.org/10.1007/s12070-018-1553-7
Keywords