Abstract
The aim of the study was to re- evaluate the current bacteriological profile of chronic suppurative otitis media and to know their antibiotic sensitivity pattern to commonly used antibiotics. To provide a guideline for empirical antibiotic therapy when culture facilities are not available. Observational study. Patients who presented to Ear, Nose and Throat department with chronic or recurrent ear discharge and on clinical examination found to have actively discharging ears were selected. Patients who did not receive antimicrobial therapy (topical or systemic) for the last 7 days were included. Out of the 106 ear swabs processed, bacterial growth was found in 100 samples (94.33%), while 6 samples (5.66%) showed no growth. The results revealed Pseudomonas aeruginosa as the most isolated bacteria (49%), followed by Staphylococcus aureus (18%). Antibiotic susceptibility—Pseudomonas aeruginosa was sensitive to Cefoperazone–Sulbactam (96%), Imipenem (82%), Piperacillin–Tazobactam (82%), Amikacin in 82% and Gentamicin (76%). It was found that Pseudomonas was sensitive to Ciprofloxacin in only 57% of the cases. Staphylococcus aureus isolates were sensitive to Vancomycin in 90%, Gentamicin in 81%, Clindamycin in 72%, and Erythromycin in 45%. It was found that 100% of the isolates were resistant to Ciprofloxacin. Our findings highlight the importance of continuous and periodic evaluation of microbiological pattern and antibiotic sensitivity of isolates in chronic suppurative otitis media patients to decrease the potential risk of complications by early institution of appropriate treatment.
This is a preview of subscription content, log in to check access.
Access options
Buy single article
Instant access to the full article PDF.
US$ 39.95
Price includes VAT for USA
Subscribe to journal
Immediate online access to all issues from 2019. Subscription will auto renew annually.
US$ 99
This is the net price. Taxes to be calculated in checkout.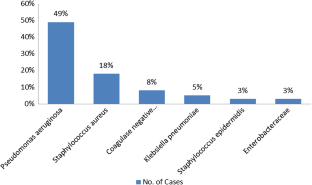 References
1.

Kazeem MJ, Aiyeleso R (2016) Current bacteriological profile of chronic suppurative otitis media in a tertiary facility of Northern Nigeria. Indian J Otol 22:157–161

2.

Prakash R, Juval D, Negi V, Pal S, Adekhandi S et al (2013) Microbiology of Chronic Suppurative Otitis media in a Tertiary Care setup of Uttarkhand state. India. N Am J Med Sci 5(4):282–287

3.

Samanth TU, Jha SG, Sinha V, Dadhich S (2017) Bacteriology and drug susceptibility in chronic suppurative otitis media in Ear, Nose and Throat outpatient and inpatient department of tertiary care hospital, Bhavnagar, Indian. J Otol 23:252–255

4.

Scott Brown WG (1996) Otorhinolaryngology, head and neck surgery, 6th edn. CRC press, Boca Raton

5.

Deb T, Ray D (2012) A study of the Bacteriological Profile of Chronic Suppurative Otitis Media in Agartala. Indian J Otolaryngol Head Neck Surg. 64(4):326–329

6.

Mofatteh MR, Shahabian Moghaddam F, Yousefi M et al (2018) A study of bacterial pathogens and antibiotic susceptibility patterns in chronic suppurative otitis media. The journal of Laryngology and Otology 132:41–45
Ethics declarations
Conflict of interest
All the authors declare they have no conflicts of interest and have not received any funding.
Informed Consent
Informed consent was obtained from all individual participants in the study.
Ethical Approval
All procedures performed in the study were in accordance with the ethical standards of the institution.
About this article
Cite this article
Shilpa, C., Sandeep, S., Thanzeemunisa, U. et al. Current Microbiological Trends of Chronic Suppurative Otitis Media in a Tertiary Care Centre, Mysuru, India. Indian J Otolaryngol Head Neck Surg 71, 1449–1452 (2019). https://doi.org/10.1007/s12070-018-1544-8
Received:

Accepted:

Published:

Issue Date:
Keywords
Chronic suppurative otitis media

Pseudomonas aeruginosa
Staphylococcus aureus

Antibiotic sensitivity