Abstract
Although lingual thyroid is the most common site for ectopic thyroid gland but carcinomas originating from lingual thyroid are extremely rare, accounting only for 1% of all ectopic thyroids. Here we represent a young female with a bleeding mass at the base of her tongue and review the diagnostic approach towards papillary thyroid carcinoma of lingual thyroid. The surgical treatment and follow up are discussed. A combination of radiological studies and histological evaluation should be deployed to investigate suspicious lingual thyroids. The perspective of diagnostic and therapeutic approaches for carcinomas of lingual thyroid is the same as orthotopic thyroid tissue.
This is a preview of subscription content, log in to check access.
Access options
Buy single article
Instant access to the full article PDF.
US$ 39.95
Price includes VAT for USA
Subscribe to journal
Immediate online access to all issues from 2019. Subscription will auto renew annually.
US$ 99
This is the net price. Taxes to be calculated in checkout.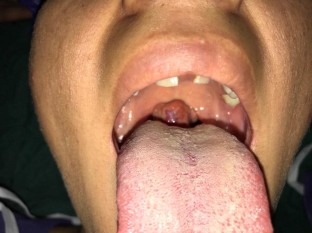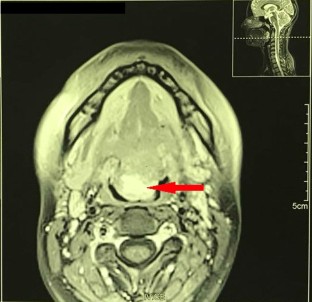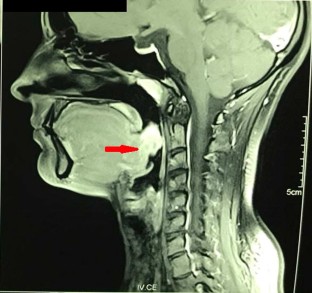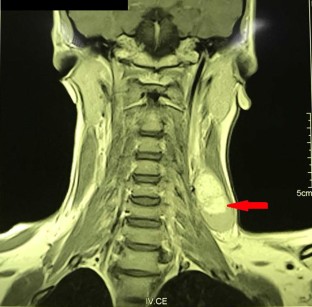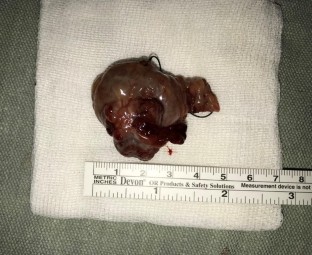 References
1.

Braverman LE, Cooper D (2012) Werner & Ingbar's the thyroid: a fundamental and clinical text. Lippincott Williams & Wilkins, Philadelphia

2.

Sturniolo G et al (2016) Differentiated thyroid carcinoma in lingual thyroid. Endocrine 51(1):189–198

3.

Yoo T et al (2016) Thyroglossal duct papillary thyroid carcinoma and synchronous lingual thyroid atypia. Case reports in otolaryngology

4.

Pietruszewska W, Wągrowska-Danilewicz M, Józefowicz-Korczyńska M (2014) Papillary carcinoma in thyroglossal duct cyst with uninvolved thyroid. Case report and review of the literature. Arch Med Sci AMS 10(5):1061

5.

Jacob MJ, Ravina M (2012) A rare case of lingual thyroid with hyperthyroidism: a case report and review of the literature. Indian J Endocrinol Metab 16(3):441

6.

Klubo-Gwiezdzinska J et al (2011) Ectopic cervical thyroid carcinoma—review of the literature with illustrative case series. J Clin Endocrinol Metab 96(9):2684–2691

7.

Bhojwani KM et al (2012) Papillary carcinoma in a lingual thyroid: an unusual presentation. ENT Ear Nose Throat J 91(7):289–291

8.

Kennedy TL, Riefkohl WL (2007) Lingual thyroid carcinoma with nodal metastasis. Laryngoscope 117(11):1969–1973

9.

Gunn LG (1910) Thyroid tumour. Trans R Acad Med Ire 28:381

10.

Rutgers M (1910) Tongstruma. Ned Tijdschr Geeneeskd 1(B):1505

11.

Massine RE, Durning SJ, Koroscil TM (2001) Lingual thyroid carcinoma: a case report and review of the literature. Thyroid 11(12):1191–1196

12.

Livolsi VA, Perzin KH, Savetsky L (1974) Carcinoma arising in median ectopic thyroid (including thyroglossal duct tissue). Cancer 34(4):1303–1315

13.

Addams-Williams J, Abo-Khatwa M, Zeitoun H (2007) Papillary carcinoma arising in the lingual thyroid: a case report and review of the literature. Int J Head Neck Surg 2(2). https://ispub.com/IJHNS/2/2/13603

14.

Hari CK et al (2009) Follicular variant of papillary carcinoma arising from lingual thyroid. Ear Nose Throat J 88(6):E7

15.

Raju G, Kameswaran M (2009) Unusual presentations of thyroid malignancies—a case series. Indian J Otolaryngol Head Neck Surg 61(3):230–234

16.

Canciullo D, Motta G (1955) I carcinomi tiroidei della base della lingua. Oto-rino-lar Ital 23:185–211

17.

Mazzaferri EL, Kloos RT (2001) Current approaches to primary therapy for papillary and follicular thyroid cancer. J Clin Endocrinol Metab 86(4):1447–1463

18.

Seoane JM, Cameselle-Teijeiro J, Romero MA (2002) Poorly differentiated oxyphilic (Hürthle cell) carcinoma arising in lingual thyroid: a case report and review of the literature. Endocr Pathol 13(4):353–360

19.

Monson JP (2000) The epidemiology of endocrine tumours. Endocr Relat Cancer 7(1):29–36

20.

Noussios G et al (2011) Ectopic thyroid tissue: anatomical, clinical and surgical implications of a rare entity. Eur J Endocrinol 165(3):375–382. https://doi.org/10.1530/EJE-11-0461

21.

Wang C-Y, Chang T-C (1995) Preoperative thyroid ultrasonography and fine-needle aspiration cytology in ectopic thyroid. Am Surg 61(12):1029–1031

22.

Weiss SD, Orlich CC (1991) Primary papillary carcinoma of a thyroglossal duct cyst: report of a case and literature review. Br J Surg 78(1):87–89

23.

Bigotti G, Coli A (1997) Follicular carcinoma in lingual thyroid presenting as a latero-cervical mass. Case report and review of the literature. J Oral Pathol Med 26(3):142–146

24.

Cooper DS et al (2009) Revised American Thyroid Association management guidelines for patients with thyroid nodules and differentiated thyroid cancer: the American Thyroid Association (ATA) guidelines taskforce on thyroid nodules and differentiated thyroid cancer. Thyroid 19(11):1167–1214
Ethics declarations
Conflict of interest
The authors declare that there is no conflict of interest to disclose.
About this article
Cite this article
Jalaeefar, A., Motiee-Langroudi, M., Shirkhoda, M. et al. Papillary Thyroid Carcinoma with Cervical Lymph Node Metastasis Arising from Lingual Thyroid. Indian J Otolaryngol Head Neck Surg 71, 762–765 (2019). https://doi.org/10.1007/s12070-018-1539-5
Received:

Accepted:

Published:

Issue Date:
Keywords
Ectopic thyroid

Lingual thyroid

Lingual thyroid carcinoma

Papillary thyroid carcinoma