Abstract
Deposition of amyloid in localized form is rare and most often involves head and neck region. Localized amyloidosis carries good prognosis with surgical debridement offering symptomatic benefit. We present an adolescent male presenting with localized sinonasal amyloidosis managed previously with conservative surgical debridement. The patient was symptomatic from early childhood and the previous histopathological reports were non-specific inflammation. A repeat biopsy revealed features of amyloidosis and retrospective review of past slides revealed the same. On explaining the course of the disease and prognosis, the patient opted for regular follow up. A pertinent comprehensive literature review of the condition is discussed.
This is a preview of subscription content, log in to check access.
Access options
Buy single article
Instant access to the full article PDF.
US$ 39.95
Price includes VAT for USA
Subscribe to journal
Immediate online access to all issues from 2019. Subscription will auto renew annually.
US$ 99
This is the net price. Taxes to be calculated in checkout.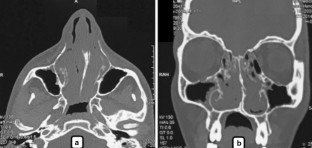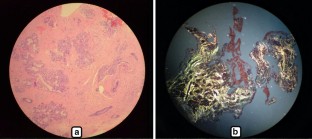 References
1.

Sipe JD, Benson MD, Buxbaum JN, Ikeda S, Merlini G, Saraiva MJ et al (2014) Nomenclature 2014: amyloid fibril proteins and clinical classification of the amyloidosis. Amyloid 21(4):221–224

2.

Prasad D, Somayaji GK, Aroor R, Abdulla MN (2009) Primary nasal amyloidosis. Internet J Otorhinolaryngol 9(2). http://ispub.com/IJORL/9/2/10505

3.

Naidoo YS, Gupta R, Sacks R (2012) A retrospective case review of isolated sinonasal amyloidosis. J Laryngol Otol 126:633–663

4.

Nakayama T, Otori N, Komori M, Takayanagi H, Moriyama H (2012) Primary localized amyloidosis of the nose. Auris Nasus Larynx 39:107–109

5.

Cunningham A, Kalwani S, Alsanjari N, Fayad G (2013) Rare subtype of localised nasal amyloidosis. Otorhinolaryngol 6(1):60–63

6.

Rauba D, Lesinskas E, Petrulionis M, Sukyte D, Valeviciene N, Palionis D (2013) Isolated nasal amyloidosis: a case report. Med Kaunas 49:497–503

7.

Pearlman AN, Jeffe JS, Zynger DL, Yeldandi AV, Conley DB (2010) Localized amyloidosis of the nasal and paranasal mucosa: a rare pathology. Am J Otolaryngol Head Neck Med Surg 31:130–131

8.

Chin SC, Fatterpeckar G, Kao CH, Chen CY, Som PM (2004) Amyloidosis concurrently involving the sinonasal cavities and larynx. AJNR Am J Neuroradiol 25(4):636–638

9.

Simpson GT, Strong MS, Skinner M, Cohen AS (1984) Localized amyloidosis of the head and neck and upper aerodigestive and lower respiratory tracts. Ann Otol Rhinol Laryngol 93(4, pt 1):374–379

10.

Paccalin M, Hachulla E, Cazalet C, Tricot L, Carreiro M, Rubi M et al (2005) Localized amyloidosis: a survey of 35 French cases. Amyloid 12(4):239–245

11.

Luo M, Peng G, Shi L, Ming X, Li Z, Fei S et al (2016) Intensity-modulated radiotherapy for localized nasopharyngeal amyloidosis: case report and literature review. Strahlenther Onkol 192(12):944–950
Acknowledgements
We thank Dr. Dheeraj Gautam (Department of Pathology, Medanta- The Medicity, Gurugram), for providing us with the pathology slides of the patient.
Ethics declarations
Conflict of interest
The authors declare that they have no conflict of interest.
Informed Consent
Informed Consent was obtained from the individual participating in the study.
About this article
Cite this article
Singh, A., Handa, K.K. & Kumar, A. Idiopathic Isolated Nasal Amyloidosis: Report of a Rare Case with Review of Literature. Indian J Otolaryngol Head Neck Surg 71, 2106–2109 (2019). https://doi.org/10.1007/s12070-018-1528-8
Received:

Accepted:

Published:

Issue Date:
Keywords
Amyloidosis

Localized

Sinonasal

Debridement