Abstract
Tinnitus is conscious auditory perception without corresponding external stimuli resulting from neuronal activity along auditory pathway either in peripheral or central auditory system. The exact origin, pathophysiologic pathway and its treatment is still under exploration. The main risk factor is hearing loss, but can occur in patients with normal hearing. Auditory brainstem response test helps to objectify this subjective complaint and aid in locating its origin. P300 is late latency auditory evoked potential, objective marker of cognitive potential. The purpose of our study was to ascertain any significant difference in P300 latency and amplitude values in cases of sensorineural hearing loss with tinnitus when compared to controls (normal hearing subjects) and also to find any correlation between severity of tinnitus and cognition. This was a case control study conducted at the department of ENT at Safdarjung Hospital, New Delhi between September 2016 to March 2018. The study comprised of one hundred and six patients, out of which fifty five patients were having sensorineural hearing loss with tinnitus and fifty one patients were normal hearing subjects. General medical and audiological history and examination was done. Significant increase in P300 latency and decrease in P300 amplitude was found in sensorineural hearing loss with tinnitus cases on comparing with controls. The similar pattern of P300 values was observed on increasing severity of tinnitus and degree of hearing loss. Hence, results revealed the role of cognition and involvement of central auditory pathway in tinnitus generation.
Access options
Buy single article
Instant access to the full article PDF.
US$ 39.95
Tax calculation will be finalised during checkout.
Subscribe to journal
Immediate online access to all issues from 2019. Subscription will auto renew annually.
US$ 79
Tax calculation will be finalised during checkout.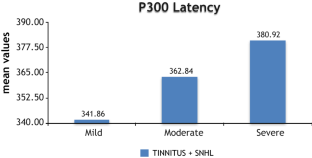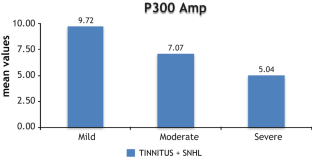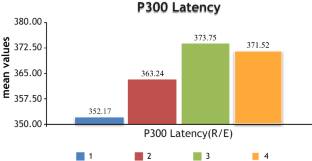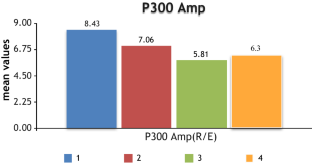 References
1.

Crummer RW, Hassan GA (2014) Diagnostic approach to tinnitus. Am Fam Physician 69:120–126

2.

Atif A (2014) Pathophysiology and treatment of tinnitus: an elusive disease. Indian J Otolaryngol Head Neck Surg 66:1–5

3.

Nordahl DM, Cruickshanks KJ, Huang G-H et al (2011) Tinnitus and its risk factors in the Beaver Dam Offspring Study. Int J Audiol 50:313–320

4.

Auchter A, Williams J, Barksdale B, Monfils MH, Gonzalez-Lima F (2014) Therapeutic benefits of methylene blue on cognitive impairment during chronic cerebral hypoperfusion. J Alzheimers Dis 42(Suppl 4):S525–S535

5.

Tavanai E, Mohammadkhani G (2018) A different view on the link between tinnitus and cognition; is there a reciprocal link? Int J Neurosci 22:1–17

6.

Trevis KJ, Tailby C, Grayden DB, McLachlan NM, Jackson GD, Wilson SJ (2017) Identification of a neurocognitive mechanism underpinning awareness of chronic tinnitus. Nat Rev Neural 7(1):15220

7.

Heeren A et al (2014) Tinnitus specifically alters the top-down executive control sub-component of attention: evidence from the attention network task. Behav Brain Res 269:147–154

8.

Waechter S, Brannstrom KJ (2015) The impact of tinnitus on cognitive performance in normal hearing individuals. Int J Audiol 54:845–851

9.

Bankstahl US, Gortelmeyer R (2013) Measuring subjective complaints of attention and performance failures—development and psychometric validation in tinnitus of the self- assessment scale APSA. Health Qual Life Outcomes 11:86

10.

Das SK, Wineland A, Kallogjeri D, Piccirillo JF (2012) Cognitive speed as an objective measure of tinnitus. Laryngoscope 122:2533–2538

11.

Polich J (2007) Updating P300: an integrative theory of P3a and P3b. Clin Neurophysiol 118:2128–2148

12.

Oniz A, Basar E (2009) Prolongation of alpha oscillations in auditory odd-ball paradigm. Int J Psychophysiol 71:235–241

13.

Wang Y, Zhang J-N, Hu W et al (2018) The characteristics of cognitive impairment in subjective chronic tinnitus. Brain Behav 8:e00918

14.

Filha VAVDS, Matas CG (2010) Late auditory evoked potentials in individuals with tinnitus. Braz J Otorhinolaryngol 76:263–270

15.

Leaver AM, Seydell-Greenwald A, Turesky TK, Morgan S, Kim HJ, Rauschecker JP (2012) Cortico-limbic morphology separates tinnitus from tinnitus distress. Front Syst Neurosci 6:21

16.

Lee YJ, Bae SJ, Lee SH, Lee JJ, Lee KY, Kim MN, Chang Y (2007) Evaluation of white matter structures in patients with tinnitus using diffusion tensor imaging. J Clin Neurosci 14:515–519

17.

Vanneste S, Congedo M, De Ridder D (2014) Pinpointing a highly specific pathological functional connection that turns phantom sound into distress. Cereb Cortex 24:2268–2282

18.

Vanneste S, Faber M, Langguth B, De Ridder D (2016) The neural correlates of cognitive dysfunction in phantom sounds. Brain Res 1642:170–179
Ethics declarations
Conflict of interest
The authors declare that they have no conflict of interest.
Ethical Approval
All procedures involving human participants were in accordance with the ethical standards of the institution.
Informed Consent
Informed consent was obtained from all individuals participants included in this study.
About this article
Cite this article
Majhi, S.K., Khandelwal, K. & Shrivastava, M.K. Tinnitus and Cognition: Linked?. Indian J Otolaryngol Head Neck Surg 71, 1426–1430 (2019). https://doi.org/10.1007/s12070-018-1509-y
Received:

Accepted:

Published:

Issue Date:
Keywords
Tinnitus

Cognition

P300 latency

P300 amplitude

Sensorineural hearing loss