Abstract
To identify patients of vocal cord paresis and palsy and to establish an etiological diagnosis based on a study performed in a tertiary centre. Study was done prospectively in the Department of ENT in KIMS Hospital, Bangalore, for 1 year, from June 2016 to June 2017. 100 patients with vocal cord paresis and palsy were identified and examined by using various tests and investigations to establish the etiology. Most of the patients presented with complaints of change in voice (92%). Some of the other common presenting complaints included noisy breathing and difficulty in swallowing, difficulty in voice production and vocal fatigue and cough. Unilateral paralysis (82%) was found to be more common than bilateral paralysis (18%), of which left (52%) was more commonly affected than right (48%) vocal cord. The most common age group affected was 51–60 years (24%) followed by 61–70 years (19%). Males (60%) were affected more than females (40%) in a ratio of 3:2 and among the affected males 73% were known smokers. The most common cause of vocal cord paresis and palsy was found to be idiopathic (38%), followed by primary laryngeal growths (27%). Other causes included carcinomas of lung, thyroid and oesophagus, traumatic, inflammatory, systemic diseases like Rheumatoid arthritis, Hypertension leading to stroke. Identifying the exact etiopathogenesis of vocal cord paresis and palsy in patients has been difficult and is very important in order to establish a proper diagnostic and treatment protocol for these patients.
This is a preview of subscription content, log in to check access.
Access options
Buy single article
Instant access to the full article PDF.
US$ 39.95
Price includes VAT for USA
Subscribe to journal
Immediate online access to all issues from 2019. Subscription will auto renew annually.
US$ 99
This is the net price. Taxes to be calculated in checkout.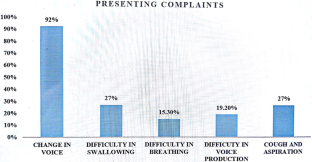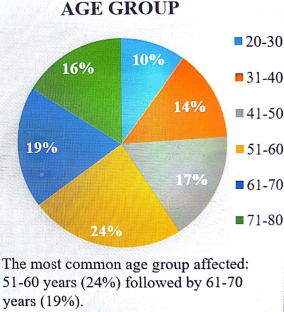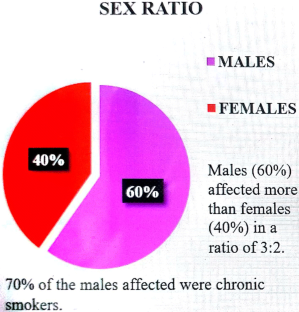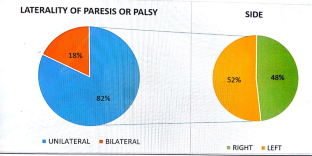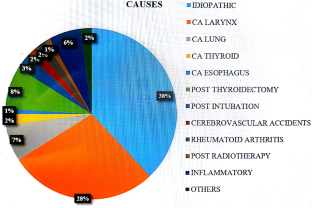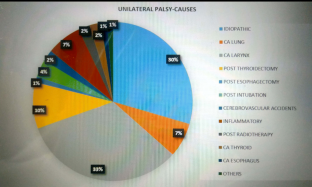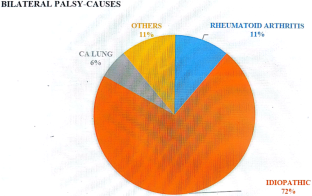 References
1.

Gupta J, Varshney S, Bist SS, Bhagat S (2013) Clinico-etiological study of vocal cord paralysis. Indian J Otolaryngol Head Neck Surg. 65(1):16–19

2.

Benninger MS, Gillen JB, Altman JS (1998) Changing etiology of vocal cord immobility. Laryngoscope 108:1346–1350

3.

Merati AL, Shermani N, Smith TL, Toohill RJ (2006) Changing trends in the nature of vocal fold impairment. Am J Otolaryngol Head Neck Med Surg 27:106–108

4.

Ahmad S, Ajaz M, Lateef M (2002) A study incidence and etiopathology of vocal cord paralysis. Indian J Otolaryngol Head Neck Surg 54:294–296

5.

Havas T, Lowinger D, Priestly J (1999) Unilateral vocal fold paralysis: causes, options and outcomes. Aust NZ J Surg 69:509–513. https://doi.org/10.1046/j.1440-1622.1999.01613

6.

Glazer HS (1983) Extralaryngeal causes of vocal cord paralysis: CT evaluation. Am J Radiol 141:527–531

7.

Nerurkar N, Tandon S, Kiran K, Joshi A, Gharat P, Bradoo R (2006) Unilateral vocal cord paralysis: an Indian scenario. Bombay Hosp J 48(4):561–567

8.

Feehery JM, Pribitkin EA, Heffelfinger RN, Lacombe VG, Lee D, Lowry LD, Keane WM, Sataloff RT (2003) the evolving etiology of bilateral vocal cord immobility. J Voice 17(1):76–81. https://doi.org/10.1016/S0892-1997(03)00030-4

9.

Hollinger LD, Hollinger PC, Hollinger PH (1976) Etiology of bilateral abductor vocal cord paralysis: a review of 389 cases. Ann Otol 85:428–436

10.

Woodson G (2008) Evolving concepts of laryngeal paralysis. J Laryngol Otol 122:437–441. https://doi.org/10.1017/S002221510700045X

11.

Furukawa M, Furukawa MK, Ooishi K (1994) Statistical analysis of malignant tumours detected as the cause of vocal cord paralysis. ORL J Otorhinolaryngol 56:161–165

12.

Ko HC, Lee LA, Li HY, Fang TJ (2009) Etiologic features in patients with unilateral vocal cord paralysis in Taiwan. Chang Gung Med J 32:290–296

13.

Srirompotong S, Sae-Seow P, Srirompotong S (2001) the cause and evaluation of unilateral vocal cord paralysis. J Med Assoc Thai 84(6):855–858

14.

Bulteau V (1973) The aetiology of bilateral recurrent laryngeal nerve paralysis. Med J Aust 2:776–777

15.

Maisel RH, Ogura JH (1974) Evaluation and treatment of vocal cord paralysis. Laryngoscope 84:302–316. https://doi.org/10.1288/00005537-1974402000-00012

16.

Misron K, Balasubramaniam A, Mohamad I, Hassan NFHN (2014) Bilateral vocal cord palsy post thyroidectomy: lessons learnt. BMJ Case Rep 2014:bcr2013201033. https://doi.org/10.1136/bcr-2013-201033

17.

Chen H-C, Jen Y-M, Wang Y-M, Lee J-C, Lin Y-S (2007) Etiology of Vocal Cord Paralysis. ORL 69(3):167–171

18.

Toutounchi SJS, Eydi M, Golzari SEJ, Ghaffari MR, Parvizian N (2014) Vocal cord paralysis and its etiologies: a prospective study. J Cardiovasc Thorac Res 6(1):47–50. https://doi.org/10.5681/jcvtr.2014.009

19.

Hazem MZ, Naif AA, Ahmed AS (2011) Recurrent laryngeal nerve injury in thyroid surgery. Oman Med J. 26:34–38

20.

Lo CY, Kwok KF, Yuen PW (2000) A prospective evaluation of recurrent laryngeal nerve paralysis during thyroidectomy. Arch Surg 135:204–207

21.

Irfan M, Jihan WS, Shahid H (2010) Unusual presentation of a solitary thyroid cyst. Ann Acad Med Singap 39:68–69

22.

Sancho JJ, Pascual-Damieta M, Pereira JA et al (2008) Risk factors for transient vocal cord palsy after thyroidectomy. Br J Surg 95:961–967

23.

Brown WF, Bolton CF, Aminoff MJ (2002) Neuromuscular function and disease: basic, clinical and electrodiagnostic aspects, Chapter 104. W. B. Saunders Company, Philadelphia, pp 1857–1865

24.

Yu-Ting Hsu M, 1, Sheng-Po Hao, MD, FACS, FICSI 2, 1 Department of Otorhinolaryngology-Head and Neck Surgery, Shin Kong Wu Ho-Su Memorial Hospital, Taipei T, 2 Medical College of Fu-Jen Catholic University, Taipei T. Intubation related Vocal Cord Palsy. Otolaryngol Head Neck Surg. 153(2):189

25.

Vyshnavi S, Kotekar N (2013) Aphonia following tracheal intubation: an unanticipated post-operative complication. Indian J Anaesth 57(3):306–308

26.

Nama RK, Bhosale GP, Butala BP, Sharma AR (2015) Bilateral adductor vocal cord palsy: complication of prolonged intraoperative hypotension after endotracheal intubation. Middle East J Anaesthesiol 23(3):339–342

27.

Kikura M, Suzuki K, Itagaki T, Takada T, Sato S (2007) Age and comorbidity as risk factors for vocal cord paralysis associated with tracheal intubation. Br J Anaesth 98:524–530

28.

Nuutinen J, Karia J (1981) Bilateral vocal cord paralysis following general anaesthesia. Laryngoscope 91(1):83–86

29.

Gune A, Kale P, Patankar R, Mathur SK (2016) Bilateral adductor vocal cord palsy: complication of prolonged endo tracheal intubation. Int J Health Sci Res 6(8):395–397
Acknowledgement
We extend our gratitude to all the faculty members of the department and the management for giving their valuable opinion and suggestions during discussion of the case and also for extending their help towards working towards this article. We extend our gratefulness to all the partcipating patients and their family members for their cooperation and patience during the course of the study. Special mention to Dr. Jagannath, Dr. Smitha, Dr. Nirmala and all the postgraduates and interns for all their support in making this study a success.
Ethics declarations
Conflict of interest
Authors declare that they have no conflict of interest.
Ethical Approval
This article does not contain any studies which experiments with human participants or animals and all institutional and international ethical standards have been followed.
Informed Consent
Informed consent was obtained from all individual participants included in the study.
About this article
Cite this article
Anil, H.T., Lasya Raj, N. & Pillai, N. A Study on Etiopathogenesis of Vocal Cord Paresis and Palsy in a Tertiary Centre. Indian J Otolaryngol Head Neck Surg 71, 383–389 (2019). https://doi.org/10.1007/s12070-018-1502-5
Received:

Accepted:

Published:

Issue Date:
Keywords
Vocal cord paresis

Palsy

Hoarseness

Recurrent laryngeal nerve

Unilateral

Idiopathic