Abstract
To evaluate the long term effect of Intratympanic dexamethasone in intractable Meniere's disease. 30 patients with refractory Meniere's disease which did not respond to the standard medical management, were treated with Intratympanic dexamethasone injections. Post treatment hearing outcome and dizziness scores were compared with the pretreatment values respectively. The mean dizziness handicap inventory (DHI) score was reduced from 91.58 (range 80–100) to be 31.00 (p = 0.00) at 3 months of treatment. With the successive follow-up periods, the mean DHI scores were reduced to 51.50, 46.6, and 50.90 at the end of, 6, 12, and 24 months (p = 0.04, 0.35, and 0.49 respectively). Again at the end of 24 months, 23.80% of patients were free of vertigo (p = 0.01). No patient had improvement in the hearing (> 10 dB) in any of the follow-up periods and 6.6% demonstrated deterioration in hearing. There were no major intraoperative or postoperative complications detected. Intratympanic injection of steroid is a safe and effective method for treating intractable Meniere's disease. Although short term improvement in the vertigo is well documented, still in 23% of the patients were found to be free of vertigo at even the end of 24 months. There was no significant improvement in hearing noticed, either in short term or in long term.
This is a preview of subscription content,
to check access.
Access this article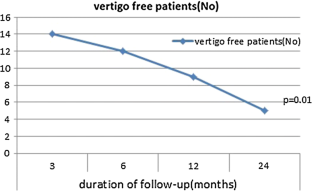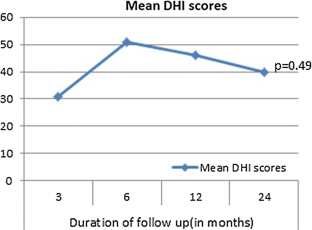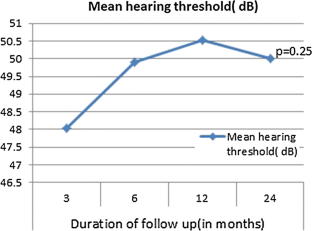 References
Atlas MD, Chai F, Boscata L (1998) Meniere's disease. Evidence of an immune process. Am J Otol 19:628–631

Nagura M, Iwasaki S, Wu R, Mizuta K, Umemura K, Hoshino T (1999) Effect of corticosteroid contrast medium and ATP on focal microcirculatory disorders of the cochlea. Eur J Pharmacol 366:47–53

Shirwany NA, Seidmann MD, Wenxue T (1998) Effect of transtympanic injection of steroids on cochlear blood flow, auditory sensitivity, and histology in the guinea pig. Am J Otol 19:230–235

Parnes LS, Sun A, Fremman DJ (1999) Corticosteroidpharmacokietics in the inner ear fluids: an animal study followed by clinical applications. Laryngoscope 109(Suppl 91):1–17

Chandrashekhar SS, Rubinstein RY, Kwartler JA et al (2000) Dexamethasone pharmacokinetics in the inner ear: comparison of route of administration and use of facilitating agents. Otolaryngol Head Neck Surg 122:521–528

Silverstein H, Isaacson JE, Olds MJ, Rowan PT, Rosenberg S (1998) Dexamethasone inner ear perfusion for the treatment of Meniere'sdisease: a prospective, randomized, double-blind, crossover trial. Am J Otol 19:196–201

Casani AP, Piaggi P, Cerchiai N, Seccia V, Franceschini SS, Dallan I (2012) Intratympanic treatment of intractable unilateral Meniere disease: Gentamicin or dexamethasone? A randomized controlled trial. Otolaryngol Head Neck Surg 146:430–437

Shea PF, Richey PA, Wan JY, Stevens SR (2012) Hearing results and quality of life after streptomycin/dexamethasone perfusion for Meniere's disease. Laryngoscope 122:204–211

Boleas-Aguirre MS, Lin FR, Della Santina CC, Minor LB, Carey JP (2008) Longitudinal results with intratympanic dexamethasone in thetreatment of Meniere's disease. Otol Neurotol 29:33–38

Weckel A, Marx M, Esteve-Fraysse MJ (2017) Control of vertigo in Ménière's disease by intratympanic dexamethasone. Eur Ann Otorhinolaryngol Head Neck Dis 28(17):30112–30116

Shea PF, Richey PA, Wan JY, Stevens SR (2012) Hearing results and quality of life after streptomycin/dexamethasone perfusion for meniere's disease. Laryngoscope 122:204–211

Phillips JS, Westerberg B (2011) Intratympanic steroids for Ménière's disease or syndrome. Cochrane Database Syst Rev 6(7):CD008514. https://doi.org/10.1002/14651858.CD008514.pub2

Hu A, Parnes L (2009) Intratympanic steroids for inner ear disorders: a review. Audiol Neurotol 14:373–382

Barrs DM (2009) Intratympanic steroid injections for intractable Meniere's disease. Laryngoscope 111:2100–2104

Arriaga MS, Goldman S (1998) Hearing results of intratympanic steroid injection treatment of endolymphatic hydrops. Laryngoscope 108:1682–1685

Leng Y, Liu B, Zhou R, Liu J, Liu D, Zhang SL, Kong WJ (2017) Repeated courses of intratympanic dexamethasone injection are effective for intractable Meniere's disease. Acta Otolaryngol 137(2):154–160

Martin Sanz E, Zschaeck C, Gonzalez M, Mato T, Rodrigañez L, Barona R, Sanz R (2013) Control of vertigo after intratympanic corticoid therapy for unilateral Ménière's disease: a comparison of weekly versus daily fixed protocols. Otol Neurotol 34(8):1429–1433

Hamid MA (2001) Intratympanic dexamethasone perfusion in Menieres disease. In: Presented at the spring meeting of the American Neurotology society, Palm Desert CA, p 12
Acknowledgements
This research has received no financial grant from any funding agency, commercial or not-for-profit sectors.
Ethics declarations
Conflict of interest
The authors declare that there is no conflict of interest.
About this article
Cite this article
Pradhan, P., Lal, P. & Sen, K. Long Term Outcomes of Intratympanic Dexamethasone in Intractable Unilateral Meniere's Disease. Indian J Otolaryngol Head Neck Surg 71 (Suppl 2), 1369–1373 (2019). https://doi.org/10.1007/s12070-018-1431-3
Received:

Accepted:

Published:

Issue Date:

DOI: https://doi.org/10.1007/s12070-018-1431-3
Keywords