Abstract
Osteoporosis and osteopenia are systemic disorders that affect all bones. Osteoporosis in the ear bone and cochlea otic capsule contribute to the occurrence of conduction and sensorineural deaf. The osteoporosis prevalence in RSSA is 38%; meanwhile hearing interference in osteoporosis patients is 66.67%. The femur and spine DXA are the golden standard to calculate the bone mineral density. The temporal bone density can be measured with CT scan using the Hounsfield Unit units. There is a hypothesis that the femur bone mass density can illustrate the temporal bone density. This study aimed to analyzes the correlation between the density of the cochlea otic capsule and the ear bone towards the femur and spine density in patients with reduction in bone density. This was a cross-sectional observational type analytic retrospective study analyzing 30 samples of patients with a reduction in bone density that have HRCT Mastoid examination results during 2017 at RSSA Malang's osteoporosis polyclinic. From 30 samples, most were female with an age range of 51–60 years old. The average femur, spine, ear bone and cochlea otic capsule of the osteoporosis group was lower than the osteopenia group. The spine density was significantly correlated with the otic capsule density. There was a positive significant correlation between the spine density towards the otic capsule density. The lower the spine density, the lower the otic capsule became.
This is a preview of subscription content, log in to check access.
Access options
Buy single article
Instant access to the full article PDF.
US$ 39.95
Price includes VAT for USA
Subscribe to journal
Immediate online access to all issues from 2019. Subscription will auto renew annually.
US$ 99
This is the net price. Taxes to be calculated in checkout.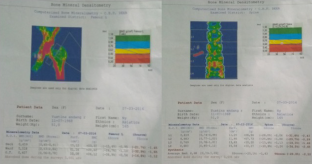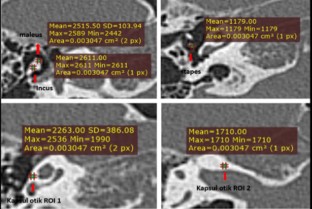 References
1.

Babich M, Hoffineister D, Doughty A (2009) Osteoporosis and conductive hearing loss: a novel model of clinical correlation. Philica.com Article Number 148

2.

Bhavya M, Shashi Kumar Y, Deena Priya B, Rakesh CV, Ahmed W (2016) Audiological profile in osteoporosis. Int J Public Heal 3:25–32

3.

Soesanto H (2017) Perbedaan Densitas Kapsul Otik Koklea, Densitas Tulang Pendengaran, dan Ambang Dengar Antara Penderita Osteoporosis dan Non Osteoporosis. Thesis

4.

Drylli A (2016) How osteoporosis in postmenopausal women is related to hearing loss? Int J Adv Res 4:607–609

5.

Barwick A, Tessier J, Mirow J, De Jonge XJ, Chuter V (2017) Computed tomography derived bone density measurement in the diabetic foot. J Foot Ankle Res 10:9–13

6.

Fatih Erkoc M, Bulut S, Imamoglu H, Cesur G, Mansur K (2013) CT Assessment of bone remodeling in the otic capsule in chronic renal failure: association with hearing loss. AJR 200:396–399

7.

Yeh M, Weng S, Shen Y, Chou C (2015) Increased risk of sudden sensorineural hearing loss in patients with osteoporosis: a population-based. J Clin Endocrinol Metab 100:2413–2419

8.

Choe HS, Lee JH, Min DK, Shin SH (2016) Comparison of vertebral and femoral bone mineral density in adult females. J Phys Ther Sci 28:1928–1931

9.

Setiyohadi B (2015) Anamnesis. In. Sudoyo AW, Setiyohadi B, Alwi I, Simadibrata M, Setiati S (eds) Buku Ajar Ilmu Penyakit Dalam. Interna Publishing, pp. 2385-2401

10.

Kawiyana IK (2009) Osteoporosis patogenesis diagnosis dan penanganan. J Peny Dalam 10:157–169

11.

Garg M, Kharb S (2014) Review article dual energy X-ray absorptiometry: pitfalls in measurement and interpretation of bone mineral density. Indian J Endocrinol Metab 17:203–210

12.

Del Rio LM, Winzenrieth R, Digregorio S (2012) Is bone microarchitecture status of the lumbar spine assessed by TBS related to femoral neck fracture? A Spanish case-control study. Osteoporos Int. https://doi.org/10.1007/s00198-012-2008-8

13.

Looker A, Melton L, Borrud L, Shepherd J (2012) Lumbar spine bone mineral density in US adults: demographic patterns and relationship with femur neck skeletal status. Osteoporos Int 23:1351–1360

14.

Schneider DL, Bettencourt R, Barrett-connor E (2006) The clinical utility of spine bone density in elderly women. J Clin Densitom 9:255–260

15.

Salamat MR, Rostampour N, Shanehsazzadeh S, Tavakoli MB, Siavash M, Almasi T (2008) Assessment of bone mineral density with dual energy X-ray absorptiometry in pre- and post-menopausal women. J Radiat Res 6(2):103–107

16.

Tenne M, McGuigan F, Besjakov J, Gerdhem P, Akesson K (2013) Degenerative changes at the lumbar spine-implications for bone mineral density measurement in elderly women. Osteoporos Int 24(4):1419–1428

17.

Eiber A, Huber A, Sim JH, Roosli C, Chatzimichalis M (2012) Characterization of stapes anatomy: investigation of human and guinea pig. J Assoc Res Otolaryngol 14:159–173

18.

Shubhpreet S, Chaudhary P, Arora N (2016) Histological and histopathological study of incus. J Clin Diagn Res 10(8):1–3

19.

Sim JH, Puria S (2008) Soft tissue morphometry of the malleus—incus complex from micro-CT imaging. J Assoc Res Otolaryngol 21:5–21

20.

Yueniwati Y, Halim N (2017) Diagnostic test value of assessment adenoid enlargement with and without airway obstruction using lateral soft tissues X-ray compared to nasoendoscopy. Indian J Otolaryngol Head Neck Surg. https://doi.org/10.1007/s12070-017-1089-2
Funding
This work was supported by grants from Faculty of Medicine, Universitas Brawijaya Malang, Indonesia
Ethics declarations
Conflict of interest
The authors declare that there is no conflict of interest regarding the publication of this paper.
Ethical Approval
All procedures performed in studies involving human participants were in accordance with the ethical standards of the institutional and/or national research committee and with the 1964 Helsinki declaration and its later amendments or comparable ethical standards.
Informed Consent
Informed consent was obtained from all individual participants included in the study.
Additional information
Publisher's Note
Springer Nature remains neutral with regard to jurisdictional claims in published maps and institutional affiliations.
About this article
Cite this article
Yueniwati, Y., Rosa The Significant Correlation Between the Density of the Cochlea Otic Capsule and Spine in Hearing Loss Patients. Indian J Otolaryngol Head Neck Surg 71, 1163–1168 (2019). https://doi.org/10.1007/s12070-018-01580-z
Received:

Accepted:

Published:

Issue Date:
Keywords
Cochlear otic capsule

Spine

HRCT Mastoid

Osteopenia

Osteoporosis