Abstract
Hyalinizing clear cell carcinoma (HCCC) is a low grade, rare neoplasm originating from the minor salivary glands. It usually follows an indolent course and the main treatment modality is surgery. The prognosis of these tumours are good, hence it needs to be differentiated from other carcinomas with clear cells. Here we report a pathologically proven HCCC of the base of tongue.
This is a preview of subscription content, log in to check access.
Access options
Buy single article
Instant access to the full article PDF.
US$ 39.95
Price includes VAT for USA
Subscribe to journal
Immediate online access to all issues from 2019. Subscription will auto renew annually.
US$ 99
This is the net price. Taxes to be calculated in checkout.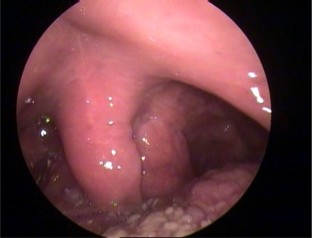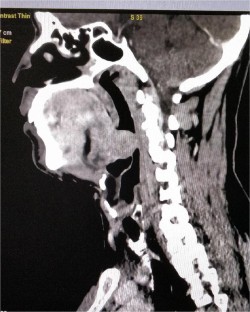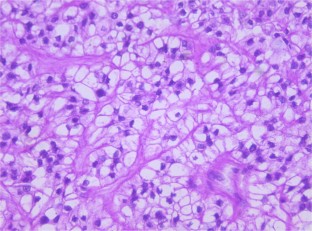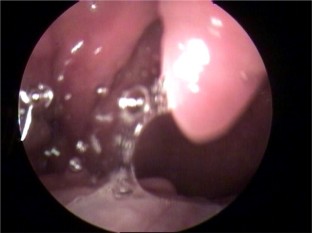 References
1.

Milchgrub S, Gnepp DR, Vuitch F, Delgado R, Albores-Saavedra J (1994) Hyalinizing clear cell carcinoma of salivary gland. Am J Surg Pathol 18:74–82

2.

Balakrishnan R, Nayak DR, Pillai S et al (2002) Hyalinizing clear cell carcinoma of the base of the tongue. J Laryngol Otol 116:851–853

3.

Daniele L, Nikolarakos D, Keenan J et al (2016) Clear cell carcinoma, not otherwise specified/hyalinising clear carcinoma of the salivary gland: the current nomenclature, clinical/pathological characteristics and management. Crit Rev Oncol Hematol 102:55–64

4.

O'Sullivan-Mejia ED, Massey HD, Faquin WC, Powers CN (2009) Hyalinizing clear cell carcinoma: report of eight cases and a review of literature. Head Neck Pathol 3(3):179–185

5.

Masilamani S, Rao S, Chirakkal P, Kumar AR (2011) Hyalinising clear cell carcinoma of the base of tongue: a distinct and rare entity. Indian J Pathol Microbiol 54(1):167–169

6.

Farooq S, Harding-Jackson N, Stadler M, Freitag F (2016) Hyalinizing clear cell carcinoma of the base of tongue: first report of a case presenting with headaches. Neurology 86(16):P6.094

7.

Suzuki H, Katoh A, Udaka T, Shiomori T, Fujimura T, Fujimura K, Kitamura T (2006) Hyalinizing clear cell carcinoma arising from the base of the tongue. Acta Otolaryngol 126(6):653–656

8.

Pujary K, Rangarajan S, Nayak DR, Balakrishnan R, Ramakrishnan V (2008) Hyalinizing clear cell carcinoma of the base of tongue. Int J Oral Maxillofac Surg 37(1):93–96 Epub 2007 Sep 5
Ethics declarations
Conflict of interest
The authors declare that they have no conflict of interest.
Informed Consent
Formal consent is not required for this type of study (clinical report). Informed consent was obtained from the patient for the surgical procedure.
Ethical Standards
All procedures performed in the study were in accordance with the ethical standards of the institution and with the 1964 Helsinki declaration and its later amendments or comparable ethical standards.
Additional information
Publisher's Note
Springer Nature remains neutral with regard to jurisdictional claims in published maps and institutional affiliations.
About this article
Cite this article
Pillai, N., Balasundaram, P. & Isaac, N. Hyalinizing Clear Cell Carcinoma: Base of Tongue. Indian J Otolaryngol Head Neck Surg 71, 239–242 (2019). https://doi.org/10.1007/s12070-018-01573-y
Received:

Accepted:

Published:

Issue Date:
Keywords
Hyalinizing clear cell carcinoma

Base of tongue

Minor salivary gland tumour