Abstract
Malignant tumors consist of both carcinoma cells and tumor associated host cells. Host cells has started to receive more attention regarding their role in tumor progression such as invasion and metastasis. Fibroblasts that are incorporated in the tumoral stroma are called as peritumoral fibroblasts, reactive stroma, cancer-related fibroblasts or myofibroblasts. In general fibroblasts next to nich of cancer cells express alpha–smooth muscle actin (α-SMA) which is an important marker for differentiated myofibroblasts. Our aim is to investigate the role of α-SMA positive myofibroblasts in the development and progression of laryngeal carcinoma. The proportion of α-SMA positive myofibroblasts are scored from (1 +) to 3( +) in laryngeal dysplasia (n = 17) and microinvasive and invasive squamous cell carcinoma (n = 66). α-SMA expression in invasive carcinoma and dysplasia was analyzed statistically. No stromal myofibroblast was detected in mild dysplasia (score 0). Among 12 cases of moderate-severe dysplasia, in only 3 cases low α-SMA expression (score 1) was observed and in 9 cases there were no stromal myofibroblasts (score 0) were. In most cases of invasive carcinoma, high α-SMA expression (score 2, 3) was seen. α-SMA positive stromal myofibroblasts were significantly higher in invasive laryngeal squamous cell carcinoma compared to dysplasia (p < 0.05). Results of our study suggested that α-SMA positive stromal myofibroblasts play an important role in creating the permissive environment for tumor invasion in laryngeal squamous cell carcinoma. According to this data, we think that the presence of stromal myofibroblasts might be used as a helpful criterion in the differential diagnosis of true invasion and pseudoinvasion.
This is a preview of subscription content, log in to check access.
Access options
Buy single article
Instant access to the full article PDF.
US$ 39.95
Price includes VAT for USA
Subscribe to journal
Immediate online access to all issues from 2019. Subscription will auto renew annually.
US$ 99
This is the net price. Taxes to be calculated in checkout.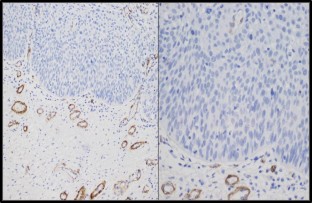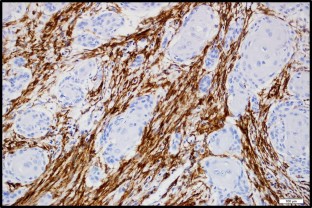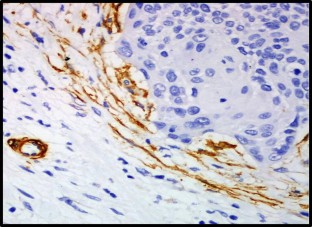 References
1.

Kirchner JA, Carter D (2004) Pathology of the larynx. In: Mills SE (ed) Sternberg's diagnostic surgical pathology, 4th edn. Gopson Papers Ltd, Noida, pp 1007–1032

2.

Lingen MW (2015) Head and neck. In: Kumar V, Abbas AK, Aster JC (eds) Robbins and cotran pathologic basis of disease, 9th edn. Elsevier Saunders, Philadelphia, pp 738–740

3.

Lipkin A, Miller RH, Woodson GE (1985) Squamous cell carcinoma of the oral cavity, pharynx, and larynx in young adults. Laryngoscope 95:790–793

4.

Elci OA, Elci MA, Blair A, Dosemeci M (2003) Risk of laryngeal cancer by ocupational chemical exposure in Turkey. J Occup Environ Med 45:1100–1106

5.

Albini A, Sporn MB (2007) The tumour microenvironment as a target for chemoprevention. Nat Rev Cancer 7:139–147

6.

Barth PJ, Westhoff CC (2007) CD341 fibrocytes: morphology, histogenesis and function. Curr Stem Cell Res T 2:221–227

7.

Desmouliere A, Guyot C, Gabbiani G (2004) The stroma reaction myofibroblast: a key player in the control of tumor cell behavior. Int J Dev Biol 48:509–517

8.

Powell DW, Adegboyega PA, DiMari JF, Mifflin RC (2005) Epithelial cells and their neighbors. I. Role of intestinal myofibroblasts in development, repair, and cancer. Am J Physiol-Gastr L 289:G2–G7

9.

Orimo A, Gupta PB, Sgroi DC, Arenzana-Seisdedos F, Delaunay T, Naeem R et al (2005) Stromal fibroblasts present in invasive human breast carcinomas promote tumor growth and angiogenesis through elevated SDF-1/CXCL12 secretion. Cell 121:335–348

10.

Spaeth EL, Dembinski JL, Sasser AK, Watson K, Klopp A, Hall B et al (2009) Mesenchymal stem cell transition to tumor-associated fibroblasts contributes to fibrovascular network expansion and tumor progression. PLoS ONE 4:e4992

11.

Sridhara SU, Choudaha N, Kasetty S, Joshi PS, Kallianpur S, Tijare M (2013) Stromal myofibroblasts in nonmetastatic and metastatic oral squamous cell carcinoma: an immunohistochemical study. J Oral Maxillofac Pathol 17:190–194

12.

Bello IO, Vered M, Dayan D, Dobriyan A, Yahalom R, Alanen K et al (2011) Cancer-associated fibroblasts, a parameter of the tumour microenvironment, overcomes carcinoma-associated parameters in the prognosis of patients with mobile tongue cancer. Oral Oncol 47:33–38

13.

Routray S, Sunkavali A, Bari KA (2014) Carcinoma-associated fibroblasts, its implication in head and neck squamous cell carcinoma: a mini review. Oral Dis 20:246–253

14.

Astekar M, Metgud R, Sharma A, Soni A (2013) Hidden keys in stroma: unlocking the tumor progression. J Oral Maxillofac Pathol 17:82–88

15.

Allinen M, Beroukhim R, Cai L, Brennan C, Lahti-Domenici J, Huang H et al (2004) Molecular characterization of the tumor microenvironment in breast cancer. Cancer Cell 6:17–32

16.

Neville BW, Day TA (2002) Oral cancer and precancerous lesions. CA-Cancer J Clin 52:195–215

17.

Chaudhary M, Gadbail AR, Vidhale G, Mankar MP, Gondivkar SM, Gawande M et al (2012) Comparison of myofibroblasts expression in oral squamous cell carcinoma, verrucous carcinoma, high risk epithelial dysplasia, low risk epithelial dysplasia and normal oral mucosa. Head Neck Pathol 6:305–313

18.

Kalluri R, Zeisberg M (2006) Fibroblasts in cancer. Nat Rev Cancer 6:392–401

19.

Tlsty TD, Hein PW (2001) Know thy neighbor: stromal cells can contribute oncogenic signals. Curr Opin Genet Dev 11:54–59

20.

Elenbaas B, Weinberg RA (2001) Heterotopic signaling between epithelial tumor cells and fibroblasts in carcinoma formation. Exp Cell Res 264:169–184

21.

Mueller MM, Fusening NE (2004) Friends or foes—bipolar effects of the tumor stroma in cancer. Nat Rev Cancer 4:839–849

22.

Zeisberg EM, Potenta S, Xie L, Zeisberg M, Kalluri R (2007) Discovery of endothelial to mesenchymal transition as a source for carcinoma-associated fibroblasts. Cancer Res 67:10123–10128

23.

Tomasek JJ, Gabbiani G, Hinz B, Chaponnier C, Brown RA (2002) Myofibroblasts and mechano-regulation of connective tissue remodeling. Nat Rev Mol Cell Biol 3:349–363

24.

Nawshad A, LaGamba D, Polad A, Hay ED (2005) Transforming growth factor-β signaling during epithelial-mesenchymal transformation: implications for embryogenesis and tumor metastasis. Cells Tissues Organs 179:11–23

25.

Yang J, Mani SA, Donaher JL, Ramaswamy S, Itzykson RA, Come C et al (2004) Twist, a master regulator of morphogenesis, plays an essential role in tumor metastasis. Cell 117:927–939

26.

Ochicha O, Pringle JH, Mohammed AZ (2010) Immunohistochemical study of epithelial-myofibroblast interaction in Barrett metaplasia. Indian J Pathol Microbiol 53:262–266

27.

Seifi S, Shafaei S, Shafigh E, Sahabi SM, Ghasemi H (2010) Myofibroblast stromal presence and distribution in squamous epithelial carcinomas, oral dysplasia and hyperkeratosis. Asian Pac J Cancer Prev 11:359–364

28.

Kellermann MG, Sobral LM, da Silva SD, Zecchin KG, Graner E, Lopes MA et al (2008) Mutual paracrine effects of oral squamous cell carcinoma cells and normal oral fibroblasts: induction of fibroblast to myofibroblast transdifferentiation and modulation of tumor cell proliferation. Oral Oncol 44:509–517

29.

Etemad-Moghadam S, Khalili M, Tirgary F, Alaeddini M (2009) Evaluation of myofibroblasts in oral epithelial dysplasia and squamous cell carcinoma. J Oral Pathol Med 38:639–643
Additional information
Publisher's Note
Springer Nature remains neutral with regard to jurisdictional claims in published maps and institutional affiliations.
About this article
Cite this article
Orgen Calli, A., Dere, Y., Sari, A. et al. Evaluation of Stromal Myofibroblasts in Laryngeal Dysplasia and Invasive Squamous Cell Carcinoma. Indian J Otolaryngol Head Neck Surg 71, 233–238 (2019). https://doi.org/10.1007/s12070-018-01572-z
Received:

Accepted:

Published:

Issue Date:
Keywords
Myofibroblast

Larynx

Squamous cell carcinoma

Laryngeal dysplasia

Actin