Abstract
Adenotonsillectomy is a widely practiced surgical intervention to manage obstructive sleep apnoea syndrome (OSAS) in the paediatric age group. We conducted a prospective, non randomised, interventional study among 40 patients in paediatric age group (2–18 years) suffering from adenotonsillar hypertrophy with an indication of adenotonsillectomy based on American Academy of Otolaryngology-Head and Neck Surgery criteria. Care givers completed the obstructive sleep apnoea 18 (OSA 18) quality of life (QoL) survey and Rutter Children's Behaviour Questionnaire (RCBQ) before adenotonsillectomy as well as 6 months after surgery. We found that mean score of OSA 18 and total RCBQ decreased significantly 6 months after surgery. The mean score of OSA 18 (4.12 ± 1.4) and total RCBQ score (20.5 ± 2) significantly reduced to 1.19 ± 0.12 and 7.4 ± 2.55 (p < 0.0001), respectively, after surgery. There was significant improvement in all the domains of OSA 18 score after intervention including sleep disturbance (mean score change 2.56, p < 0.0001), physical suffering (2.99, p < 0.0001), emotional distress (2.71, p < 0.0001), daytime problems (2.56, p < 0.0001), caregiver concerns (3.76, p < 0.0001). We also observed that QoL as well as behaviour was independent of age and gender of patients. This study demonstrates significant score changes across all questionnaire domains, comparing pre and post operative data indicating an improvement in their quality of life and behaviour. Hence, we advocate that adenotonsillectomy may be considered as an effective treatment in properly selected patients with OSAS.
This is a preview of subscription content, log in to check access.
Access options
Buy single article
Instant access to the full article PDF.
US$ 39.95
Price includes VAT for USA
Subscribe to journal
Immediate online access to all issues from 2019. Subscription will auto renew annually.
US$ 99
This is the net price. Taxes to be calculated in checkout.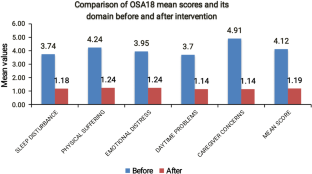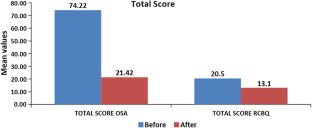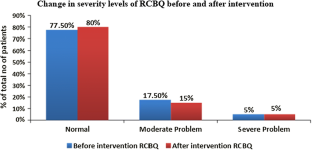 References
1.

Seden A, Tami T (2002) Fundamentals of the ear, nose and throat, 12th edn. Lippincott & Wilkins, Philadelphia, pp 457–466

2.

Amin RS, Kimball TR, Bean JA, Jeffries J, Willging JP, Cotton RT et al (2002) Left ventricular hypertrophy and abnormal ventricular geometry in children and adolescents with obstructive sleep apnea. Am J Respir Crit Care Med 165:1395–1399

3.

Gozal D (1998) Sleep-disordered breathing and school performance in children. Pediatrics 102:616–620

4.

Tran KD, Nguyen CD, Weedon J et al (2005) Child behavior and quality of life in pediatric obstructive sleep apnea. Arch Otolaryngol Head Neck Surg 131(1):52–57

5.

Chervin RD, Archbold KH, Dillon JE et al (2002) Inattention, hyperactivity, and symptoms of sleep-disordered breathing. Pediatrics 109(3):449–456

6.

Gottlieb DJ, Vezina RM, Chase C et al (2003) Symptoms of sleep-disordered breathing in 5-year old children are associated with sleepiness and problem behaviours. Pediatrics 112(4):870–877

7.

de Serres LM, Derkay C, Astley S, Deyo RA, Rosenfeld RM, Gates GA (2000) Measuring quality of life in children with obstructive sleep disorders. Arch Otolaryngol Head Neck Surg 26:1423–1429

8.

Marcus CL, Greene MG, Carroll JL (1998) Blood pressure in children with obstructive sleep apnea. Am J Respir Crit Care Med 157:1098–1103

9.

Shahar E, Whitney CW, Redline S et al (2001) Sleep-disordered breathing and cardiovascular disease. Cross-sectional results of the sleep heart health study. Am J Respir Crit Care Med 163:19–25

10.

Sohn H, Rosenfeld RM (2003) Evaluation of sleep-disordered breathing in children. Otolaryngol Head Neck Surg 128:344–352

11.

Rutter M (1967) A children's behavior questionnaire for compilation by teachers: preliminary findings. J Child Psychol Psychiatr 8(1):1–11

12.

Watkinson CJ (2018) Scott–Brown's otolaryngology and head neck surgery, vol 2, 8th edn. Taylor and Francis, New York, pp 294–310

13.

Li HY, Huang YS, Chen NH, Fang TJ, Lee LA (2006) Impact of adenotonsillectomy on behavior in children with sleep-disordered breathing. Laryngoscope 116(7):1142–1147

14.

Wei JL, Mayo MS, Smith HJ, Reese M, Weatherly RA (2007) Improved behavior and sleep after adenotonsillectomy in children with sleep-disordered breathing. Arch Otolaryngol Head Neck Surg 133(10):974–979

15.

Flanary VA (2003) Long term effect of adenotonsillectomy on quality of life in pediatric patients. Laryngoscope 113:1639–1644

16.

Giordani B, Hodges EK, Guire KE, Ruzicka DL, Dillon JE, Weatherly RA, Garetz SL, Chervin RD (2012) Changes in neuropsychological and behavioural functioning in children with and without obstructive sleep apnea following tonsillectomy. J Int Neuropsychol Soc 18:212–222
Ethics declarations
Conflict of interest
The authors declare that they have no conflict of interest.
Ethical Approval
All procedures involving human participants were in accordance with the ethical standards of the institution.
Informed Consent
Informed consent was obtained from all individual participants included in the study.
Additional information
Publisher's Note
Springer Nature remains neutral with regard to jurisdictional claims in published maps and institutional affiliations.
Appendices
Appendix 1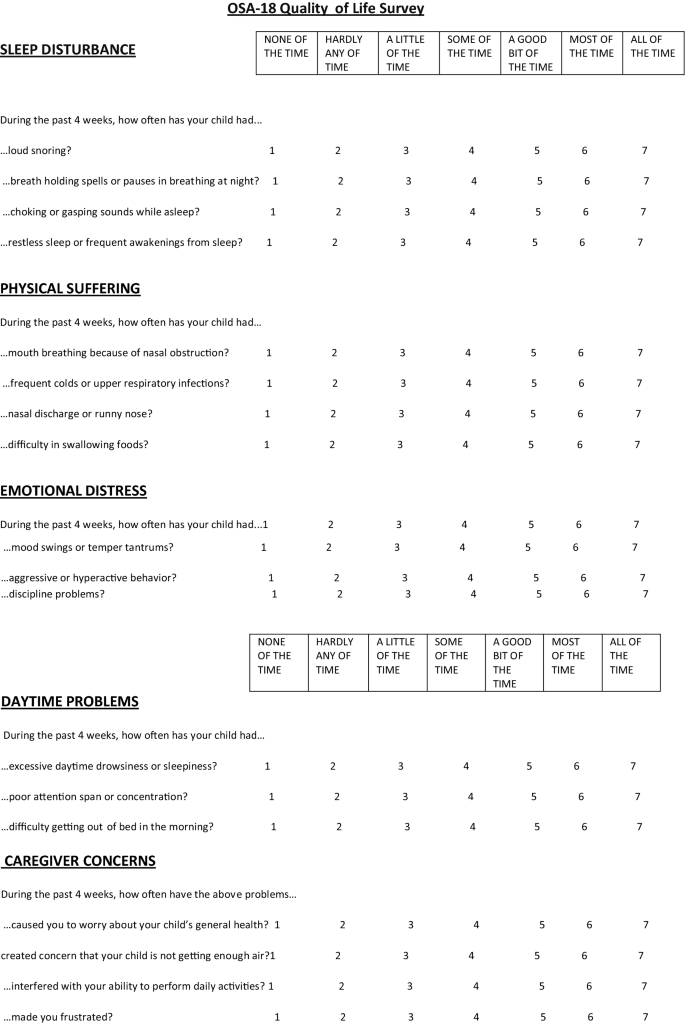 Appendix 2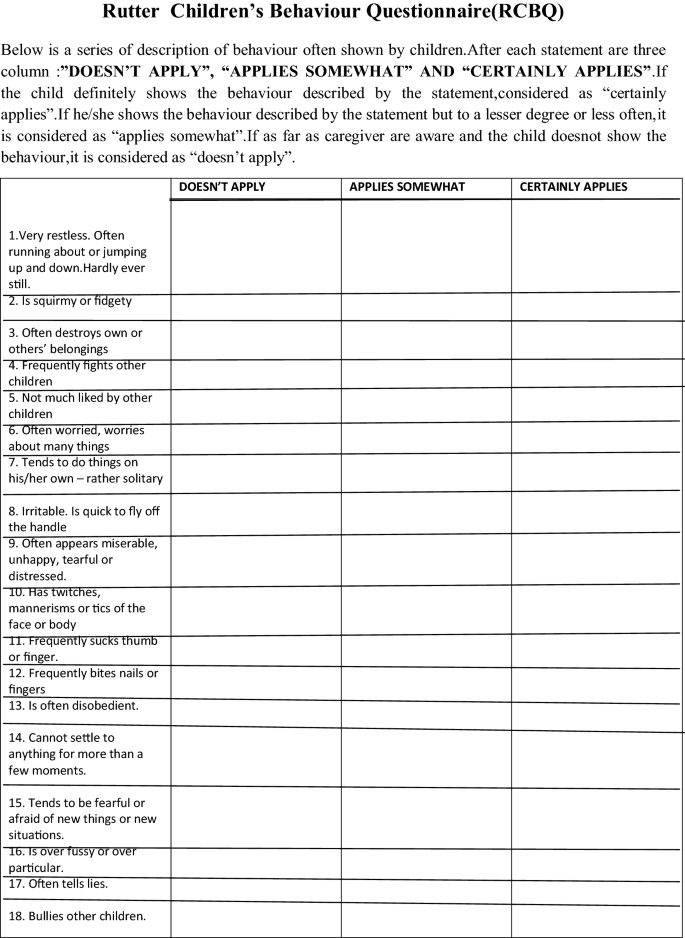 About this article
Cite this article
Sarmah, U., Mandal, S. & Roy, M. Quality of Life and Behavioural Assessment in Post-adenotonsillectomy Cases of Paediatric Age Group. Indian J Otolaryngol Head Neck Surg 71, 221–229 (2019). https://doi.org/10.1007/s12070-018-01569-8
Received:

Accepted:

Published:

Issue Date:
Keywords
Obstructive sleep apnoea syndrome

Adenotonsillar hypertrophy

Quality of life