Abstract
Objective
Congenital intranasal nasolacrimal duct (NLD) cyst is a rare clinical entity in the newborn whilst inferior mucocoeles are more common. We reviewed our case series of the management of patients presenting with congenital intranasal NLD cysts and inferior mucocoeles treated using powered instrumentation under endoscopic guidance.
Methods
A retrospective review identified three patients, between 2010 and 2013, who have had microdebrider assisted endoscopic marsupialisation of congenital intranasal NLD cysts under joint ENT and Ophthalmology care.
Results
Diagnosis was made based on intraoperative endoscopic nasal examination carried out during treatment of patients with epiphora. All patients were 2 years old or younger presented with persistent epiphora since birth with sticky eyes. All had normal development with no other past medical history of note. Two patients had unilateral and one patient had bilateral congenital intranasal NLD cysts/inferior mucocoels identified. These were treated by endoscopic incision of the cyst with drainage of pus and excision of excess mucosal tissue using a powered microdebrider to effect marsupialisation and prevent re healing of the floppy redundant flaps of the incised cyst. No silastic tubes were placed. All patients were discharged from clinic 3 months post surgery with complete resolution of symptoms and no complications.
Conclusions
Microdebrider assisted endoscopic marsupialisation is a safe and effective treatment for removal of excess tissue in the treatment for congenital intranasal NLD cyst/inferior mucocoele whilst also obviating the need for silastic intubation and a further general anaesthetic for stent removal.
Access options
Buy single article
Instant access to the full article PDF.
USD 39.95
Price includes VAT (USA)
Tax calculation will be finalised during checkout.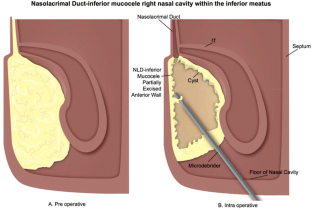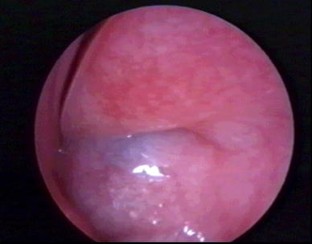 References
1.

Guery D, Kendig EL (1979) Congenital impotency of nasolarimal duct. Arch Ophthalmol 97:1656–1658

2.

Peterson RA, Robb RM (1978) The natural course of congenital obstruction of the nasolacrimal duct. J Pediatr Ophthalmol Strabismus 15:246–250

3.

Yazici B, Yazici Z (2000) Frequency of the common canaliculus:a radiologc study. Arch Ophthalmol 118:1381–1385

4.

Teixeira CC, Dias RJ, Falcao-reis FM, Santos M (2005) Congenital dacrocystocele with intranasal extension. Eur J Ophthalmol 145:126–128

5.

Varnell H, Friedman NR, Shea C, Jones jr MD (2003) An unusual cause of neonatal respiratory distress. J Perinarol 23:688–690

6.

Levin AV, Wygnanski-jaffe T, Farte V, Buckwalter JA, Buncic JR (2003) Nasal Endoscopy in the treatment of congenital lacrimal sac mucoceles. Int J Pediatr Otolaryngol 67:255–261

7.

Brugger PC, Weber M, Prayer D (2010) Magnetic resonance imaging of the fetal efferent lacrimal pathways. Eur Radiol 20:1965–1973

8.

Devine RD, Anderson RL, Bumsted RM (1983) Bilateral congenital lacrimal sac mucocoele with nasal extension and drainage. Arch Opthalmol 101:246–248

9.

Berkowitz RG, Grundfast KM, Fitz C (1990) Nasal obstruction of the newborn revisited: clinical and subclinical manifestation of congenital nasolacrimal duct obstructuion presenting as nasal mass. Otlaryngol Head Neck Surg. 103:468–471

10.

Dogan E, Yuksel NG, Ecevit MC, Yaman A, Berk AT, Sutay S (2012) Microdebrider assisted endoscopic marsupialisation of congenitial intranasal nasolacrimal duct cyst. Int J Pediat Otolarygol 76:488–491

11.

Young J, MacEwen C (1997) Managing congenital lacrimal obstruction in general practice. Br Med J 315:293–296

12.

Book: Oliver J Colour Atlas of Lacrimal Surgery, Butterworth-Heinemann Health. 2002
Ethics declarations
Conflict of interest
The authors declare no conflict of interest.
Ethical approval
This article does not contain any studies with human participants performed by any of the authors.
About this article
Cite this article
Natesh, B.G., Patil, S., Nilssen, E. et al. Endonasal Microdebrider Assisted Excision of Congenital Intranasal Nasolacrimal Duct Cyst or Inferior Mucocoele. Indian J Otolaryngol Head Neck Surg 68, 115–117 (2016). https://doi.org/10.1007/s12070-015-0948-y
Received:

Accepted:

Published:

Issue Date:
Keywords
Nasolcrimal duct cyst/inferior mucocoele

Endoscopic

Congenital

Microdebrider assissted