Abstract
The aim of this study was to find the frequency of various oral mucosal lesions in relation to age, sex, site and associated addiction habits. This retrospective study was done in tertiary care centre including 1280 patients of oral mucosal lesions. Clinical findings and detailed history of their addiction habits with frequency and duration was noted from the existing data. Cytological and histopathological diagnosis of various lesions was recorded to conclude diagnosis. The most common lesion in this study was found to be aphthous ulcers (44.5 %), followed by leukoplakia (12.9 %). The most common site of involvement was tongue in aphthous ulcers and buccal mucosa in leukoplakia. In the present study 66.46 % cases were non malignant, 21.2 % cases were premalignant and the remaining 11.9 % cases were found to be malignant. Oral lesions are common finding in patients presenting to ENT OPD. Aphthous ulcers are common oral lesions. A patient with oral mucosal lesion should be examined for dietary deficiency, systemic disease or premalignant state with simultaneous counseling to quit addiction.
Access options
Buy single article
Instant access to the full article PDF.
USD 39.95
Price excludes VAT (USA)
Tax calculation will be finalised during checkout.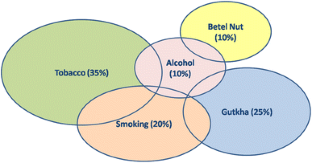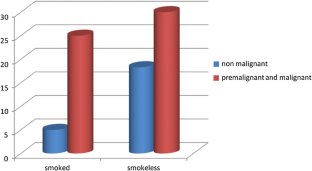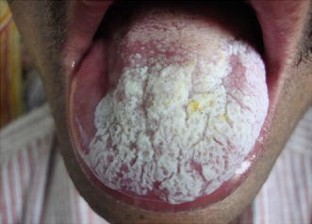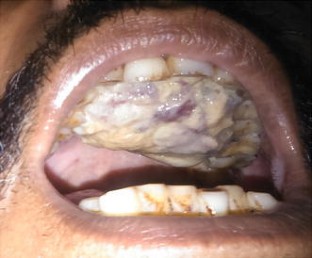 References
Harris CK, Warnakulasuriya KA et al (2004) Prevalence of oral mucosal lesions in alcohol misusers in south London. J Oral Pathol Med 33:253–259

Triantos D (2005) Intra-oral findings and general health conditions among institutionalized elderly in Greece. J Oral Pathol Med 34:577–582

Iype EM, Pandey M et al (2001) Oral cancer among patients under the age of 35 years. J Postgrad Med 47(3):171–176

Parkin DM, Pisani P et al (1993) Estimates of the worldwide incidence of eighteen major cancers. Int J Cancer 54:594–606

Warnakulasuriya S (2009) Global epidemiology of oral and oropharyngeal cancer. Oral Oncol 45(4–5):309–316

Davatchi F et al (2008) The prevalence of oral aphthosis in a normal population in Iran: a WHO-ILAR COPCORD study. Arch Iran Med  11(2):207–209

Patil S, Doni B et al (2014) Prevalence of benign oral ulcerations in the Indian population. J Cranio Max Dis 3:2631

Mathew AL et al (2008) The prevalence of oral mucosal lesions in patients visiting a dental school in Southern India. Indian J Dent Res 19(2):99

Bokor-Bratić M (2000) The prevalence of precancerous oral lesions: oral leukoplakia. Arch Oncol 8(4):169–170

Silverman S, Gorsky M et al (1984) Oral leukoplakia and malignant transformation: a follow up study of 257 patients. Cancer 53:563–568
About this article
Cite this article
Goyal, R., Jadia, S., Jain, L. et al. A Clinical Study of Oral Mucosal Lesions in Patients Visiting a Tertiary Care Centre in Central India. Indian J Otolaryngol Head Neck Surg 68, 413–416 (2016). https://doi.org/10.1007/s12070-015-0868-x
Received:

Accepted:

Published:

Issue Date:

DOI: https://doi.org/10.1007/s12070-015-0868-x
Keywords