Abstract
Increased urinary neopterin concentrations have been described in many cancers. We aimed to evaluate the urinary neopterin levels in thyroid cancer. Sixty-nine patients with thyroid cancer, 76 patients with benign thyroid pathology and 33 healthy subjects were evaluated. First morning urine samples were collected from the patients and normal subjects for neopterin and creatinine measurement and stored at −80 °C until analysed. Neopterin levels were 149.3 (15.2–1,602.2) μmol/mol creatinine in the malignant group, 32 (5.2–275.6) μmol/mol creatinine in the benign group and 9.2 (2.7–78.7) μmol/mol creatinine in normal subjects (p ≤ 0.001). Urinary neopterin levels were significantly higher in patients with thyroid cancer than patients with benign thyroid pathologies and normal subjects. Also the patients with benign thyroid pathologies had a higher urinary neopterin level than the normal subjects. Malignant group was divided to two groups; patients with/without chronic thyroiditis (confirmed histologically). There were 22 (31.9 %) patients with and 47 (68.1 %) patients without chronic thyroiditis. Urinary levels of neopterin didn't differ in both groups (168.6 (21.3–716.8) μmol/mol creatinine and 135.3 (15.2–1,602.2) μmol/mol creatinine respectively; p = 0.381). Urinary neopterin levels are high in thyroid cancer patients independently from the presence of chronic thyroiditis.
This is a preview of subscription content, log in to check access.
Access options
Buy single article
Instant access to the full article PDF.
US$ 39.95
Price includes VAT for USA
Subscribe to journal
Immediate online access to all issues from 2019. Subscription will auto renew annually.
US$ 99
This is the net price. Taxes to be calculated in checkout.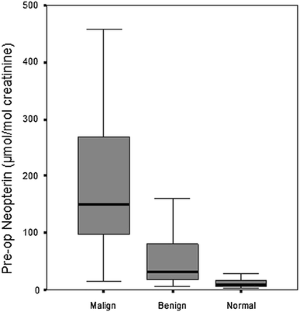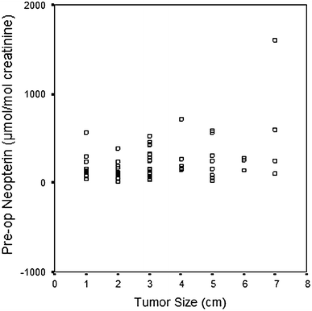 References
1.

Jemal A, Siegel R, Xu J et al (2010) Cancer statistics 2010. CA Cancer J Clin 60(5):277–300

2.

Ito Y, Hirokawa M, Jikuzono T, Higashiyama T, Takamura Y, Miya A, Kobayashi K, Matsuzuka F, Kuma K, Miyauchi A (2007) Extranodal tumor extension to adjacent organs predicts a worse cause-specific survival in patients with papillary thyroid carcinoma. World J Surg 31(6):1194–1201

3.

Gamagedara S, Gibbons S, Ma Y (2011) Investigation of urinary pteridine levels as potential biomarkers for noninvasive diagnosis of cancer. Clin Chim Acta 412(1–2):120–128

4.

Sucher R, Schroecksnadel K, Weiss G, Margreiter R, Fuchs D, Brandacher G (2010) Neopterin, a prognostic marker in human malignancies. Cancer Lett 287(1):13–22

5.

Huber C, Batchelor JR, Fuchs D, Hausen A, Lang A, Niederwieser D, Reibnegger G, Swetly P, Troppmair J, Wachter H (1984) Immune response associated production of neopterin. Release from macrophages primarily under the control of interferon γ. J Exp Med 160:310–316

6.

Mahmoud RA, El-Gendi HI, Ahmed HH (2005) Serum neopterin, tumor necrosis factor-alpha and soluble tumor necrosis factor receptor II (p75) levels and disease activity in Egyptian female patients with systemic lupus erythematosus. Clin Biochem 38(2):134–141

7.

Ozkan Y, Mete G, Sepici-Dincel A, Sepici V, Simsek B (2011) Tryptophan degradation and neopterin levels in treated rheumatoid arthritis patients. Clin Rheumatol 31(1):29–34. doi:10.1007/s10067-011-1767-5

8.

Park IS, Lee YS, Kim JC, Hwang SG (1995) Serum neopterin levels in ovarian tumors. Int J Gynaecol Obstet 51:229–234

9.

Zeimet AG, Widschwendter M, Knabbe C et al (1998) Ascitic interleukin-12 is an independent prognostic factor in ovarian cancer. J Clin Oncol 16:1861–1868

10.

Murr C, Bergant A, Widschwendter M et al (1999) Neopterin is an independent prognostic variable in females with breast cancer. Clin Chem 45:1998–2004

11.

Hausen A, Fuchs D, Grunewald K et al (1981) Urinary neopterine as marker for haematological neoplasias. Clin Chim Acta 117:297–305

12.

Melichar B, Solichova D, Melicharova K (2006) Urinary neopterin in patients with advanced colorectal carcinoma. Int J Biol Markers 21:190–198

13.

Weiss G, Kronberger P, Conrad F, Bodner E, Wachter H, Reibnegger G (1993) Neopterin and prognosis in patients with adenocarcinoma of the colon. Cancer Res 53:260–265

14.

Unal B, Kocer B, Altun B, Surmeli S, Aksaray S, Balci M, Ozlu B, Cengiz O (2009) Serum neopterin as a prognostic indicator in patients with gastric carcinoma. J Invest Surg 22(6):419–425

15.

Kronberger P, Weiss G, Tschmelitsch J, Fuchs D, Salzer GM, Wachter H, Reibnegger G (1995) Predictive value of urinary neopterin in patients with lung cancer. Eur J Clin Chem Clin Biochem 33(11):831–837

16.

Melichar B, Solichová D, Svobodová I, Melicharová K (2005) Neopterin in renal cell carcinoma: inhalational administration of interleukin-2 is not accompanied by a rise of urinary neopterin. Luminescence 20(4–5):311

17.

Sahin TT, Yuksel O, Girgin G, Sipahi H, Dikmen K, Azili C, Taneri F, Baydar T (2009) Is neopterin level a predictive and differential biomarker in patients with thyroid disorders? Endocrinol Invest 32(2):147–149

18.

Yildirim Y, Gunel N, Coskun U, Pasaoglu H, Aslan S, Cetin A (2008) Serum neopterin levels in patients with breast cancer. Med Oncol 25(4):403–407

19.

Marth C, Weger A, Muller-Holzner E et al (1993) The prognostic value of nuclear roundness and neopterin in ovarian cancer. Eur J Cancer 29A:1863–1868

20.

Melichar B, Solichova D, Freedman RS (2006) Neopterin as an indicator of immune activation and prognosis in patients with gynecological malignancies. Int J Gynecol Cancer 16:240–252

21.

Reibnegger GJ, Bichler AH, Dapunt O et al (1986) Neopterin as a prognostic indicator in patients with carcinoma of the uterine cervix. Cancer Res 46:950–955

22.

Reibnegger G, Hetzel H, Fuchs D et al (1987) Clinical significance of neopterin for prognosis and follow-up in ovarian cancer. Cancer Res 47:4977–4981

23.

Wagner R, Hayatghebi S, Rosenkranz M, Reinwein D (1993) Increased serum neopterin levels in patients with Graves' disease. Exp Clin Endocrinol 101(4):249–254

24.

Schomburg A, Grünwald F, Schultes B, Hotze A, Bender H, Biersack HJ (1996) Are serum neopterin concentrations superior to other parameters in the differential diagnosis and prognostic assessment of Graves' disease? Exp Clin Endocrinol Diabetes 104(2):123–129

25.

Zeimet AG, Reimer D, Schwentner L, Fuchs D, Wolf D, Fuith LC, Fiegl H, Doppler W, Concin N, Daxenbichler G, Marth C (2010) Urinary neopterin does not reflect the local antitumor immune milieu in ovarian cancer. Cancer Immunol Immunother 59(12):1813–1823

26.

Brigati C, Noonan DM, Albini A, Libby A, Benelli R (2002) Tumors and inflammatory infiltrates: friends or foes? Clin Exp Metastasis 19:247–258

27.

Coussens LM, Werb Z (2002) Inflammation and cancer. Nature 420:860–867

28.

deVisser KE, Eichten A, Coussens LM (2006) Paradoxical roles of the immune system during cancer development. Nat Rev Cancer 6:24–37

29.

Ugolini C, Basolo F, Proietti A et al (2007) Lymphocyte and immature dendritic cell infiltrates in differentiated, poorly differentiated and undifferentiated thyroid carcinoma. Thyroid 17:389–393

30.

Russel JP, Shinoara S, Melillo RM (2003) Tyrosine kinase oncoprotein, RET/PTC3, indices the secretion of myeloid growth and chemotactic factors. Oncogene 22:4569–4577

31.

Kondera-Anasz Z, Mertas A, Jochemczyk J, Starzewski J (1997) Level of neopterin in blood serum in selected thyroid diseases. Pol Arch Med Wewn 97(5):418–425

32.

Mariotti S, Caturegli P, Barbesino G (1992) Thyroid function and thyroid autoimmunity independently modulate serum concentration of soluble interleukin 2 (IL-2) receptor (sIL-2R) in thyroid diseases. Clin Endocrinol (Oxf) 37(5):415–422

33.

Zwirska-Korczala K, Berdowska A, Jochem J (2004) Influence of thyroxine on serum soluble interleukin-2 receptor alpha levels in thyroid disorders. Clin Pharm Ther 29(2):151–156

34.

Botella-Carretero JI, Prados A, Manzano L et al (2005) The effects of thyroid hormones on circulating markers of cell-mediated immune response, as studied in patients with differentiated thyroid carcinoma before and during thyroxine withdrawal. Eur J Endocrinol 153(2):223–230

35.

Hofmann B, Bass H, Nishanian P, Faisal M, Figlin RA, Sarna GP, Fahey JL (1992) Verent lymphoid cell populations produce varied levels of neopterin, beta 2-microglobulin and soluble IL-2 receptor when stimulated with IL-2, interferon-γ or tumour necrosis factor-alpha. Clin Exp Immunol 88:548–554

36.

Mantovani A, Allavena P, Sica A et al (2008) Cancer-related inflammation. Nature 54:436–444

37.

Borrello MG, Alberti L, Fischer A et al (2005) Induction of a proinflammatory program in normal human thyrocytes by the RET/PTC1 oncogene. Proc Natl Acad Sci USA 102:14825–14830

38.

Siveen KS, Kuttan G (2009) Role of macrophages in tumour progression. Immunol Lett 123(2):97–102
Conflict of interest
Authors declare no conflict of interest.
About this article
Cite this article
Inancli, S.S., Caner, S., Balkan, F. et al. Urinary Neopterin Levels in Patients with Thyroid Cancer. Indian J Otolaryngol Head Neck Surg 66, 302–308 (2014). https://doi.org/10.1007/s12070-014-0710-x
Received:

Accepted:

Published:

Issue Date:
Keywords
Neopterin

Thyroid cancer

Inflammation

Hashimoto's thyroiditis