Abstract
This prospective double blind randomized study evaluated the effect of clonidine when used as an adjuvant to local anaesthetic agents for infiltration block and measured its impact on the quality of anaesthesia, intraoperative bleeding and post-operative pain. We recruited 60 patients needing tympanoplasty, which were randomized them into two groups; group A patients received local infiltration of 12 ml 2 % xylocaine with adrenaline (1:200,000 dilution), while group B received 12 ml 2 % xylocaine with adrenaline with 30 μg of clonidine. Duration of block was significantly prolonged in group B (group A 53.66 ± 7.7 vs. group B 177.13 ± 48.9, p < 0.005). Mean pain scores were significantly lower in group B during the first hour following the block (3.43 in group A vs. 1.2 in group B, p < 0.005). Total number of analgesic doses over 24 h showed no significant difference (3.1 in group B vs. 3.26 in group A, p > 0.05). 93.3 % patients in group A required sedation with midazolam, compared to 10 % in group B. Grade of bleeding was significantly lower in group B. Patient and surgeon satisfaction scores were better in group B. It could be concluded that 30 μg clonidine added to lidocaine 2 % has a significant impact in decreasing the bleeding in the operative field and improving the quality of intraoperative anesthesia as well as prolonging the duration of postoperative analgesia without significant side effects.
Access options
Buy single article
Instant access to the full article PDF.
USD 39.95
Price excludes VAT (USA)
Tax calculation will be finalised during checkout.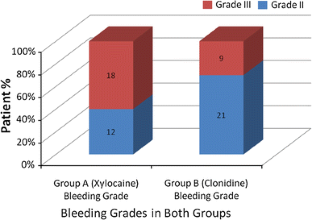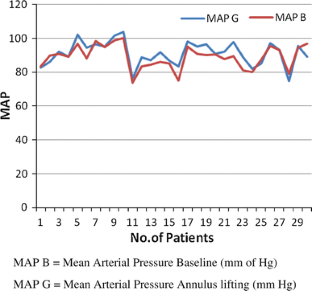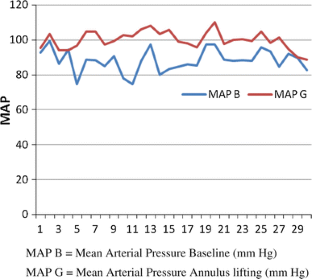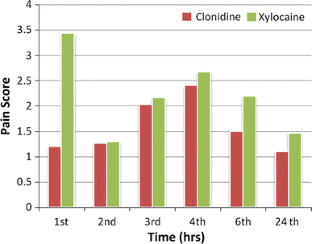 References
Mirko T (1993) Manual of middle ear surgery, 1st edn. Thieme, New York, pp 7–10

Basker S, Singh G, Jacob R (2009) Clonidine in paediatrics—a review. Indian J Anaesth 53:270–280

Arora K, Singh S (2011) Effect of oral clonidine premedication on perioperative haemodynamic response and postoperative analgesic requirement for patients undergoing laparoscopic cholecystectomy. Indian J Anaesth 55(1):26–30

Duma A, Urbanek B, Sitzwohl C, Kreiger A, Zimpfer M, Kapral S (2005) Clonidine as an adjuvant to local anaesthetic axillary brachial plexus block: a randomized controlled study. Br J Anaesth 94:112–116

Casati A, Magistris L, Fanelli G, Beccaria P, Cappelleri G, Aldegheri G et al (2000) Small dose clonidine prolongs postoperative analgesia after sciatic-femoral nerve block with 0.75 % ropivacaine for foot surgery. Anesth Analg 91:388–392

Boezaart AP, Vander MJ, Coetzee A (1995) Comparison of sodium nitroprusside and esmolol induced controlled hypotension for functional endoscopic sinus surgery. Can J Anaesth 42:373–376

Nishikawa T, Dohi S (1990) Clinical evaluation of clonidine added to lidocaine solution for epidural anesthesia. Anesthesiology 73:853–859

Singelyn FJ, Dangoisse M, Bartholomee S, Gouverneur JM (1992) Adding clonidine to mepivacaine prolongs the duration of anaesthesia and analgesia after axillary plexus block. Reg Anaesth 17:148–150

Singelyn FJ, Gouverneur JM, Robert A (1996) A minimum dose of clonidine added to mepivacaine prolongs the duration of anaesthesia and analgesia after axillary brachial plexus block. Anesth Analg 83:1046–1050

Gaumann DM, Brunet PC, Jirounek P (1992) Clonidine enhances the effects of lidocaine on C-fibre action potential. Anesth Analg 74:719–725

Elliot S, Eckersall S, Fligelstone L, Jothilingam S (1997) Does the addition of clonidine affect duration of analgesia of bupivacaine wound infiltration in inguinal hernia surgery? Br J Anaesth 79:446–449

Acalovschi I, Bodolea C, Manoiu C (1997) Spinal anesthesia with meperidine: effects of added alpha-adrenergic agonists—epinephrine versus clonidine. Anesth Analg 84:1333–1339

Pratap JN, Shankar RK, Goroszeniuk T (2007) Co-injection of clonidine prolongs the anesthetic effect of lidocaine skin infiltration by a peripheral action. Anesth Analg 104(4):982–983

Welfringer P, Manel J, Garric J (1992) Clonidine premedication and isoflurane anesthesia to reduce bleeding in otologic surgery. Ann Fr Anesth Reanim 11(2):125–131

Marchal JM, Gomez-Luque A, Martos-Crespo F et al (2001) Clonidine decreases intraoperative bleeding in middle ear microsurgery. Acta Anaesthesiol Scand 45(5):627–633

Taheri A, Javadimaesh MA, Ashraf H (2010) The effect of oral clonidine premedication on nausea and vomiting after ear surgery. Middle East J Anesthesiol 20:691–694

Mikawa K, Nishina K, Maekawa N, Asano M, Obara H (1995) Oral clonidine premedication reduces vomiting in children after strabismus surgery. Can J Anaesth 42(11):981–997

Jenkins LC, Lahav D (1971) Central mechanisms of vomiting related to catecholamine response: anaesthetic implication. Can Anaesth Soc J 18:434–441
Conflict of interests
None declared.
About this article
Cite this article
Raghuwanshi, S.K., Chakravarty, N., Asati, D.P. et al. Use of Clonidine as an Adjuvant to Infiltration Anaesthesia in Tympanoplasty: A Randomized Double Blind Study. Indian J Otolaryngol Head Neck Surg 66, 57–62 (2014). https://doi.org/10.1007/s12070-013-0664-4
Received:

Accepted:

Published:

Issue Date:

DOI: https://doi.org/10.1007/s12070-013-0664-4
Keywords
Lidocaine 2 % with adrenaline

Tympanoplasty

Local infiltration

Clonidine