Abstract
Lateral sinus thrombosis due to mastoiditis, is now a relic of the past. Gone are the days when septic lateral sinus thrombosis was a common complication of unsafe suppurative otitis media. In the present era, the neurologists more commonly see cortical venous thrombosis with lateral sinus thrombosis. This entity has been termed as non-septic lateral sinus thrombosis in literature. The incidence is found to be more in females due to the use of oral contraceptives (Rosen and Scher in Laryngoscope 107(5):680–683, 1). In this manuscript, we report a series of three cases of non-septic lateral sinus thrombosis with mastoiditis, seen in a span of 1 month, which is uncommon. All the patients presented to the neurologist with intractable headache and lateral sinus thrombosis with mastoiditis, was detected by magnetic resonance imaging and magnetic resonance venogram. All the three patients were males and had involvement of the right mastoid in magnetic resonance imaging pictures. We have reviewed the literature and discussed about the etiopathogenesis, diagnostic criteria and management.
Access options
Buy single article
Instant access to the full article PDF.
USD 39.95
Price includes VAT (USA)
Tax calculation will be finalised during checkout.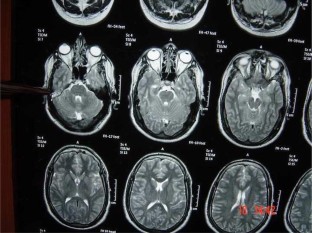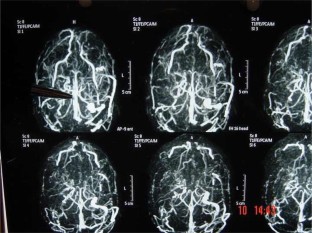 References
1.

Rosen A, Scher N (1997) Nonseptic lateral sinus thrombosis. The Otolaryngologic perspective. Laryngoscope 107(5):680–683

2.

Goldenburg RA (1985) Lateral sinus thrombosis. Arch Otolaryngol 111:56–58

3.

Samuel J, Fernandes CMC (1987) Lateral sinus thrombosis (a review of 45 cases). J Laryngol Otol 101:1227–1229

4.

Samsioe G (1994) Coagulation and anticoagulation effects of contraceptive steroids. Am J Obstet Gynecol 170(5):1523–1527

5.

Poltera AA (1972) The pathology of intracranial venous thrombosis in oral contraception. J Pathol 106:209–219

6.

Bousser MG, Barnett HJM (1997) Cerebral venous thrombosis. In: Barnett HJM, Mohr JP, Stein BM, Yatsu FM (eds) Stroke: pathophysiology, diagnosis and management, 3rd edn. Churchill Livingstone, New York, NY, pp 623–647

7.

Daif AZ, Awada A, Al-Rajeh S, Abduljabbar M, Tahan ARA, Obeid T, Malibary T (1995) Cerebral venous thrombosis in adults. A study of 40 cases from Saudi Arabia. Stroke 26:1193–1195

8.

Fink JN, Mc Auley DL (2002) Mastoid air sinus abnormalities associated with lateral venous sinus thrombosis. Stroke 33:290

9.

Hawkins DB (1985) Lateral sinus thrombosis. A sometimes unexpected diagnosis. Laryngoscope 95:674–677

10.

Virapongse C, Cazenave C, Quisling R et al (1987) The empty delta sign. Frequency and significance in 76 cases of dural sinus thrombosis. Radiology 162:779–785

11.

Dormont D, Anxionnat R, Evrard S, Louaille C, Chiras J, Marsault C (1994) MRI in cerebral venous thrombosis. J Neuroradiol 21:81–99

12.

Einhaupl KM, Villringer A, Meister W, Mehraein S, Garner C, Pellkofer M et al (1991) Heparin treatment in sinus venous thrombosis. Lancet 338:597–600

13.

Bousser MG (1999) Cerebral venous thrombosis. Nothing, heparin or local thrombolysis? Stroke 30:481–483
About this article
Cite this article
Thota, R., Narayanan, N. & Mathuram, D. Pseudomastoiditis in Lateral Sinus Thrombosis: A Rare Presentation with Review of Literature. Indian J Otolaryngol Head Neck Surg 63, 135 (2011). https://doi.org/10.1007/s12070-011-0199-5
Received:

Accepted:

Published:
Keywords
Lateral sinus thrombosis

Mastoiditis

Nonseptic lateral sinus thrombosis

Cortical venous thrombosis

Magnetic resonance venogram