Abstract
Structure is used more extensively used in program such as scientific computing. But the non-continuity and the non-aligment of vectorization structure array have a dramatic influence on the efficiency of program's vectorizaton. To reduce the access to these addresses during the SIMD vectorization, a structure peeling model is proposed based on the structure which combines domain access affinity and domain data type. At the same time, to meet t the requirement of memory access continuity and alignment in the vectorization of structured array, an address conversion method is proposed which structure arrays are mapped one by one map to two-dimensional arrays, further reducing the failure rate of cache. By using the test suites of gcc_vec, spec2000 and spec2006, the experimental results on the compiler of automatic vector show that the performance of optimized method can be improved by more than 8%.
This is a preview of subscription content, log in to check access.
Access options
Buy single article
Instant access to the full article PDF.
US$ 39.95
Price includes VAT for USA
Subscribe to journal
Immediate online access to all issues from 2019. Subscription will auto renew annually.
US$ 99
This is the net price. Taxes to be calculated in checkout.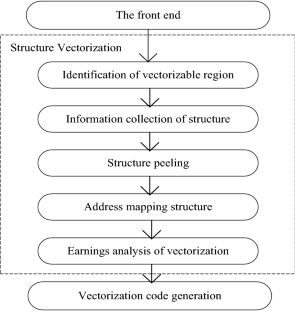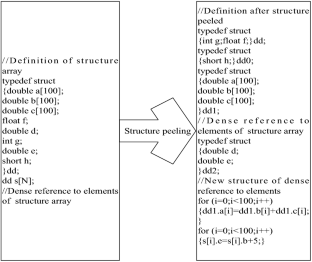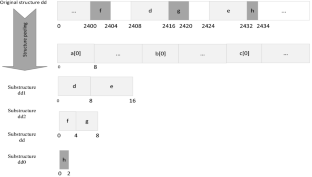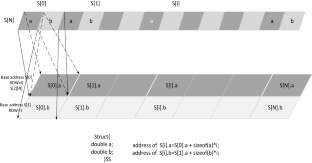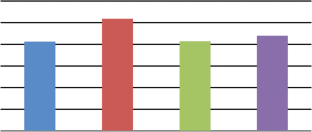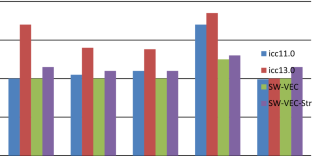 References
1.

Chen J-F, Wang Y-D (2012) Automatic generation of attack vectors for stored-XSS. J Grad Univ Chin Acad Sci 29(6):815–820

2.

Yan J, Chen W, Zheng W (2011) Efficient memory management for structured data-layout optimization. J Tsinghua Univ 51(1):68–72

3.

Li Y-X, Shi H, Chen L (2009) Vectorization-oriented local data regrouping. J Chin Comput Syst 30(8):1528–1534

4.

Hagog M, Tice C (2005) Cache aware data layout reorgan optimization in GCC. In: Proceeding of the GCC Developers'Summit, pp 69–92

5.

Tanaka H, Ota Y, Matsumoto N, et al (2011) A new compilation technique for SIMD code generation across basic block boundaries. In: Proceedings of the 2010 Asia and South Pacific design automation conference. IEEE Press, pp 101–106

6.

Zhang Y-Y, Zhao R-C, Han L (2012) Vectorization benefit evaluation method based on polyhedron representation. Comput Eng 38(7):266–268
Additional information
Publisher's Note
Springer Nature remains neutral with regard to jurisdictional claims in published maps and institutional affiliations.
About this article
Cite this article
Li, Y., Guo, Z. & Liu, H. Structure optimization method based on automatic vectorization. Evol. Intel. 13, 51–58 (2020). https://doi.org/10.1007/s12065-019-00229-2
Received:

Revised:

Accepted:

Published:

Issue Date:
Keywords
Structure peeling

Address mapping

SIMD vectorization

Access affinity